Disclosure: I was provided with product to facilitate this review. All thoughts and opinions are my own.  Please see my disclosure policy)
We have been told for years to clean our fruits and vegetables when we bring them home from the grocery store. There are so many pesticides out there that water just doesn't cut it. You need a safe and effective method to get the job done. Enter Arm & Hammer Fruit & Vegetable Wash! I don't know about you, but I am for simplifying my life, especially these days!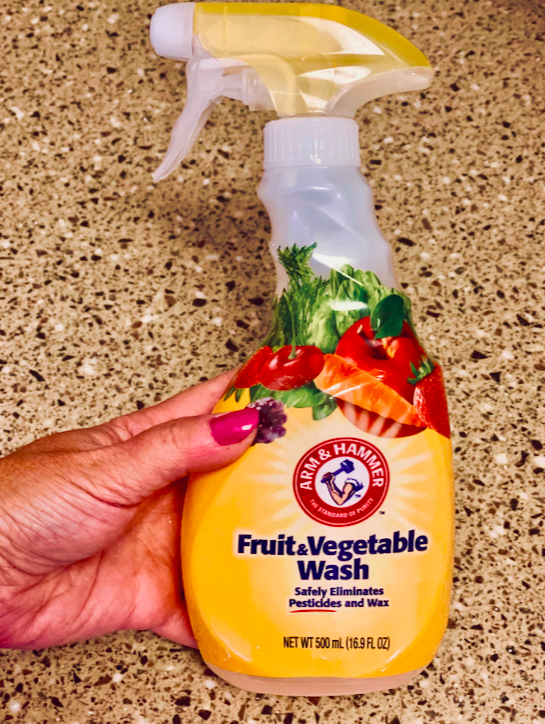 Arm & Hammer Fruit & Vegetable Wash will safely eliminate Pesticides, Wax and Soil with the cleaning power of pure & simple ingredients like baking soda, salt and plant-derived cleaning agents. I really appreciate that this product is made with only pure & simple ingredients.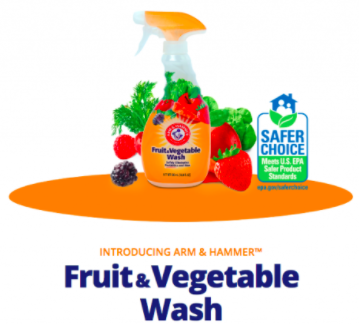 A few important facts about Arm & Hammer Fruit & Vegetable Wash:
It is the first food-contact product to receive the Safer Choice certification.
Safer Choice helps consumers find products that perform and are safer for human health and the environment.
Products with the Safer Choice label must demonstrate being effective, while only using ingredients that are safer for families.
The EPA offers the Safer Choice label to company partners who design or reformulate quality products that perform well and contain the safest chemical ingredients.
2. Safely remove over 90% of pesticide residue
3. Cleans 4x better than water alone
4. Removes wax and soil
5. Free from harsh chemicals and leaves no taste or odor
6. Gluten-free and vegan
Did you know that if you are washing your fruits and vegetables with just water, that is not enough? Water does not completely eliminate pesticides or the wax that is sprayed on produce to help extend shelf life. Take the step and pick up Arm & Hammer Fruit & Vegetable Wash on your next grocery run or delivery.

With a few simple steps and the help of Arm & Hammer Fruit & Vegetable Wash you can help your family live a healthier lifestyle. Just spray, rub, rinse and enjoy cleaner produce. I can't tell you how much of a game-changer that this product has been for our family. We eat a lot of fruits and vegetables each day, so it is vital to me that I clean my produce thoroughly. I also appreciate that this product has a refreshing lemon scent. Each time that I spray my produce this wonderful scent fills the air!
Check out Arm & Hammer Fruit & Vegetable Wash and see for yourself just how easy it is to effectively clean your produce! Let me know if you try it!