Disclosure: I was provided with product to facilitate this review for Sun Basket. All thoughts and opinions are my own. Please see my disclosure policy)
I am a huge fan of Sun Basket! They strive to make healthy cooking easy and delicious, and they offer organic and sustainably sourced produce and responsibly-sourced meats and seafoods. I love having the option of a meal delivery service right to my door that fits my family's busy schedule. And now, things have gotten even more exciting! Salads have arrived at Sun Basket! I was so excited to have the opportunity to try several of these delicious new salads and couldn't wait to share my review with you all! Choose from: Southwestern Salad, Vegan Caesar, Rainbow Asian Salad, and Protein Crunch Super Greens. 
These salads are available to add to your weekly basket. Not only are these salads delicious, but they are literally ready in minutes!  You simply mix, dress, and enjoy! I also love that you can serve them as is or add a protein if you prefer. Voila, you have a healthy and delicious meal for lunch or dinner. The possibilities are endless! 

I tried the Protein Crunch Salad and the Kale Caesar Salad. Both were equally delicious and packed full of flavor! The thing that I love about these salads is that they come with their own information card that shows you step by step instructions on how to prepare them. So easy! In fact, they can be prepared and on the table within 5 minutes!
This salad is packed full of flavor! Puffed quinoa, buttery walnuts, and kale are combined with dried blueberries and riced cauliflower for color and crunch. The dressing is an organic sherry vinaigrette which gives the salad a sweet and nutty taste. It was delicious!
This delicious salad is a healthy twist of the classic caesar salad. Instead of those croutons the classic caesar salad is known for, this healthy spin combines dry-roasted chickpeas and sunflower seeds to give you that satisfying crunch!I added some grilled chicken to my salad for extra protein! With Sun Basket's organic vegan caesar dressing you get all the flavor of the original caesar dressing, but this one is plant-based and made with almond milk and cashew butter. It is absolutely amazing! 
In addition to these delicious salads, Sun Basket also sent me a couple of meals to prepare last week. We had the Chicken Parmesan and the Pan-seared steaks with chimichurri and citrus-walnut salad. Of all the meal delivery services that my family has tried, Sun Basket has the freshest ingredients. In addition every detail is amazing when they ship their meals. They send you everything that you need to prepare the dish. They even send the egg! The only thing that you need from your pantry is the olive oil and salt and pepper. It makes cooking so easy!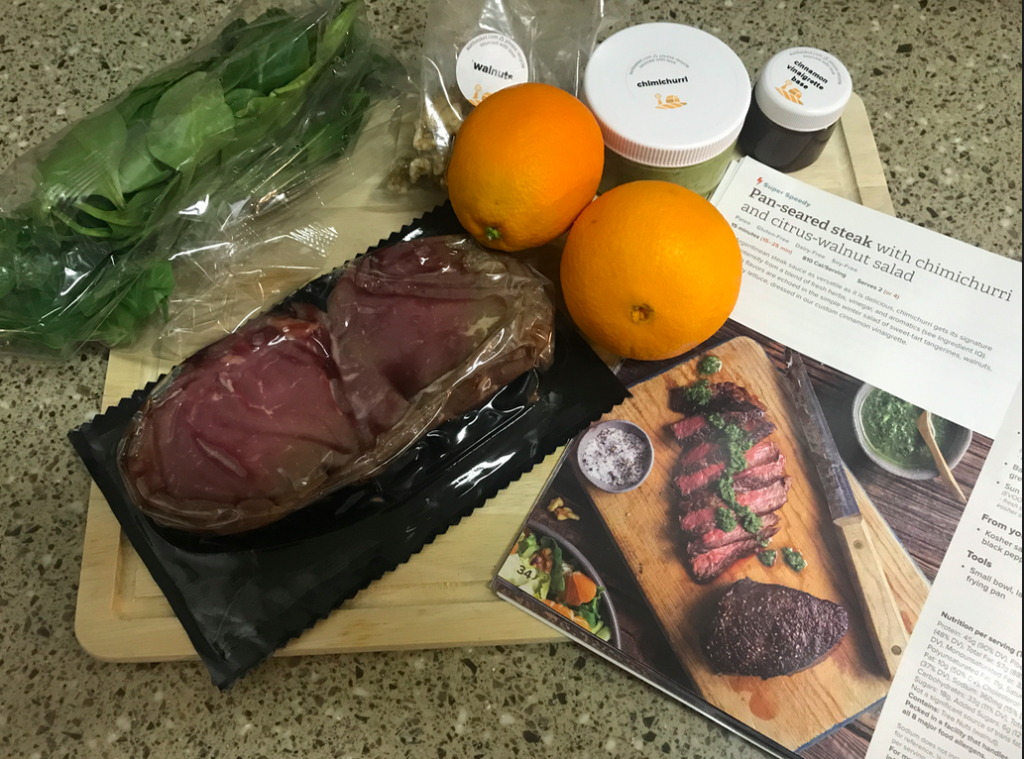 Pan-seared steaks with chimichurri and citrus-walnut salad:
The sweet-tart of the citrus and delicately bitter chicory lettuce along with the seared steak makes for an easy one-pan paleo meal that will taste like you stepped into your favorite restaurant! 
Chicken Parmesan with house salad:
One of my personal all time favorites! This Italian-American classic combines hearty, gooey, and satisfying with breaded chicken, fresh-cooked tomato sauce, and a green salad. Sun Basket has delivered with this one! Every bite was cleaned off my family's plates! 
GO HERE to try Sun Basket for yourself to see just how delicious the meals are. Have you tried Sun Basket before? Did you like it?
Be sure to follow Sun Basket on Facebook, Instagram and Twitter to stay up-to-date on all of the latest news and promotional offers!