(All posts may contain affiliate links and/or sponsored content. Please see my disclosure policy)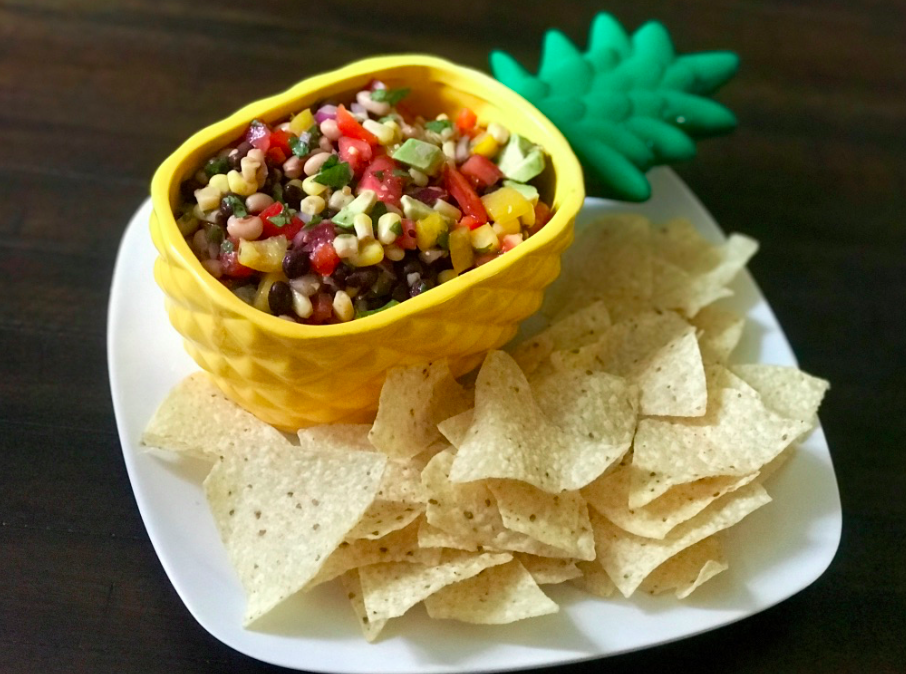 If you need a fun, yet delicious recipe for all of your summer barbecues, Cowboy Caviar is going to be your new favorite appetizer! This delicious "salad" is comprised of some of my favorite items and is full of freshness in every bite! There are many variations of how Cowboy Caviar can be made, but this recipe is my version. Feel free to add some heat with a jalapeño, or you can omit the avocados. It really is super versatile and can be made to your liking! I am calling this an appetizer, but really you could add this on top of grilled chicken or pork and it would be the perfect compliment as well — The possibilities are endless!
INGREDIENTS:
4 roma tomatoes, diced
1/2  yellow pepper, halved and diced
1/2 red pepper, halved and diced
1/2 red onion diced
2 avocados, diced
1 bunch of fresh cilantro, finely chopped
1 15oz. can pinto beans, drained and rinsed
1 15oz. can black beans drained and rinsed
1 can sweet corn drained
You will also make a sweet and savory dressing to immerse the Cowboy Caviar with. When you add this to this mix of veggies and beans, it sets the delicious factor over the top!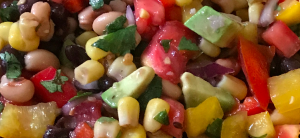 DRESSING:
2 Tablespoons red wine vinegar
1 Tablespoon lime juice
1/3 cup olive oil
1/3 cup sugar
1 Teaspoon onion powder
1 Teaspoon oregano
Salt/Pepper for taste
INSTRUCTIONS:
In a large bowl, combine all of the salad ingredients together except for the avocados. (corn, tomatoes, beans, cilantro, bell peppers, and red onion). 
In a smaller bowl, whisk together ingredients for dressing and pour over the salad mixture.
Refrigerate for at least 1 hour before serving so that the flavors can combine together. Just before serving add in the diced avocado.
Serve with your favorite tortilla chips or veggies and enjoy! It is so addicting, you will have a hard time eating just a few bites!