Disclosure: I was provided with the Tupperware Microwave Breakfast Maker Set to facilitate my review. All thoughts and opinions are own. Please see my disclosure policy)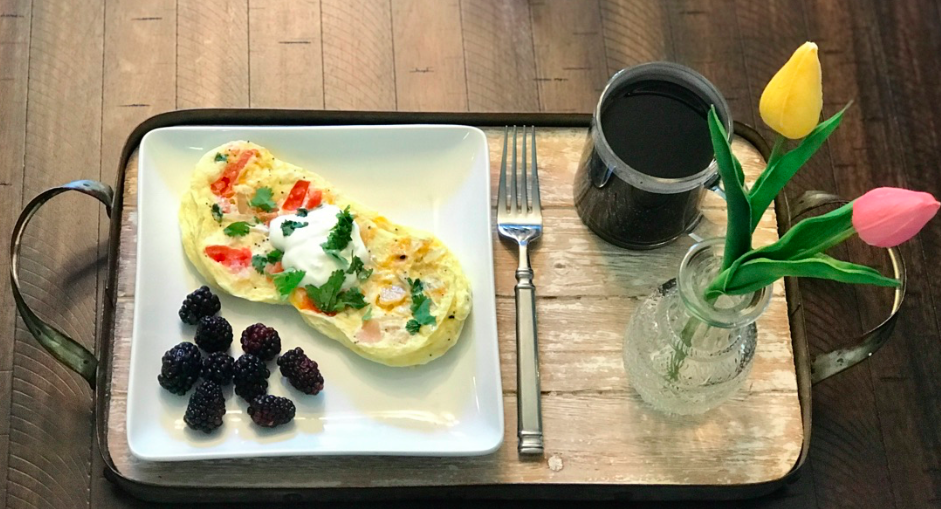 I don't know about you, but one of my favorite things to start each morning with is a breakfast of eggs. Whether they be scrambled, hard-boiled, over easy or even poached, I love eggs! They are such a great source of protein and energy to get my going in the right direction.
When my friend Leah, who is a Tupperware Consultant, offered to let me review the Tupperware Microwave Breakfast Maker Set, I was super excited to do so! This set allows you to make omelets, oatmeal and even french toast right in the microwave in just minutes! As a busy mom, this is right up my alley! Would you believe that I was able to make that gorgeous omelet in the picture above in the microwave? Yes, it is that easy! I simply added my veggies and 2 eggs to a bowl mixed them up and added them to the breakfast maker. I placed it in the microwave for around 2 1/2 minutes and voila! The perfect omelet! I can't wait to try french toast for my boys!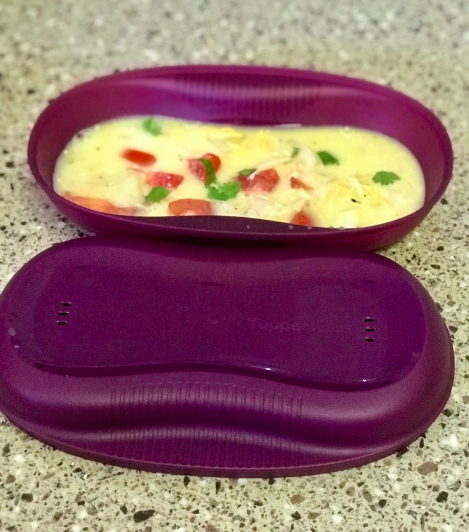 With the Tupperware Microwave Breakfast Maker Set, you will receive a 1 3/4 cup breakfast maker and two Egg inserts that will allow you to make poached eggs and egg patties. Priced at just $29, I believe that this is a great value for the money considering you will use it multiple times a week. There is no reason to not cook a quick healthy breakfast! The Tupperware Microwave Breakfast Maker Set is dishwasher safe AND comes with a Lifetime Warranty. If for any reason it cracks, splits or peels, Tupperware will replace it for free! Wow-that is an awesome guarantee! 
How would you like to try the Tupperware Microwave Breakfast Maker Set for FREE? Yes you read that right! Right now when you book a Tupperware party with my friend Leah (it is easy to do and can be done right online) you will get one for FREE!
If you are interested in hosting a party with Leah or have other questions about Tupperware, please contact her, HERE. There are lots of other incentives when you host a party like hostess credit and half-price items so don't hesitate to contact her.
I think that you will enjoy the Tupperware Microwave Breakfast Maker Set as much as I do and get a lot of use out of it! It really is a great item to have in your kitchen and will save you so much time!