Disclosure: I was provided with products from Crayola in exchange for my honest review.  All thoughts and opinions are own. Please see my disclosure policy)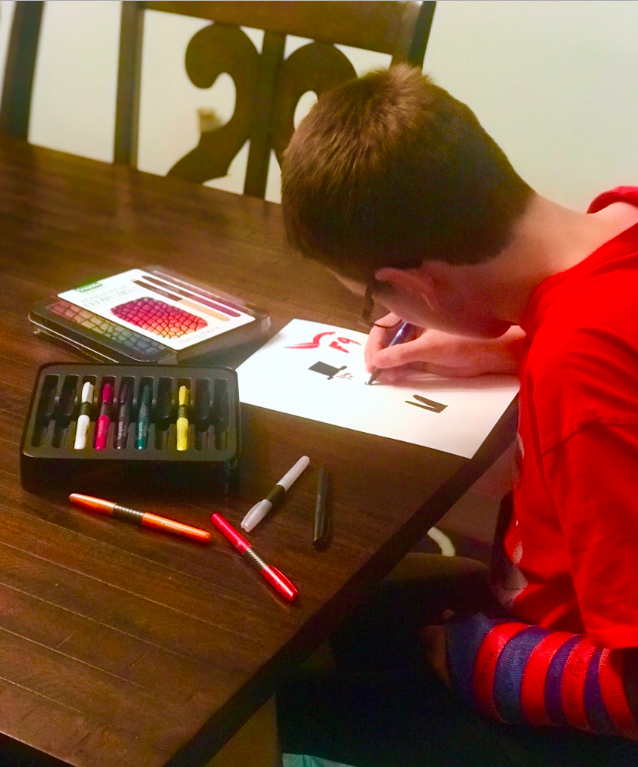 My 13 year old son Drew loves rockets, space and drawing. When you combine those 3 things together, his imagination can run wild! One of our favorite tools for drawing has always been Crayola products. They offer a wide variety of crayons, pencils and markers that can make any drawing come to life!
Crayola recently introduced several new Signature Series products for 2019 and we were excited to try some of them! These products would be great fillers for those Easter baskets! I love that Crayola is always expanding their lines and bringing art to a new level!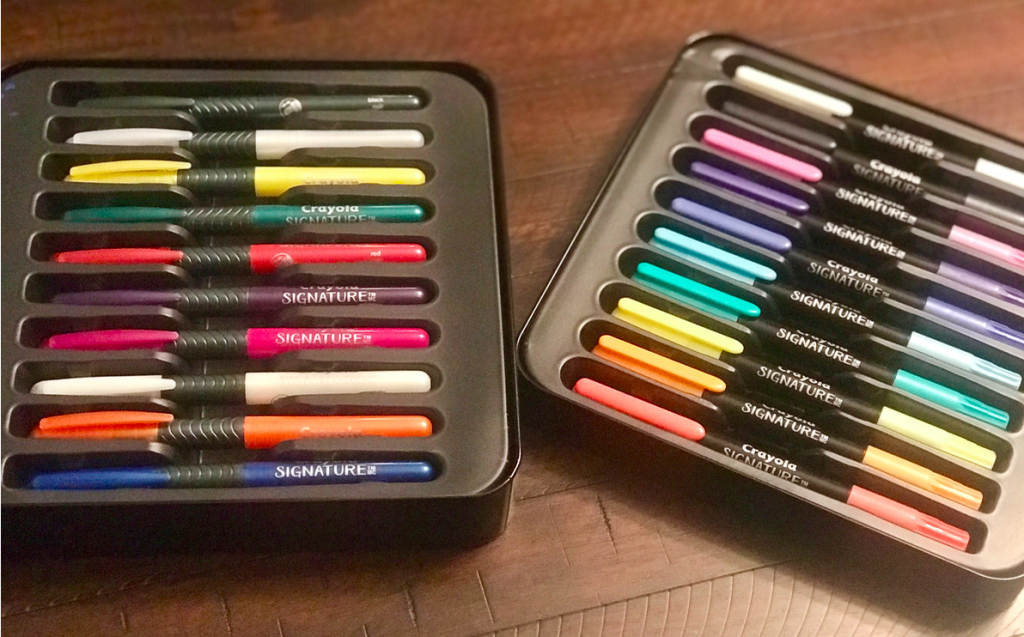 Crayola has expanded its premium line of sophisticated art tools, Crayola Signature, with a new line of Pearlescent tools and Gallery Wall kit! Innovative, sleek and elegant, Crayola Signature products elevate coloring tools to a new level of artistry. Perfect for enthusiasts, crafters and hobbyists alike, the markers, colored pencils, paints and kits in this new line are designed for amazing results. The premium packaging includes a decorative and durable tin adorned with art actually created with the tools inside — truly creativity inspired!
There are 4 new products to Crayola Signature line which include:
Signature Pearlescent Acrylic Paint (SRP: $14.99) Crayola Signature Pearlescent Acrylic Paints offer vibrant colors that give off a shimmery gloss finish. Containing a multidimensional pigment that provides superior coverage, the set includes mixing wells for easy color blending and comes with 16 Acrylic Paints and 3 re-usable paint mixing trays in a decorative storage tin.
Signature Pearlescent Cream Sticks (SRP: $14.99) Crayola Signature Pearlescent Cream Sticks offer 10 creamy colors in a smooth formula that's perfect for fine art or craft projects. These versatile art tools can be used dry or add a bit of water for blending and work great for other effects like edging, large area shading and water color effects like spritzing or dripping.
Signature Pearlescent Paint Markers (SRP: $19.99) Crayola Signature Pearlescent Paint Markers offer robust colors in a satin, gloss finish. They are perfect for hand lettering and other projects on light or dark paper — as well as glass, plastic, ceramic and more.
Signature DIY Gallery Designer (SRP: $19.99) Crayola Signature DIY Gallery Designer offers an eclectic collection of specially textured papers, 3D origami designs and artistry tools to inspire creation of a custom gallery wall. The set features Signature Pearlescent Paint Markers and Gel Sticks to add a special touch or shimmery finish.
Drew was excited to choose the Crayola Signature Pearlescent Cream Sticks and the Signature Pearlescent Paint Markers. I was amazed at how vibrant the pigment was in the markers and the cream sticks are so cool as they can be used dry or wet! If you have a budding artist in your house, these items would be great additions for their Easter basket! You can find these products from the Crayola Signature line on the Crayola website or at many popular retailers nationwide. Make art fun and Spring into Easter with Crayola!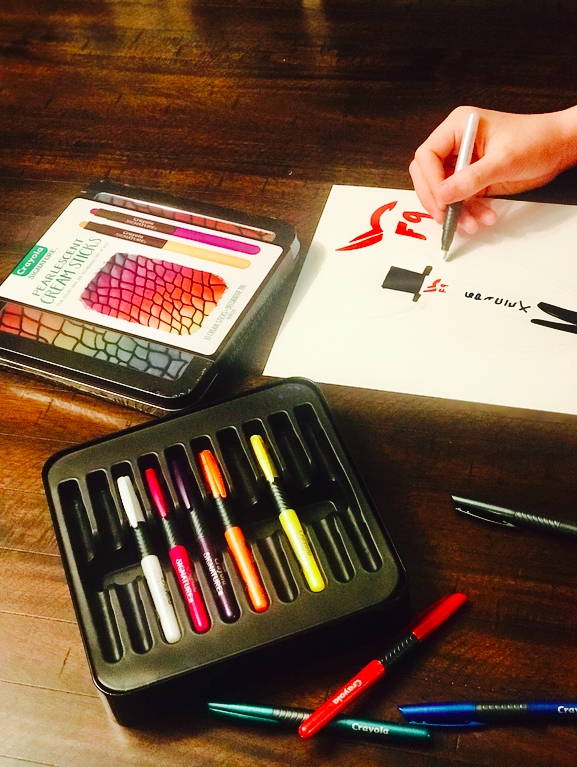 Be sure to stay up-to-date on all the most colorful news at Crayola by following them on Facebook, Instagram and Twitter.