Disclosure: I received products from Olive + M to help facilitate this review. (All posts may contain affiliate links or sponsored content. Please see my disclosure policy)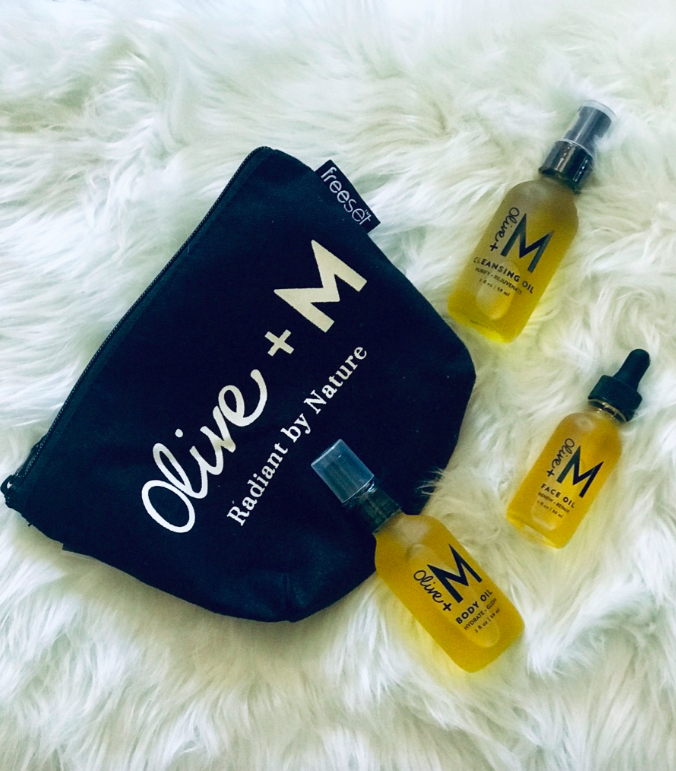 I was recently given the opportunity to try products from the Olive + M line and was so excited to do so! Let me first tell you that I love their mission. They were created from the belief that what you put on your body is just as important as what you put in your body. To me, that is so important! Olive + M believes in being radiant by nature. 
Now, I have to be honest with you, I was a bit skeptical at first since I knew that these products were oil-based. My skin tends to be on the oily side at times during the summer months, so I was afraid that these products would make them even more oily. Boy, was I wrong! Even though all of the Olive + M products are olive oil-based products that contain natural, plant-based ingredients, these factors all help to create a brighter complexion while diminishing those fine lines and wrinkles. In addition, they help to protect against environmental stressors like pollution, and they even help to fight acne and unwanted bacteria. 
Olive + M Cleansing Oil– This oil dissolves dirt and bacteria on your face while nourishing your skin with a natural blend of antioxidants, vitamins, omegas and amino acids. I also love how it smells! It is filled with the aroma of warm, fresh floral and herbal notes with an airy citrus finish.
One of the things that I noticed right away with the cleansing oil was just how much impurities that it removed. It really does a fantastic job of getting rid of makeup and all of the buildup from each day, without much effort on your part.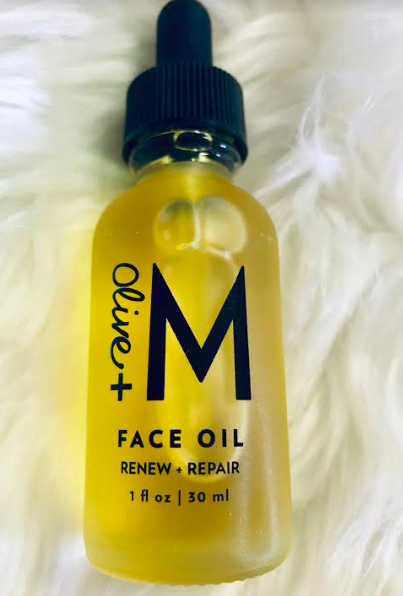 Olive + M Face Oil– I know what you are probably thinking, you are going to moisturize your skin with face oil? That was my reaction at first as well, but let me tell you, this product is amazing! In fact, Olive + M Face Oil is their number one best seller! To me, that says a lot about a product! This Face Oil is light, natural formula is rich in antioxidants, vitamins, omegas and amino acids, and it leaves your complexion soft and glowing. In addition, it also smells so divine!  It is full of rich notes of a blend of green, floral notes and light woody facets with aromatic, minty touches. I really love how this product makes my face feel. It is not oily or greasy and dries to a nice dewy appearance. If you try one product from Olive + M, I highly recommend that you give this one a try!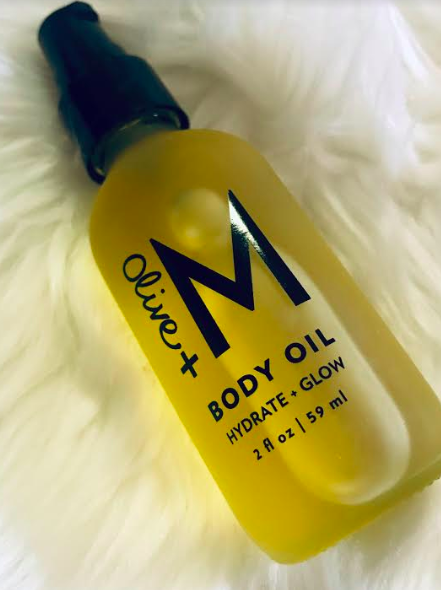 Olive + M Body Oil– Who doesn't love a good body oil? This one from Olive + M is fantastic! Olive + M Body Oil is a concentrated blend of pink grapefruit, bergamot and clary sage. Yes, it smells heavenly! I like to apply Olive + M Body Oil right after I get out of the shower. It leaves my skin feeling hydrated and moisturized. You can even apply a few drops in a hot bath if you prefer. I haven't tried that yet, but plan to very soon! 
In addition to ordering from Olive + M directly on their website, I am so happy to tell you that Olive + M is now available at your local Target! The next time that you are there, be sure to take a look at the products for yourself. I am certain that you will love them as much as I have!