Disclosure: I was provided with Y'OUR Personalized Skincare to facilitate my review. All thoughts and opinions are own. Please see my disclosure policy)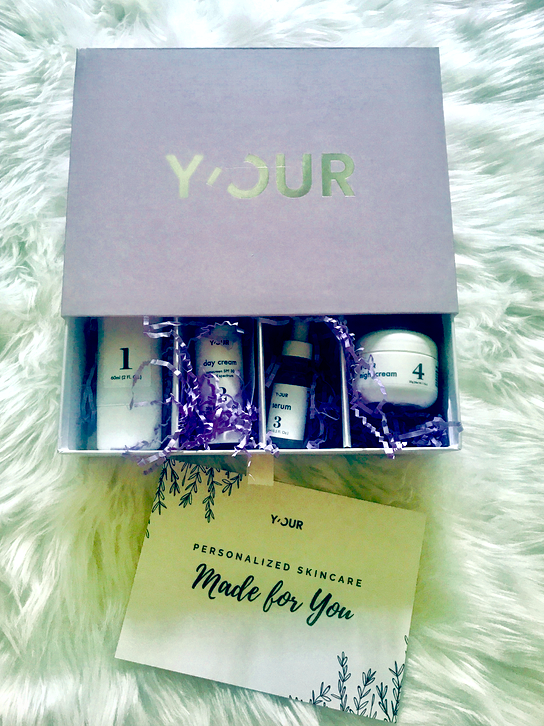 As someone in their early 4o's, I definitely am paying much more to attention to my skin and the skincare that I use. It seems that once you hit 40, your skin starts playing tricks on you. I have definitely noticed more redness around my nose, and yes, those pesky lines around my mouth and lips are starting to appear!
Thankfully, I never really had acne or any other skin problems when I was younger, but now that I am getting older and noticing the signs of the aging process creeping in, I need to address those problems now before it becomes an issue. So, when I was asked to review Y'OUR Personalized Skincare, I couldn't wait to give the products a try!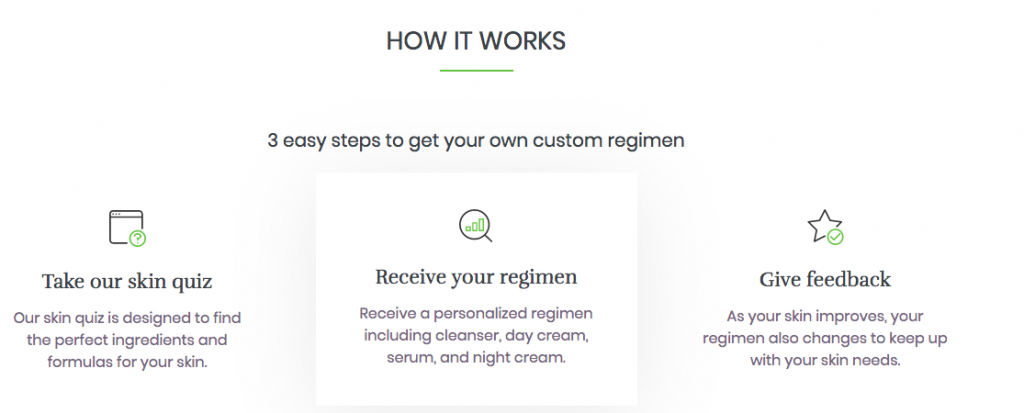 Getting started with Y'OUR Personalized Skincare is super easy! Build your perfect skin care regimen by taking a simple quiz HERE. This quiz helps Y'OUR to see what your skin type is. They will then formulate the best custom regimen for your specific needs. Sounds too easy, right? It is that simple!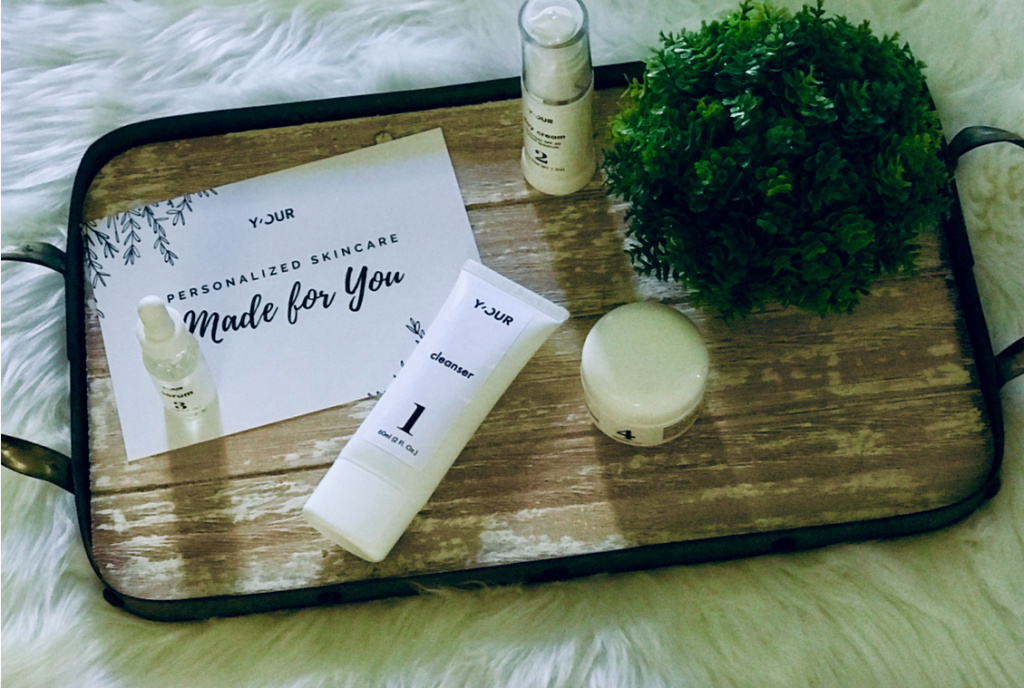 Y'OUR creates a personalized regimen for you based on what you're looking to improve in your skin. The products that you will receive are full size products (3 month supply). They also have a satisfaction guarantee policy in which they offer to reformulate the products for you for free up to 2 times during the first 3 months to make sure that you are completely satisfied. 
I also appreciate that Y'OUR products evolve with me. Before users are sent their next set of products, they will be sent an evaluation form to make any adjustments if necessary. Our skin can change depending on the season and as we age so I greatly appreciate this!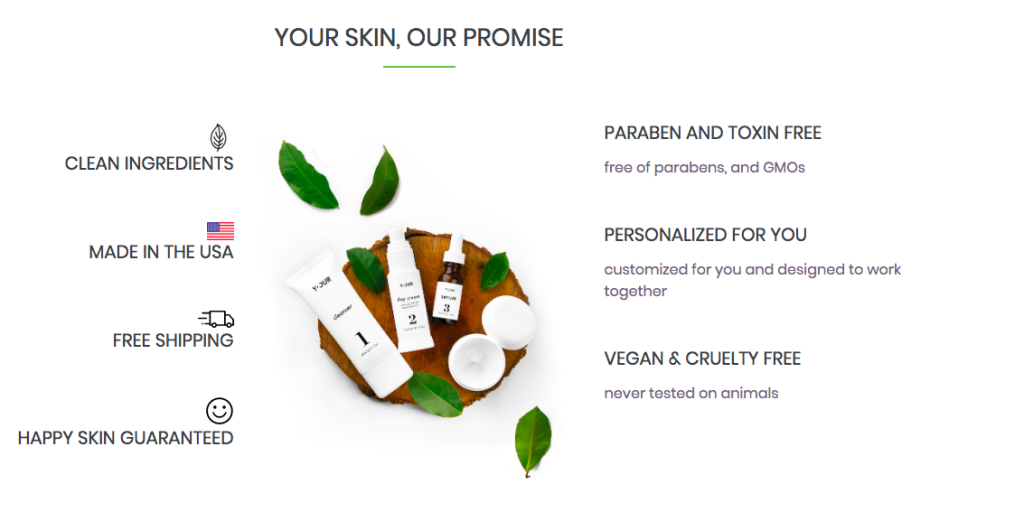 What about the ingredients in Y'OUR Personalized Skincare? You will be happy to know that their cleanser is safer and more effective than physical exfoliating cleansers since it has the ability to penetrate the skin for deeper exfoliation while does not involve actually rubbing the skin. In addition, the products are made with clean ingredients, no fillers, and are Paraben and toxin free. They are also made right here in the USA and there is no animal testing done on them and they are cruelty free.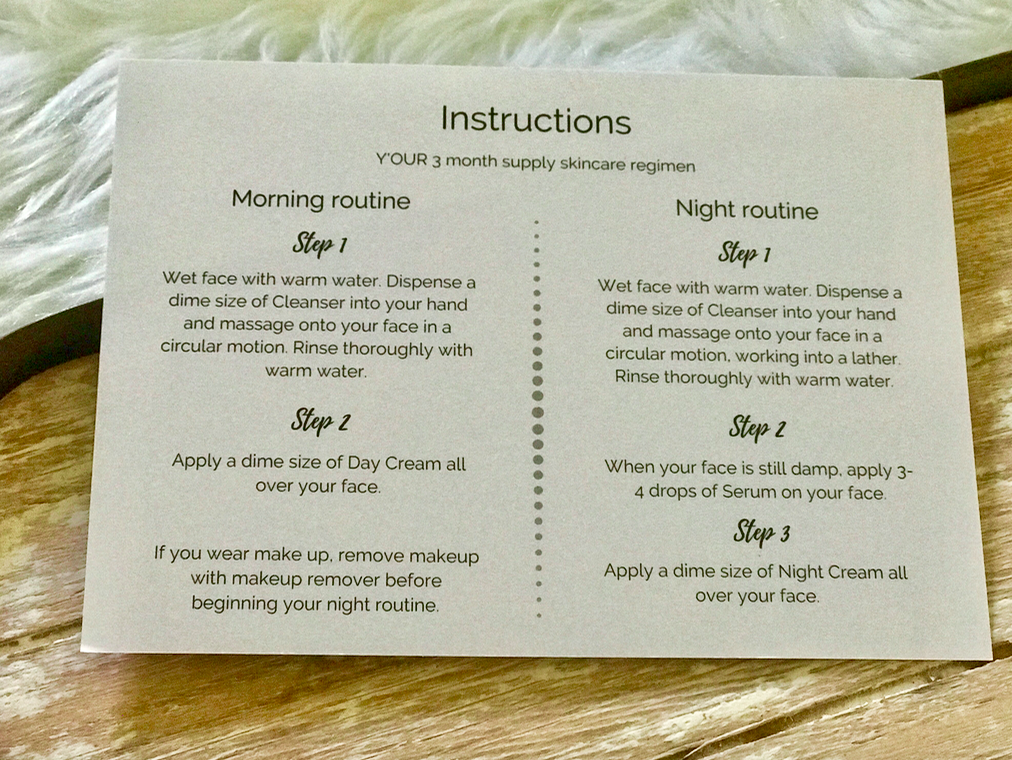 When my Y'OUR Personalized Skincare Kit arrived, I was very pleased with the beautiful packaging! The purple box made it extra special! When I opened the box, I found it extremely helpful that they had enclosed a card with my personal skincare routine. This is so helpful and shows me step-by-step how to apply the products.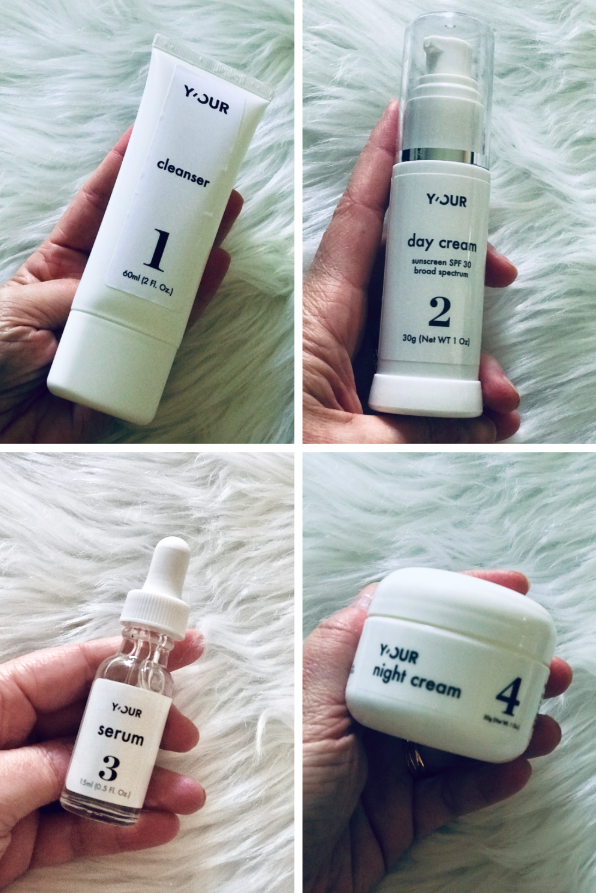 My personalized skincare routine is comprised of 4 products: Cleanser, Day Cream, Serum and the Night Cream.
Cleanser– I have found that you don't need much of this cleanser to get the job done. A small dime sized amount is perfect and it makes your skin feel soft, fresh and super clean. This cleanser is perfect for combination skin as it purifies your skin and gives you a smooth complexion.
Day Cream– I love the day cream! It is not heavy at all and I appreciate that I can place my foundation right on top of it and it doesn't weigh my skin down. This also has an SPF 30 which is so important in a day cream. This formula combines the UV deflecting properties of Titanium minerals with protective ingredients to prevent sun damage, neutralize harmful free radicals, and keep away pollution damages.
Serum– Out of the 4 products in my personalized skincare kit, the serum is my favorite! You simply apply 2-3 drops on your face and let the magic happen. The serum gives your face a nice firm feeling without being greasy or overpowering. I like to take the serum as well as the Day and Night Creams all the way to my neck. Your neck can start to show aging very early on so it is important that we cover that area as well! In addition, it infuses your skin with a boost of anti-inflammatory benefits to instantly calm redness, rosacea and the most sensitive skin.
Night Cream– The Night Cream is fabulous! While it is a bit thicker than the day cream, it glides right on and you wake up feeling refreshed and your face is super soft! The night cream helps to reduce wrinkles and even your skin tone.
What are my thoughts so far on Y'OUR Personalized Skincare? I have only been using these products for under 2 weeks, but I have noticed that my skin is much more soft and manageable. I can really tell that these products are targeted just for my skin, which is very impressive to me. I love the unique approach that Y'OUR Personalized Skincare takes and would highly recommend that you try them for yourselves! Right now when you take a personalized quiz HERE you will receive $15 off the Y'OUR Personalized Skincare kit. You have nothing to lose but only beautiful skin to gain!