This post is sponsored by Florida Strawberry in conjunction with a social media campaign through Sunday Supper LLC. All opinions are my own.
Preserving Florida Strawberries
I will admit that I have a deep affection for Florida strawberries. Since I had the opportunity to visit the glorious strawberry fields with some blogging friends last year, I have grown quite a love for Florida strawberries! Whether I eat them by the handful, as a topping for ice cream or yogurt or in a smoothie, there is nothing better than the taste of fresh strawberries. Since Florida Strawberry season runs December through April, right now is the perfect time to stock up and enjoy these red gems of juicy goodness!
Florida strawberries are in such abundance right now so be sure to stock up while you can! Did you know that Florida strawberries can easily be preserved to enjoy all year long? This makes me so happy! Preserve fresh strawberries by freezing, drying, pickling, and canning them. This is a sure way to enjoy your favorite berries any time of the year.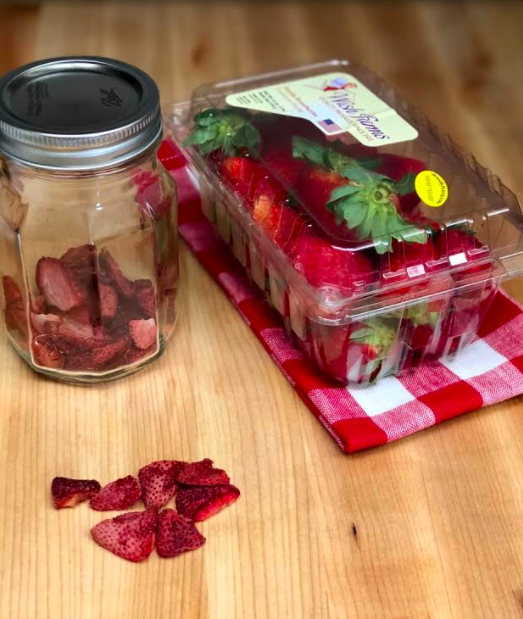 Drying Strawberries
One of my favorite ways to preserve strawberries is by drying them out in the oven. Yep, you read that right, in the oven! This really is a simple process and when you dry out (dehydrate) the strawberries in the oven, they taste like candy!
How to Dry Strawberries in the Oven:
 -Purchase Florida strawberries from your favorite store or produce market. You will want to ensure you pick berries that are plump and ripe. Discard any berries that are mushy as these will not dry out properly. I would also suggest that you dehydrate at least 2lbs. since the berries shrivel up significantly.
-Preheat your oven to 200. While the oven is pre-heating, wash and dry the strawberries.
-Line baking sheets with parchment paper. Make sure to use parchment paper and nothing else. This will ensure for even, dried out strawberries.
-Remove the green leafy part of the strawberry. A little trivia for you….did you know that the green leafy part is called the calyx? I learned about all of the different sections of the strawberry when I had the opportunity to visit a Florida Strawberry Grower's Association event last year with my blogging friends from Sunday Supper. This event gave me an even deeper love for my favorite strawberries, as I was able to see first-hand what goes into to the strawberry growing process.
-Cut your strawberries in half lengthwise. If you have some larger berries, you may need to cut them into thirds. Place the berries skin side down on the parchment paper. Make sure that you leave enough space in between each berry to let the air circulate through and dry them out. Do not overcrowd your baking sheets. This is very important!
-Bake for 2 hours. Take out of the oven and turn the berries over. Bake for another 2 hours. If you feel that the berries need to dry out further, you can cook for another 30 minutes to an hour. Just be sure to keep an eye on them. The berries should slip right off of the parchment paper.
-Store in an airtight container and enjoy! These berries are the perfect addition to cereal or yogurt, or just to eat by themselves. You can also use your dehydrated strawberries in my Strawberry Coconut Granola. This granola is packed full of delicious flavors that your entire family is sure to love!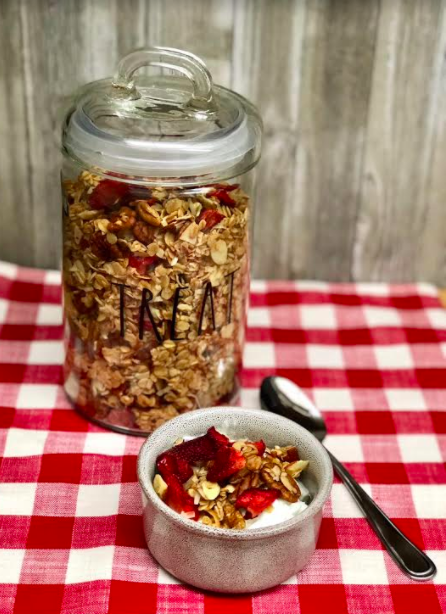 Strawberry Coconut Granola Using Dehydrated Strawberries
Ingredients:
6 cups rolled oats
1 cup chopped pecans
1 cup slivered almonds
1 cup flax seed
1 cup sweetened coconut flakes
1 cup maple syrup
1 cup vegetable oil
½ teaspoon sea salt
½ teaspoon vanilla
1 tsp. cinnamon
Directions:
Preheat oven to 275 degrees.
Mix together the dry ingredients in a large bowl. Add in the liquid ingredients and mix together until well combined.
Spread the mixture onto a baking sheet lined with parchment paper.
Cook for 45 minutes. Halfway through the baking process, stir the granola to avoid burning.
Remove the granola from the oven and let it cool for several hours. After the granola has cooled, stir in the dehydrated Florida strawberries.
Store in an airtight container or jar to keep on hand and enjoy for snacking! You can also serve with milk as a cereal or use the granola as a topping for your favorite yogurt or ice cream!
Enjoy! You won't be able to keep your hand out of the jar, I promise!
Need more Florida strawberry inspiration? Visit Strawberry Sue or follow Strawberry Sue on You Tube or Twitter. Florida Strawberry can be found on Facebook, Twitter, Instagram, Google +and Pinterest.
In addition, be sure to check out my fellow Sunday-Supper blogging friends below who have even more delicious inspiration for preserving Florida strawberries.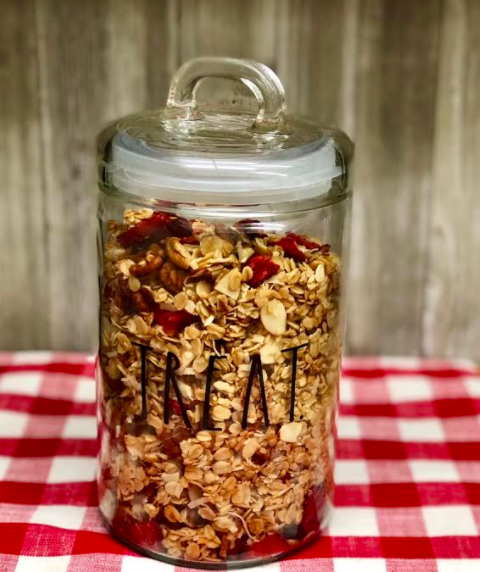 How to Preserve Strawberries
Canning
Dehydrating
Freezing
Pickling
The Sunday Supper Movement is committed to bringing our readers delicious recipes that encourage them to gather and eat together around the family table. Search for your favorite ingredients on our Sunday Supper website. Also check out the Sunday Supper Pinterest boards for plenty more ideas and inspiration.