Disclosure: This is a sponsored conversation written by me on behalf of TGI Fridays. All thoughts and opinions are my own. Please see my disclosure policy) 

I don't have to tell you that I love a great deal. I especially love to find great deals and share them with you, my readers! When I found out that TGI Fridays had a new promotion, I could not wait to share it with you!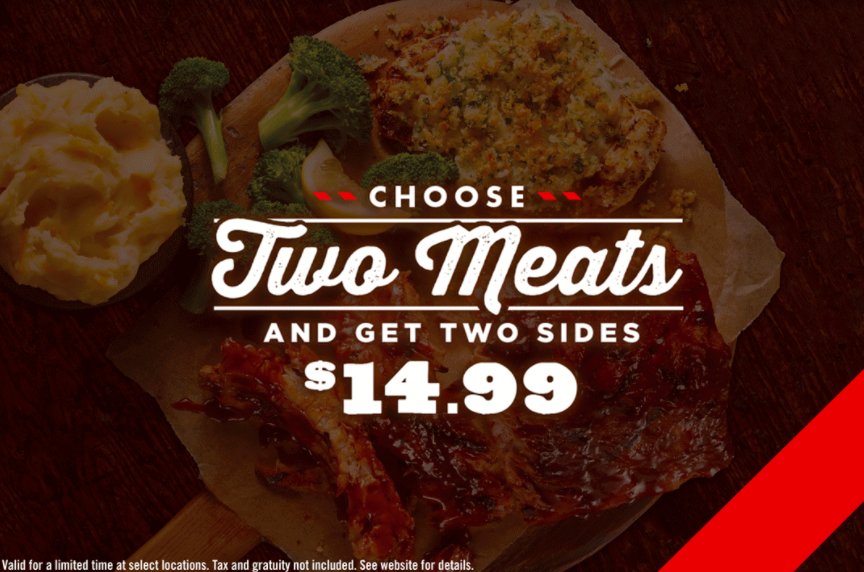 For a limited time, you can choose 2 meats off the grill AND 2 side dishes for only $14.99! This is such a fantastic deal and would make for a fabulous date night! Hubby and I definitely will be heading to TGI Fridays for a fun and delicious date night very soon! 
With this special offering, you can choose 2 of the menu options listed below for your $14.99 deal: 
*NEW Center-Cut Sirloin
A 6-ounce premium center-cut sirloin seasoned with a hickory smoked sea salt,
topped with parmesan butter.
*NEW Half-Rack of Fridays Big Ribs
Fridays Big Ribs are 30% meatier, bolder and tastier premium pork back ribs that are
cooked low and slow in-house.
*NEW Dragon-Glazed Salmon
An Atlantic salmon filet brushed with a sweet and spicy Korean BBQ sauce and
topped with a mango pico de gallo, made in-house daily.
*NEW Bacon-Wrapped Grilled Shrimp
Two skewers of three large jumbo shrimp, wrapped in hardwood smoked bacon and
brushed with a parmesan butter sauce.
*NEW Parmesan-Crusted Chicken
A new and improved Parmesan-Crusted Chicken topped with a white poblano queso
and toasted with crispy Parmesan bread crumbs.
What two items will choose from on the menu? With such mouth-watering offerings, it is a tough decision, but I will be trying the salmon and shrimp for sure! Everything sounds so delicious! For more info on this promotional offer, visit https://www.tgifridays.com/choose-2.
In addition, don't forget to sign up for the TGI Fridays Rewards Program and to download their app. As a Fridays Rewards member, you will receive amazing perks like free chips and salsa with every Fridays visit, invites to special events, and all kinds of other great rewards.