(All posts may contain affiliate links and/or sponsored content. Please see my disclosure policy)
Even if  you aren't someone who regularly clips coupons, there are ways to put money back into your wallet each week. There are 3 money saving apps that I use on a regular basis and I highly recommend that you download them to start saving money as well. It takes very little effort to use these apps and the benefits are very rewarding! And, you can use these apps in conjunction with each other to really speed up the earning process!
Fetch Rewards– This app has to be the easiest way ever to earn money! Just scan and earn! Yes, it is that simple! Sign up HERE. After you scan your first receipt you will get 2000 points! That is almost enough for your first gift card!  
With Fetch Rewards, there are no specific products to keep track of. You simply scan your receipts each time that you shop and the points add up. If you really want the points to add up, there are specific products that you can purchase which will earn you more points each time that you shop. Otherwise, just scan your receipts each time that you shop and watch the points accrue in your account. AND, it only takes 3000 points to earn your first gift card to places like Amazon, Dunkin' and Target. Save up your points to earn even larger gift cards! GO HERE to sign up for Fetch Rewards and use code K3DEH.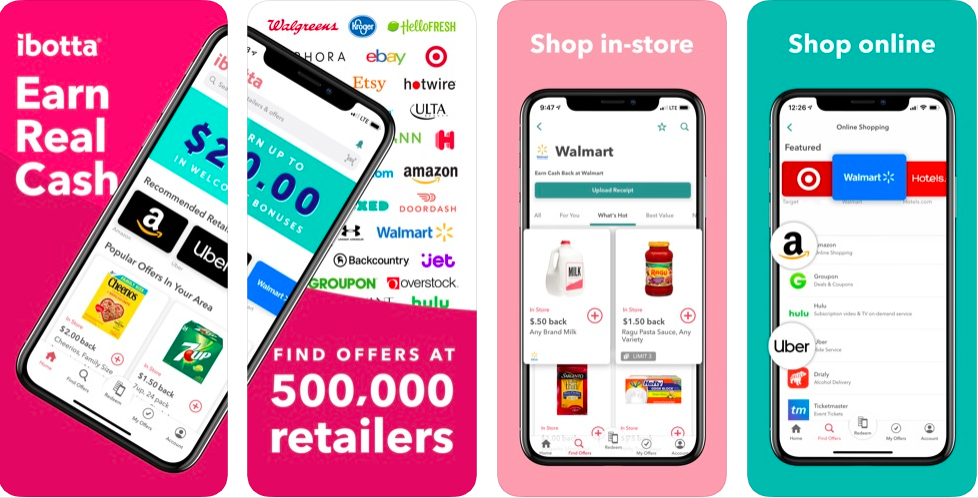 Ibotta– With Ibotta, you can earn real cash back every time you shop online or in-store. Simply check Ibotta before you shop in-store or online, travel, dine out, or make a purchase and you can get rewarded with cash back and gift cards to your favorite retailers. Ibotta works with leading brands and retailers to help you save money without the hassle of traditional coupons, or promo codes.
And, now, earn with their newest feature, you can pay with Ibotta, too! When you use Pay with Ibotta, you can pay for your purchases right from the app, and earn cash back on your entire purchase, instantly. GO HERE to sign up for Ibotta.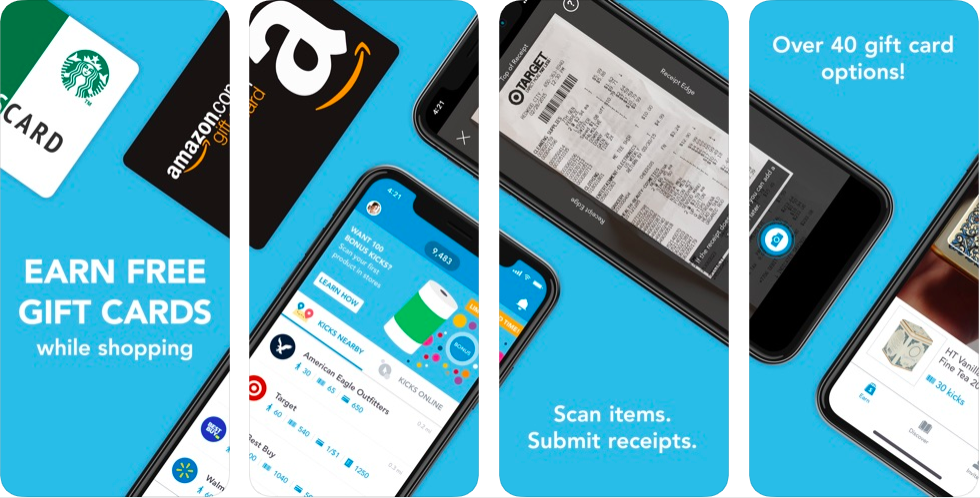 Shopkick– This app allows you to earn kicks which are rewards points that can be use towards digital gift cards to your favorite stores. Earning kicks is super easy, and this app is one that you can have your kids help you with! It is kind of like a scavenger hunt as you go through the store scanning products to get kicks My boys love to help me with this! 
There are six easy ways to earn kicks while you shop:
Walk into stores.
Scan barcodes of selected products.
Purchase items and submit your receipt.
Purchase items with your linked card.
Make online purchases.
Watch videos.
That's it! The Shopkick app is so easy anyone can do it! You shop, you get kicks, and you redeem for gift cards! GO HERE to sign up. 
Believe me, it really is that easy to earn cash back and gift cards to your favorite stores. I love to have my boys help me scan the receipts and it can be like a game for the entire family to get involved in saving money!