Disclosure: As a brand ambassador, I received products to facilitate this post. All thoughts and opinions are my own. Please see my disclosure policy)
I am thrilled to once again be partnering with Miss Jones Baking Co.! You may remember from my previous post HERE, that I made yummy Chocolate Raspberry Brownie Cheesecake Trifles with their Fudgy Brownie Mix and Miss Jones Chocolate Frosting Made with Coconut Oil. 
For today's recipe, Salted Caramel Pumpkin Crunch Bars, I am using the Miss Jones Baking Co. Organic Vanilla Cake Mix. This is the mix that started it all! Miss Jones' recipe for this moist, fluffy treat has the perfect hint of vanilla. It is simple yet delicious. I love how versatile this mix is too! Not only can you use it for cakes, but for cookies and bars like I did today. 
I don't know about you, but when fall arrives that means one thing. Pumpkin everything! I am a huge pumpkin fan so I knew that I wanted to create a dessert with Miss Jones Baking Co. Organic Vanilla Cake Mix that incorporated my love of pumpkins and fall. I think that this recipe is a winner! My guys could not stop raving about how delicious that these bars are! I hope that you will enjoy them too!
Salted Caramel Pumpkin Crunch Bars
Ingredients:
1 box Miss Jones Baking Co. Organic Vanilla Cake Mix
3 eggs
3/4 cup melted butter
1 12oz. can evaporated milk
1 15oz. can pumpkin (not pumpkin pie filling)
1 cup sugar
1 cup chopped pecans
2 tsp. cinnamon
1 tsp. pumpkin pie spice
Himalayan Salt Grinder
Caramel sauce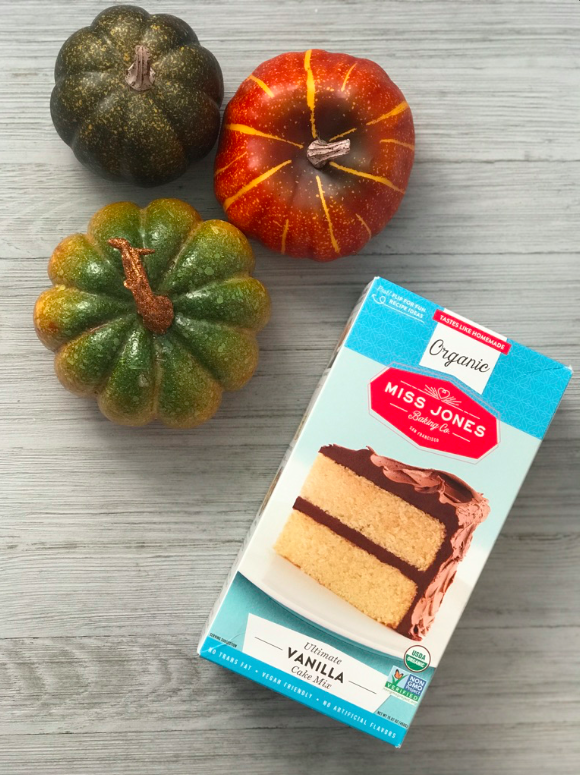 Directions:
Preheat oven to 350 degrees and grease a 9×13 baking dish. In a bowl, mix eggs, pumpkin, sugar, evaporated milk and cinnamon. Pour mixture into the greased baking dish.
Sprinkle the dry Miss Jones Baking Co. vanilla cake mix on top of of the pumpkin mixture. Sprinkle with pecans then drizzle with melted butter.
Bake at 350 degrees for 50 minutes or until the middle is set. Let set for at least 30 minutes. Drizzle with caramel sauce then grind Himalayan Sea Salt on top of bars before serving. You could even serve with ice cream or whipped cream.
Enjoy! These bars are salty, sweet and oh-so delicious! They are definitely fall in every bite!
***********************
Did you know that Publix carries a full lineup of Miss Jones Baking Co. products? You can also find their products on Amazon and other retailers. Check out their website HERE for a delicious lineup of products and location finder.
Be sure to follow Miss Jones Baking Co. on Instagram, Facebook, Twitter and Pinterest.