(All posts may contain affiliate links or sponsored content. Please see my disclosure policy)
Summer birthday parties are usually accompanied by great weather and holiday vibes. There are lots of great ways you can create exciting and fun parties on a budget for kids and adults alike, so here are a few ideas to take inspiration from:
Kids Parties:
1)    Choosing a Theme
Having a theme makes it easier to take inspiration, so consider what your kid enjoys. Nintendo's game Animal Crossing is currently a great fun choice for themed parties, as it is a game that's loved by both kids and adults. Many people enjoy throwing virtual parties in the game itself, but the cute art style and elements within the game give plenty of inspiration for a real-life party.
2)    Entertainment
When it comes to entertaining kids, there needs to be lots of things to do. Take into consideration their hobbies and interests to generate a theme but keep the activities all-inclusive. Scavenger hunts and treasure hunts are great fun, and you can incorporate their interests to create a themed hunt. You can DIY some clue cards and hide 'gift bags' for kids to find.
3)    Fun Place Settings and Decor
Characters from their favorite games or tv shows can be used as markers, or even as table place settings. You could use some of their toys, or even models or figures of their favorite characters. Nendoroids are very popular collectible figures, and you can even buy them online, but they also make ideal place markers, scavenger hunt markers, or even gifts. In fact, you could even use one as a fun cake-topper!
Food and Drinks:
4)    Barbeque
BBQs always make for great parties, but if you needed a good excuse to get the BBQ out, a Birthday celebration is definitely the perfect one. Owning a decently sized barbeque and purchasing some ingredients is the only big expense. You can also make this a daytime or evening event, whichever you prefer.
5)    Tropical Party
Fitting perfectly in the theme of Summer, hosting a Hawaiian or tropical themed party can be great fun. Make sure you have plenty of fruit like pineapples, mangoes, and coconuts and set up a cocktail bar too. Just make sure everyone wears their best Hawaiian shirt!
Evening Parties:
6)    Movie Night
The perfect way to celebrate when the sun starts to set is by setting up a screen and projector outside. Having an outdoor, backyard movie night can be great fun. Simply set up your projector and screen, some string lights or candle lanterns, and bring out the comfy blankets and cushions. You should also make sure to get lots of popcorn!
7)    Camping and S'mores
If your backyard is big enough, a great party idea is for everyone to bring along their tents. For an outdoor version of a pajama party, set up a small campfire and roast some s'mores. This is a great way to enjoy a group camping trip in your own backyard. Lots of stores sell campfire kits, but you can also DIY one too!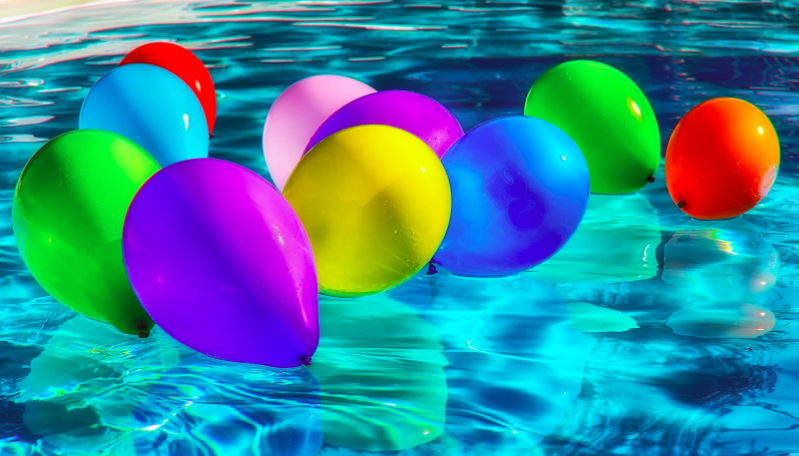 Summertime Fun:
8)    Pool Party
If you have your own pool, a pool-party is a no-brainer. The perfect thing to go with hot weather is a dip in the pool, so start blowing up your favorite pool inflatables and picking out your swimwear. Some iced drinks and sun chairs and a fun music playlist make a pool party fun and relaxing. If you're throwing a pool party for kids, make sure everyone can swim and that someone can supervise at all times!
The summer weather means there are plenty of great options available to throw a fun birthday party, even on a small budget. Just don't forget to wear sun lotion!