Disclosure: I was provided with complimentary tickets and a tour to Clearwater Marine Aquarium in exchange for my honest review. All thoughts and opinions are my own. Please see my disclosure policy)
I often feel that living here in the Tampa Bay area of Florida, we sometimes take for granted the most remarkable attractions that we have right in our back yard. One such example for my family and I is Clearwater Marine Aquarium. I cannot believe that we have never visited this remarkable facility until this past Saturday.
Many of you may be familiar with Clearwater Marine Aquarium as it has been made famous by Winter the Dolphin. She is the bottlenose dolphin with a prosthetic tale, and her story and experience have been portrayed in The Dolphin Tale and Dolphin Tale 2 movies. Winter, along with her dolphin friend Hope live at Clearwater Marine Aquarium where they, along with many other animals are taken care of by volunteers, trainers and staff.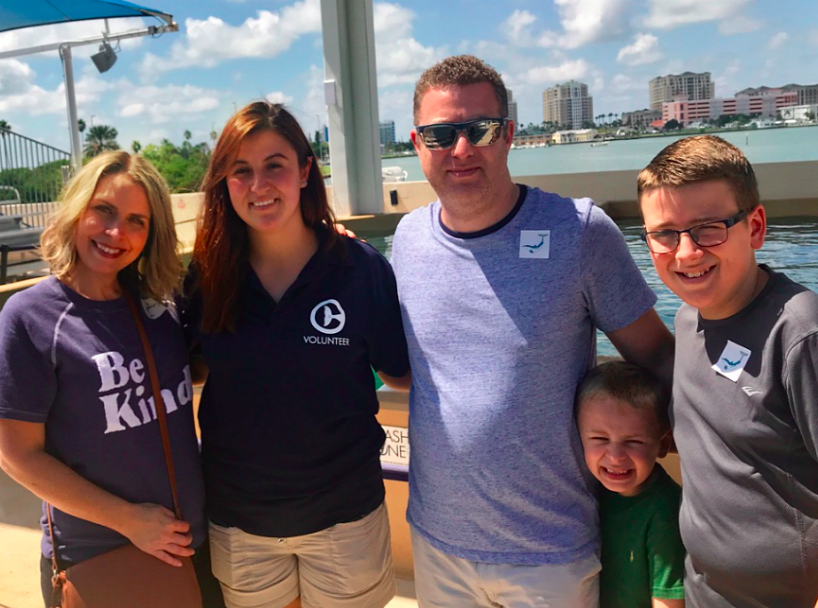 During our visit to Clearwater Marine Aquarium, we were given a personal tour by Allie. Allie is one of the many volunteers who give of themselves to help in the rescue, rehab and rehabilitation efforts which is the Aquarium's number one mission. Once you step into the Aquarium, you can see why it is so easy to immerse yourself into the world of marine life rescue!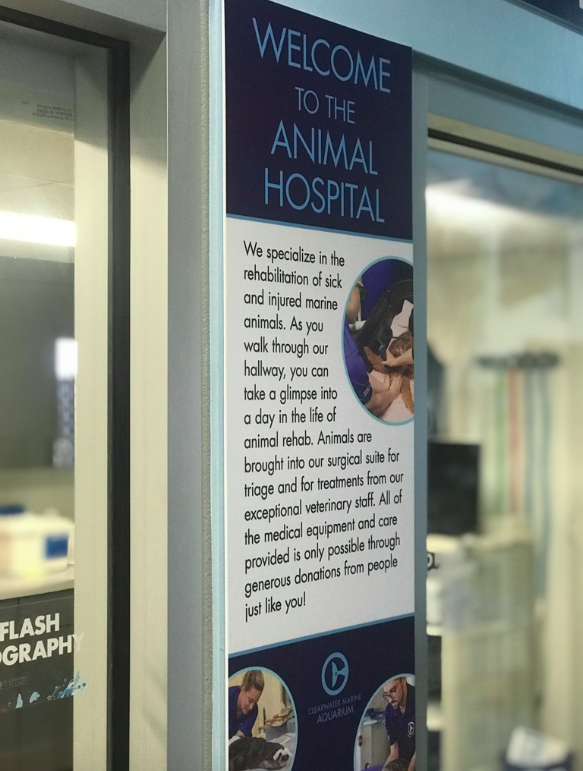 Our tour started with a stop by the animal hospital. We were able to see right into the area where animals are brought when they are sick. They have an actual surgical suite and triage where the sick animals are brought to receive treatment from the trained veterinary staff. The care given to these animals truly is remarkable! In the window, were little containers with items that they had pulled from turtles. Many turtles are brought here because they have swallowed huge fishing lines. The veterinary staff is able to remove them and to rehab the turtles. The picture below portrays just some of the reasons why animals are brought to Clearwater Marine Aquarium. Look at the wall of Sea Turtles that the Aquarium has brought back to rehabilitation!
From here, we moved along and saw the kitchen where they prepare the food for the animals. They have huge freezers filled with food, and staff are there very early every morning to prepare healthy and delicious meals for the animals. Some of the animals will eat pounds of fish each day! One of the fun facts that I learned on our tour…they feed Jell-O to the dolphins, otters and pelicans to help them with their fluid intake. How cute is that?
We loved meeting Thelma and Louise two Nurse Sharks on our tour. Did you know that Nurse Sharks are actually bottom dwellers? This means that you will more than likely find them "resting" on the bottom of the ocean floor during the day since they are nocturnal animals. Nurse sharks can grow to be as long as 13 feet and weigh as much as 330 pounds! Wow!
Of course no trip to Clearwater Marine Aquarium is complete without seeing Winter and Hope! It was hard for me to get a good picture in the lighting, but here is Winter playing! You can see where her tail is cut off. In the photo below you can see Winter's prosthetic that attaches to her tail. This has greatly helped to aid in her rehabilitation! If you have not seen the Dolphin Tale and Dolphin Tale 2 movies, they are a must! These movies will tell you the story of how Winter was hurt and brought to the aquarium for rehabilitation. Since our trip on Saturday, my boys have watched both movies twice!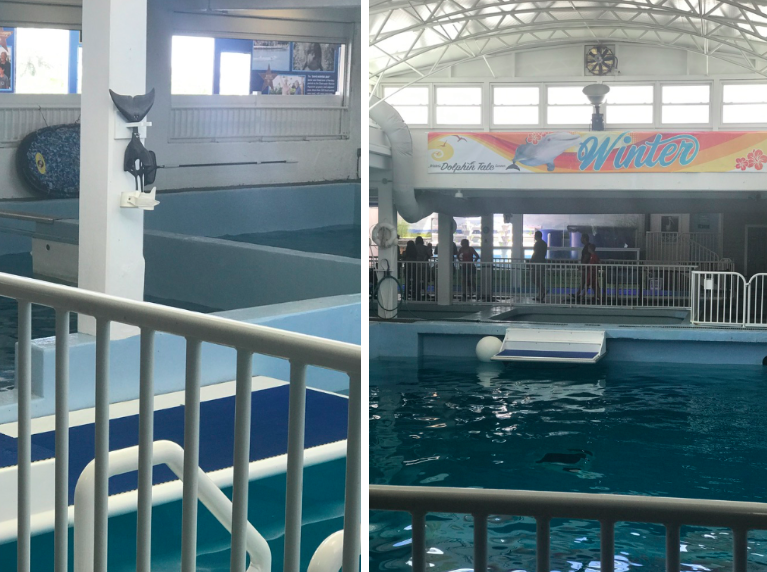 We also got to meet pelicans Ricky, Tyndall, Skylar and Matthew. Pelicans are such beautiful creatures!
The aquarium is in the middle of a huge renovation! If you visit right now, you will see that they are in the process of giving Winter a new home! There will be a new rescued dolphin complex, dolphin observation window and much more! You can see more details of the expansion HERE.
As you walk around the aquarium, you can't help but feel the love that the everyone has not only for Winter, but for all of the animals as well. If you have never visited Clearwater Marine Aquarium, I highly suggest that you plan a trip in the very near future to see what their mission of rescue, rehab and release is all about! You will not be disappointed!
I want to send a huge thank you to Allie and the staff at Clearwater Marine Aquarium for making our trip so enjoyable! They also gifted our family with 2 huge bags of stuffed animals, books, mugs and other goodies that we have been loving! Thank you!
Tampa residents, I have one sweet deal for you! Clearwater Marine Aquarium (CMA) is showing appreciation for their Tampa Bay neighbors! 
To show appreciation for local residents, CMA is featuring a special admission offer for the month of September. This offer applies to residents of Pinellas, Hillsborough, Hernando, Citrus, Manatee and Pasco counties. Click HERE for more details. 
$14.99 – Adults
$9.99 – Kids 12 and under
FREE – Children 2 and under
In addition, September 22-23 and 29-30 CMA is celebrating with Hopetember. YOU can give hope to the community with the RCS Pinellas Food Drive benefiting people and pets. Bring a non-perishable canned food item, or canned or dry dog or cat food to benefit RCS Pinellas and receive discounted general admission.
Discounted admission for Hopetember:
$12.99 – Adults/Seniors
$9.99 – Kids 12 and under
FREE – Children 2 and under
This is a great time to visit CMA if you have never done so! My boys are already asking me when we are going back!
Be sure to follow CMA on Instagram, Facebook and Twitter to stay up to date on all of the latest news and promotional offers!