(All posts may contain affiliate links or sponsored content. Please see my disclosure policy)
Creating a nursery is so much fun, but no matter how prepared you feel, it's hard knowing where to start. When I was creating Brady's nursery, I had no idea where to start. There are so many things that you are supposed to buy, so many things that you are supposed to do, and it can be very overwhelming. If you are in the same boat when it comes to creating a nursery for your bundle of joy that is on the way, keep reading. Here are a few ways that you can create a special and perfect nursery for your bundle:
Consider Your Space
First of all, you absolutely need to consider your space. What do you have room for? When it comes to creating a nursery (especially if it is your first one), it is very important to crawl before you can walk, no pun intended. Make sure you are not getting too carried away with all of the crazy things that you see on Pinterest and instead, focus on what is practical and what you can fit in your space.
The first thing you need to consider, like I mentioned, is the amount of available space that you have. You do not want the room to look too cluttered, so you might have to cut back on some of the non-essentials and only choose essential items, such as a crib, a recliner or rocker, and a dresser/changing table.
My favorite way to help yourself out with this process is by creating a tentative floor plan. Draw a rough outline of the room and then pencil in each piece of furniture. Of course, sizing will probably be off, but this gives you a great start before you actually take the time to measure.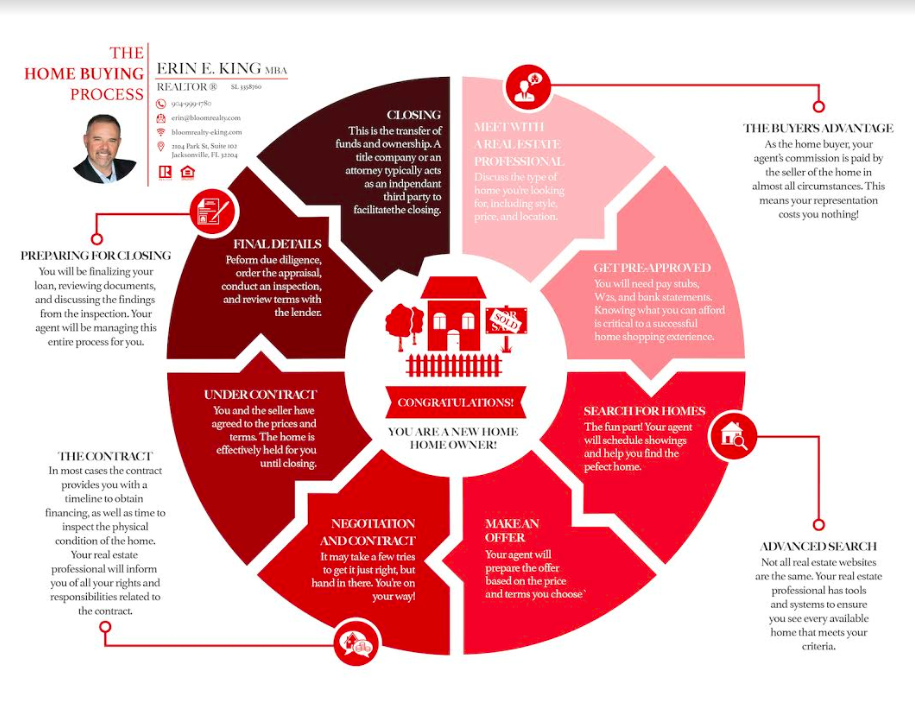 However, you do not have to consider your space if you are moving, which a lot of couples choose to do when finding out that they are having a baby. If this sounds like your situation, make sure that you are making sure that the home works for you now and in the future, as well. So, look at the nursery size, consider the number of bathrooms and what is in the bathrooms (is the tub safe, etc.), will the home have a playroom, etc. Tell your real estate agent that you are expecting and need a home that is safe for your baby-to-be. The reason why you need to be so specific with your wants and needs is because "purchasing a property is most likely the biggest financial decision you will ever make. Whether this is your first purchase or you are an experienced buyer, this decision must be made carefully," according to Erin King with Jax Historic Realty. "Erin, who previously worked in financial services and holds an MBA with an economics focus, brings a deep understanding of buying and selling historic homes. He enjoys sharing that knowledge with clients, from how to fit a 21st century lifestyle into a historic home and where to seek financing for renovation with a home purchase, to accurately pricing homes in Historic Districts such as Riverside, Avondale, Ortega, Springfield, Murray Hill, and San Marco. Erin, who prides himself on close attention to detail and quick response to clients, has put together a support team of contractors and other professionals who help transactions go smoothly." So, no matter if you are looking for old homes for sale in San Marco, or a new build, talk with Erin, or your personal real estate agent to make sure that you are getting what you need for your growing family.
Choose A Color Palette
Next up: choose a color palette! This is a really fun part. Do you know that you are having a girl? Maybe you will go with a blush pink color, or periwinkle blue with a hint of purple in it. If you are having a boy, consider a gorgeous light blue color, or maybe an emerald green accent wall. There are so many colors to choose from and this just makes the process very real and fun. When you do choose a color palette, consider the nursery furniture, your flooring, and any 'unchangeable' items first. Then, you can choose all of the colors for the walls and decor options. My friend, Alex, chose to go with all neutrals: white, cream, and light beige, with just a few pops of light blush. I think that is a beautiful color palette for her first baby girl. Plus, it is simple enough to last a while.
Know Your Needs vs. Wants
Any new mom or dad is going to go a little crazy and that is okay, but definitely take the time to consider what is a need and what is a want, or you will end up with a very cluttered room, which is not so great or practical and it will only make your life harder in the long run. Diapers? Obviously that is a need. Wipes? Same. A cute unicorn jumpy house? Uhhh… maybe that is not so practical, especially not for a newborn. You get the point! What is a need vs. a want is somewhat similar for everyone, but it is also based on what will make your life easier as a parent. There is no right or wrong way to parent and you just need to see what works best for you! 
Add Personalized Touches
Last but not least, add personalized touches. Have you picked out a name yet? Maybe consider adding it above her or his crib. Do you have a special blanket picked out? Maybe embroider his or her name on the blanket. This is not only a cute touch, but also a great keepsake to have in the future. There are so many ways to add personalized touches to a nursery and in my opinion, it is the best part, so have fun with it.