I can hardly believe that November is here! The holidays will be here before you know it, and with this busy time of the year also brings the dreaded cold and flu season. Are you prepared for when the cold and flu season hits? I personally like to be prepared before cold and flu season hits and to have my medicine cabinet and pantry stocked with those items that I know make my family and I comfortable for when we are sick.
Here are a few of my favorite tips to help prepare for cold and flu season:
Stock up on supplies– make sure that you have enough items like tissues, disinfectant wipes, hand sanitizer, hand soap and paper towels on hand because you will need them! When you see them on sale, consider purchasing extra to have on hand in your stockpile just for cold and flu season. You will be so thankful for your extra supply when sickness hits! –
Stock your pantry– be sure to have a well-stocked pantry with items like chicken noodle soup, teas, sports drinks, and even popsicles in the freezer to keep you hydrated for when the dreaded flu hits. I also like to keep some of my boys favorite treats stocked in the pantry for those times when sickness hits.
Wash those hands– this is probably one of the most effective ways to prevent the flu. Wash your hands for at least 20 seconds scrubbing with soap and water. Throughout the day, you can also use an alcohol-based hand sanitizer to kill other germs that you come in contact with.
Check your medicine cabinet– check your medicine cabinet now to see if you have enough items like fever reducers, pain relievers, a working thermometer, and other medications that your family uses to fight the cold and flu season. Be prepared and have those items well-stocked for when sickness unexpectedly hits.
One of my favorite brands to stock up on for when cold and flu season hits is the Sinex line of products found at Walmart. Sinex products provide long-lasting relief from stuffiness and congestion. And, daytime products provide relief without grogginess!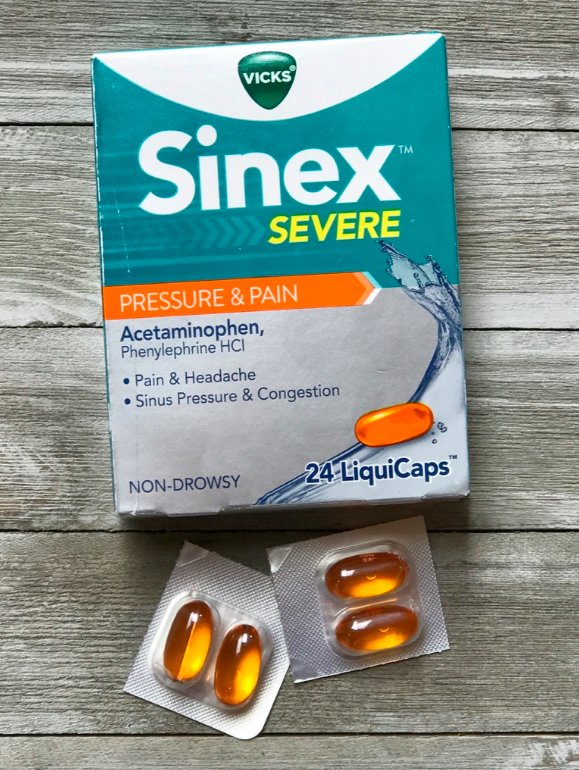 Right now, we can get a head start on preparing for cold and flu season by making sure that our medicine cabinets are well-stocked with these Sinex products thanks to sweet savings at Walmart!
Get $1 off any Sinex product at Walmart with the BrandSAVER coupon from the 10/28 newspaper insert
Get $3 in rebates on Sinex Liquicaps, Sinex Mist, and Sinex VapoCOOL at Walmart with an iBotta offer starting 11/7
Get $4 off Sinex products at Walmart through 11/10 when you combine all of these offers
What are your favorite ways to prepare for cold and flu season? I would love to hear!
This conversation is sponsored by Sinex available at Walmart. All opinions are my own.