Disclosure: I received a meal kit from Dinnerly in exchange for my review. All thoughts and opinions are my own. (All posts may contain affiliate links or sponsored content. Please see my disclosure policy)
As a blogger, one of the things that I love about my job is being able to try new products/services.  I have tried several of the popular meal kit subscription box services, so when I was given the opportunity to try Dinnerly, I jumped at the chance to do so!
Meal subscription services can be very expensive and typically run around $8-$10 per serving. One of the things that I love the most about Dinnerly, and what sets them apart from the others is that they are only $5 per serving! That is definitely affordable and something that would fit into my budget! Dinnerly is the most affordable meal kit around!
Dinnerly is also different from the other meal subscription services as there are only 6 ingredients per dish. Less ingredients means less fuss and more flavor! It also cuts down on packaged waste which is a plus in my book!
When my Dinnerly box arrived, I was amazed at how fresh all of the ingredients looked. The vegetables were all so vibrant and they looked like I just picked them up from my favorite market! Even though Dinnerly is half the price of the other meal kits, they do not skimp on quality ingredients.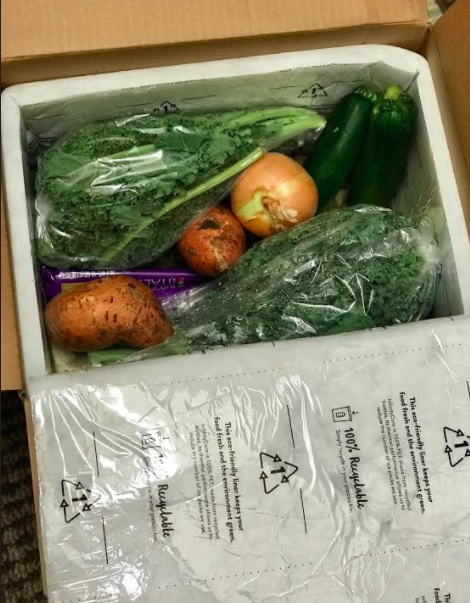 Another way that Dinnerly saves costs is by using digital recipe cards instead of paper. I love this approach and it is such an earth-friendly step on their part! Here are the 3 recipe cards that we got with our kit.
Each recipe card has step-by-step instructions to make preparation a breeze. Remember, preparing Dinnerly meals is super easy as there are always 6 ingredients or less!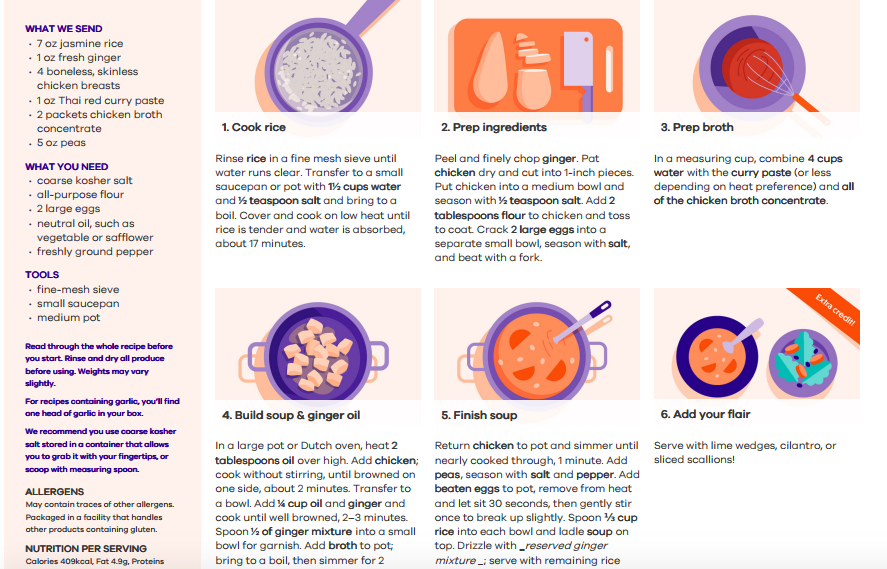 Here are the 3 meals that I received in my kit and the ingredients for each one. Even though Dinnerly is affordable, you can see that they definitely do not skimp on quality ingredients! Each of the meals was super easy to prepare and the instructions were very easy to follow!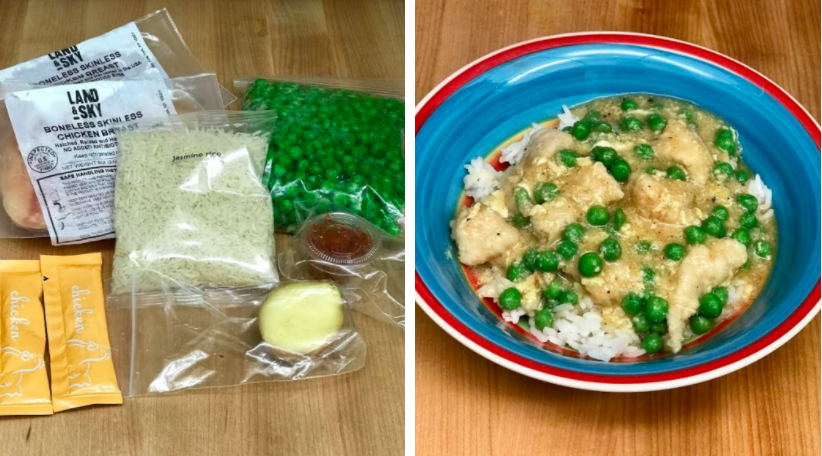 Thai Curry Chicken Soup with Peas and Jasmine Rice
Creamy Linguine and Greens with Mascarpone and Parmesan 
Sausage Pan Roast with Parmesan and Roasted Vegetables
All of these meals was equally delicious and packed full of flavor! I personally love that each of the recipes Dinnerly provides are quick and easy. No recipe will take over 3o minutes. This allows you to spend less time cooking and more time eating with your family and friends! The recipes are also kid-friendly which is another plus!
Who would benefit from Dinnerly? Dinnerly was created for people who like homemade cooking, but don't like overpaying for the good things in life. Let's face it. We are all super busy. Dinnerly is here to make life easier with recipes and fresh ingredients delivered right to your own home.  
There are 2 choices of Dinnerly boxes to choose from: The Family box, which contains 4 portions per recipe,
3 recipes per week. Or, you can choose the Two-Person box, which includes 2 portions per recipe,
3 recipes per week.
Overall, I was super pleased with Dinnerly and do plan to order from them again soon. My entire family loved the delicious meals, and I love just how affordable it is!
Have you tried Dinnerly before? I would love to hear your thoughts as well! If you would love to try this service, you can GO HERE to sign up.