Disclosure: I am a Mean Green Cleaner Ambassador. All thoughts and opinions are my own. Please see my disclosure policy)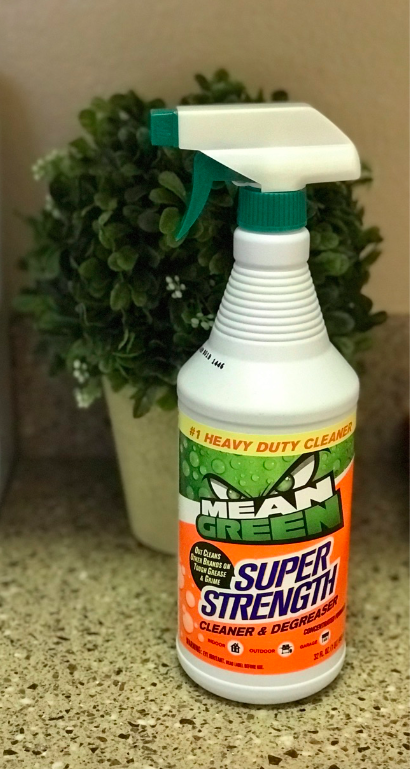 My family and I recently moved into a new home in August. I don't have to tell you that moving definitely requires a lot of quality cleaning especially in the nooks and crannies of certain areas of the home that have been left uncleaned for long periods of time. Enter Mean Green Cleaners! I personally love all of the Mean Green cleaners that I have tried, but the one that I turn to again and again is the Mean Green Super Strength Cleaner & Degreaser. This product does it all! It is a powerful, multi-purpose cleaner and degreaser that can get grease out and eliminate grime from most surfaces. In fact, it even works on fabric and concrete! No wonder it has been a trusted brand for over 20 years! This is my go-to product as it can be used to clean just about everything, inside and outside the home!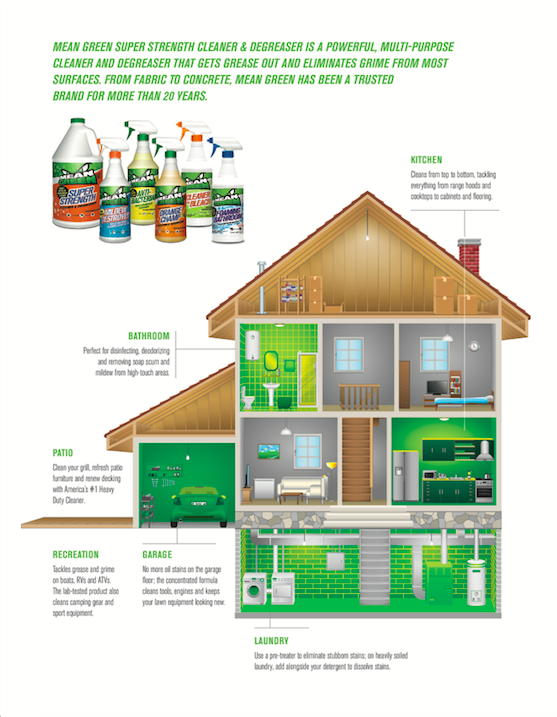 The Bathroom– Using Mean Green Super Strength Cleaner & Degreaser in the bathroom is key! Since I have a house full of boys, I don't have to tell you that they can be quite messy when it comes to the bathroom. Because this is a multi-purpose product, it allows me to have clean toilets and sinks without putting much or little elbow grease into it. This product also works great for the shower and tub. I have found that if you spray the product on and let it set for a couple of minutes, the grime will literally wipe away! I also love the pleasant fragrance; it makes everything smell so fresh in a room that can be quite stinky!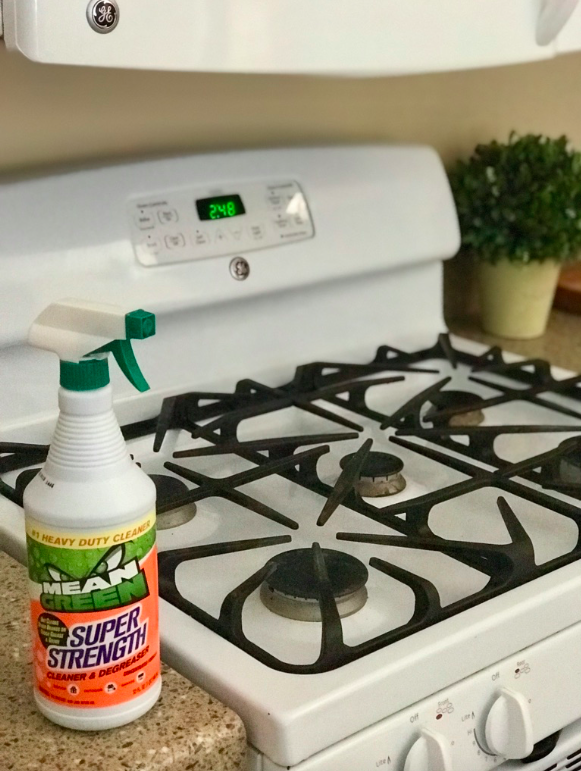 The Kitchen– When we moved into our home, the kitchen was the room that needed the most help. Mean Green Super Strength Cleaner & Degreaser definitely lived up to its name. I was able to clean the oven, counters, sink and even floors all with this one product! The grease that had built up on the oven and stovetop was gone within just a few sprays and wipes! Once again, this product works best on grease if you spray it on then let it set for a few minutes. When you wipe it off, it will literally glide off. Cleaning has never been easier! I love how one product has many uses, yet is so powerful and effective! 
The Laundry Room– Mean Green Super Strength Cleaner & Degreaser can even be used to aid in soiled laundry and to pre-treat tough stains. You can even add add ¼ cup directly to your wash. As with any product, I would suggest that you test for colorfastness before use. How many cleaners and degreasers can you use as a pre-treater as well? This is one awesome product! 
The best part about Mean Green Cleaners? Their affordability! Mean Green Cleaners can be found at stores like your local Walmart and the Mean GreenSuper Strength Cleaner & Degreaser is priced under $3! What a deal for a product that does so many things!
Want to check out all of the Mean Green Cleaner products? They have an a product for everything! GO HERE to see the products available. Many products are available to purchase at your local retail stores, so be on the lookout the next time that you are shopping.
Stay up to date on all of the latest Mean Green news by following them on Facebook, Twitter and Instagram.
Until next time! Have fun cleaning with Mean Green! I would love to hear which Mean Green Cleaner product is your favorite!