(All posts may contain affiliate links or sponsored content. Please see my disclosure policy)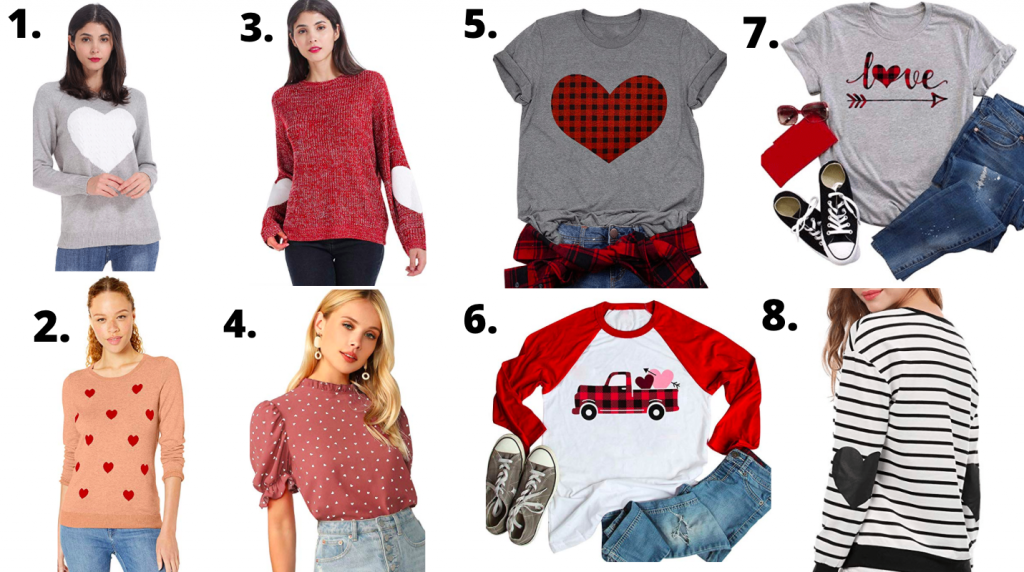 Valentine's Day will be here before you know it! I don't know about you, but this is one of those holidays that I just love to dress up with a cute themed sweater or shirt! I have put together a roundup of eight of my favorite Valentine's Day themed sweaters and shirts that are very budget-friendly! Please keep in mind that these prices are current at the time of this post.
1. Long Sleeved Heart Print Sweater (several color options) $13.59 prime shipped.
2. Amazon Essentials Women's Lightweight Crewneck Heart Sweater $24 prime shipped.

3. Lomantise Women's Cute Heart Elbow Patchwork Crew Neck Sweater (several color options) $15.99 prime shipped. 
4. MAKEMECHIC Women's Summer Heart Print Puff Sleeve Blouse (several color options) $14.99 + free shipping. 
5. Buffalo Plaid Heart Shirt Top Women's Valentine's Day T Shirt $15.99 prime shipped. 
6. Valentine's Day Love Heart T Shirt $16.99 prime shipped. 
7. Happy Valentine's Day Tees $15.99 prime shipped.
8. Allegra K Women's Elbow Patch Stripes Cute Heart Crewneck Top $20.99 prime shipped.