Disclosure: This is a sponsored post on behalf of The Alley at Belleair Bluffs; however, all thoughts and opinions are my own.  Please see my disclosure policy)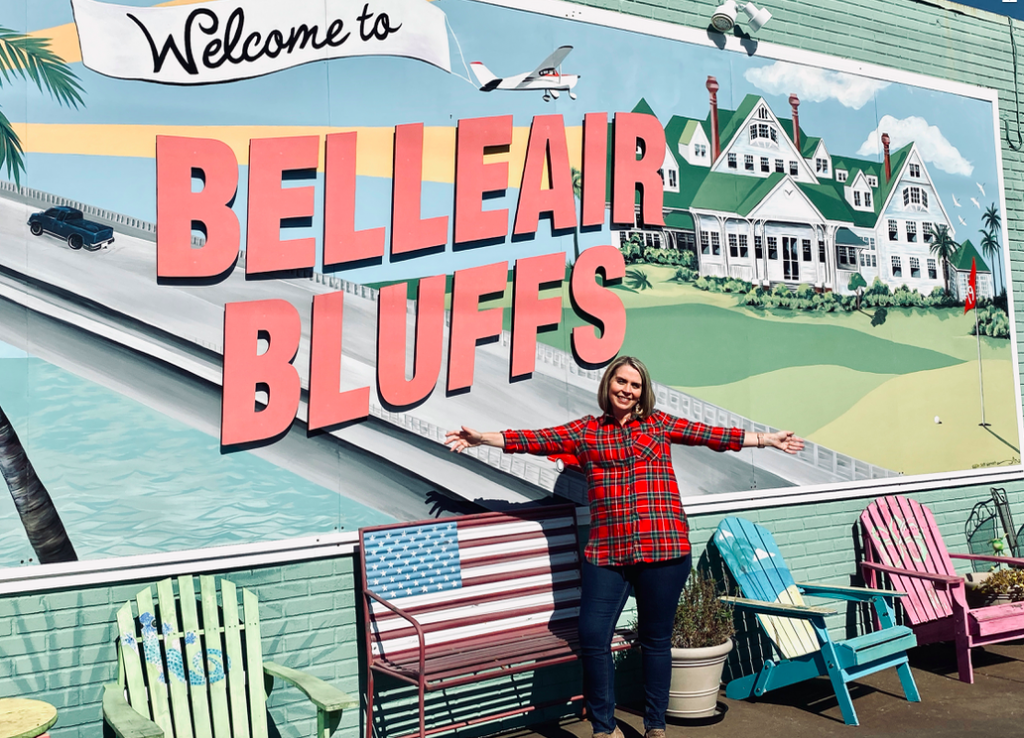 I recently had the amazing opportunity to explore The Alley at Belleair Bluffs here in the Tampa Bay area with my friend Marsha from Plate Girl. Located at 596 Indian Rocks Road in Belleair Bluffs, FL, this hidden gem is home to many cute, yet quaint stores that are filled with vintage and eclectic pieces as well as clothing and even delicious food options.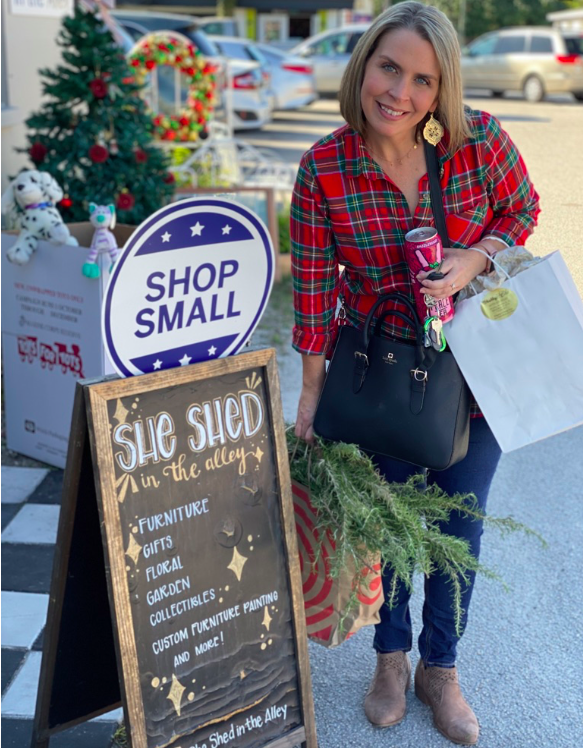 I actually visited this past Saturday, November 30, which was Shop Small Saturday. What fun it was for me as we toured some of the stores, and to hear from each owner as to how they began their business. It is evident to me that each owner really understands their business and takes pride in what they are doing! Everyone was so friendly and made me feel welcome!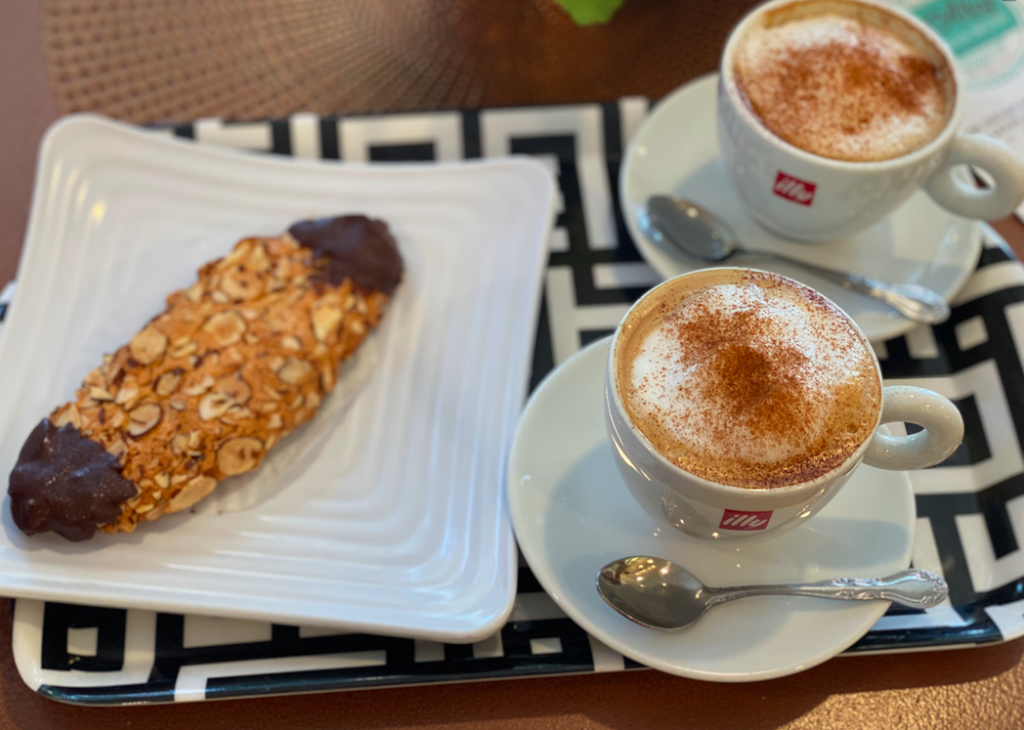 We began our tour of The Alley at The Astoria Pastry Shop. This European Bakery has everything from homemade pastries to custom cakes, and they serve delicious ILLY coffee. We had the most delicious cappucinos and sweet treat that helped us get our day off to a great start! The Astoria Pastry Shop is so charming, and they offer both indoor and outdoor seating. It is the perfect stop for coffee with a friend, or you can pick up treats for the go!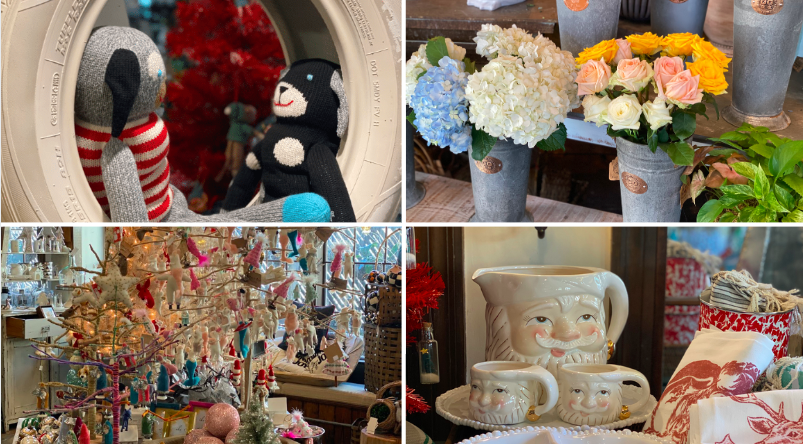 Our next stop along the way was Petal and Vine Garden & Marketplace. This store offers exquisite floral arrangements, delectables and unique gifts. There are gift ideas for everyone on your gift list! I especially loved meeting Petals the Deer! This deer is a staple at Petal and Vine and they had him all decorated for the Christmas holidays! Whether you need fresh flowers, a gift for a friend, or a few new items to spruce up your space, be sure to check out Petal and Vine Garden & Marketplace!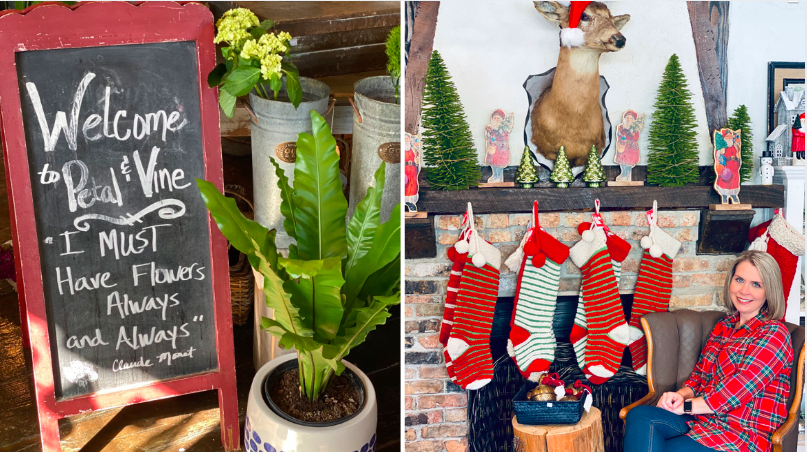 Our next stop along the way was Victoria's Parlour. This shop is unlike any that you have ever been to before and offers everything from paintings, jewelry, oriental rugs, buttons and so much more! The owner, Victoria, has a great love for oriental rugs. In fact, both her parents and grandparents were in the rug business! She has many photos of her family from years gone by showcasing their love of the rug business. Victoria also takes great pride in her button collection. You would not believe the collection of buttons that she has! I highly suggest that you stop by Victoria's Parlour to see what goodies that she has to offer!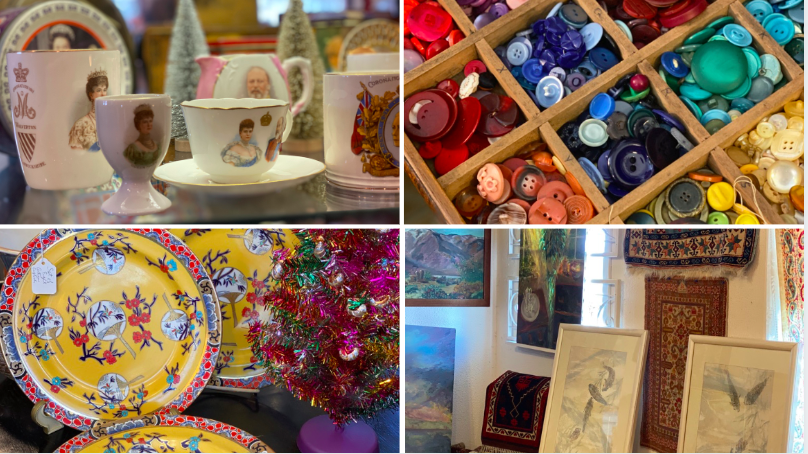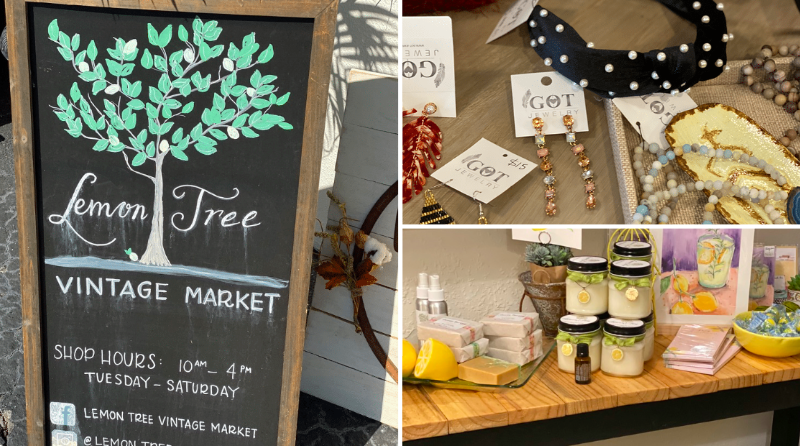 After Victoria's Parlour, we headed over to Lemon Tree Vintage Market. This adorable store offers refreshed and repurposed furniture, the cutest home decor, gifts, clothing and more! I love all the cute lemon pieces! If you need a gift for that hard-to-buy for person, be sure to check out Lemon Tree Vintage Market. They offer something for everyone!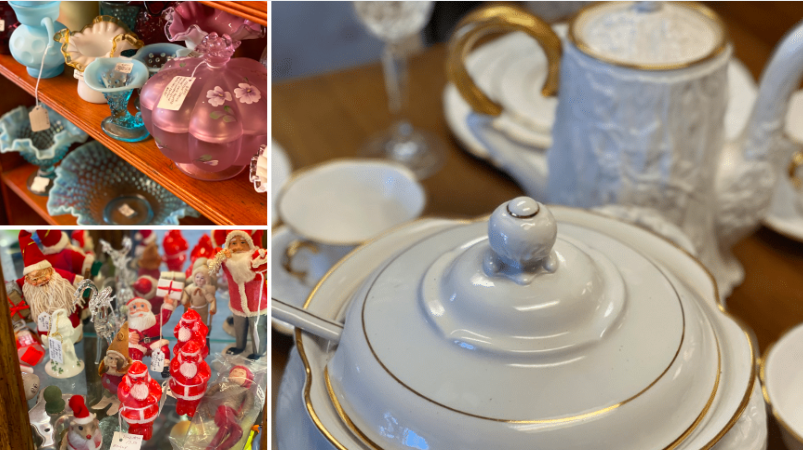 I thoroughly enjoyed our next visit along the way at Jewel Antique Mall. This mall houses over 10,000 square feet of antiques, collectibles and treasures from over 30 dealers! If you have been searching for that special something, chances are that Jewell Antique Mall has it!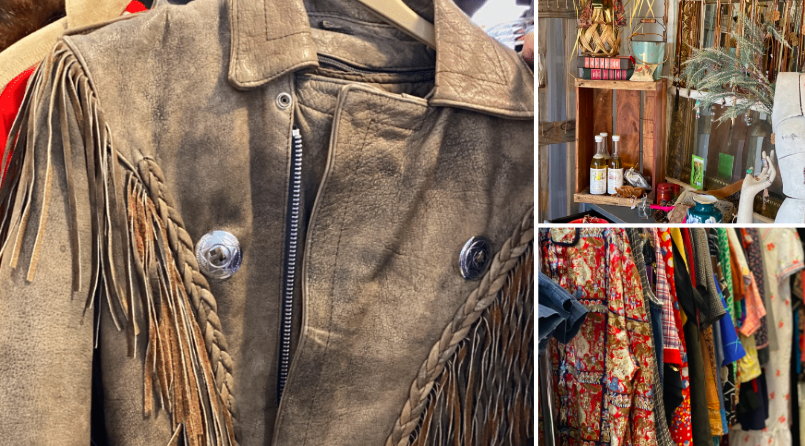 We also stopped along the way to check out Reloved Resale Consignment and Shabby 2 Chic. If you are into vintage clothing, jewelry and shoes, then Reloved Resale Consignment is sure to be your new favorite stop! In addition, they offer new and designer items as well. I found a gorgeous Talbots Black Velvet Blazer on the clearance rack for $1! I also scored from the 50% off sale and purchased a brown leather Coldwater Creek jacket for only $12! If you have unwanted clothing and shoes, you can drop it off here and they will consign your items for you!
Shabby 2 Chic is such a wonderful store and I love their mission! They support single moms through Shepherd's Village with all of the donations and items that they receive. They have the cutest designer clothing and shoes at unbeatable prices!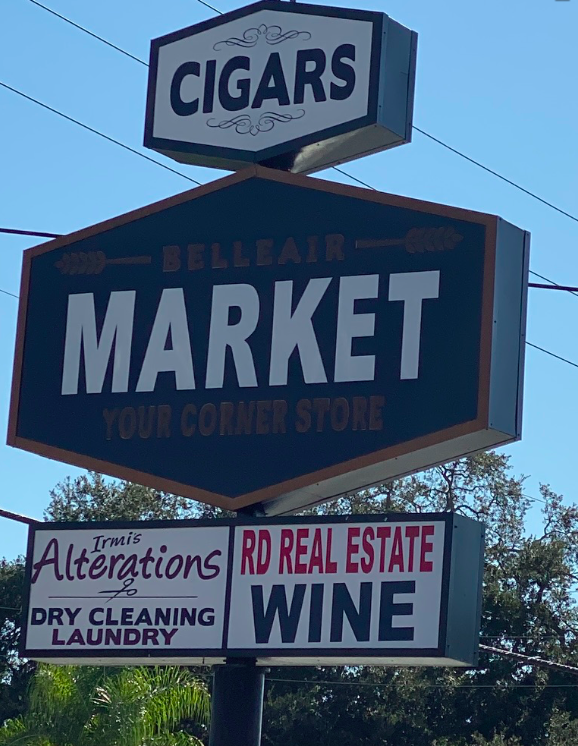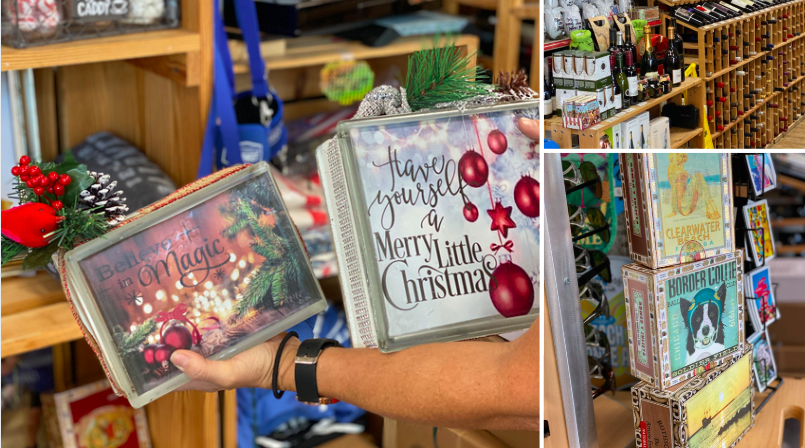 After all of the walking around, we needed a snack and drink so we headed to Belleair Market. Belleair Market is an establishment in the area and they are known for their selection of cigars, wines, Cuban sandwiches, snacks and so much more. The owners bought this an old convenience store six years ago, and it is now a favorite stop for so many in Belleair. I love how they take Cigar Boxes and repurpose them into gift boxes! They also offer homemade family meals like meatloaf and goulash for those nights you don't have time to cook, as well as WonderRoast Fresh Rotisserie Chicken (one of the only left in the area) and fully catered meals for holidays or special gatherings. Belleair Market has it all! I had a delicious chicken salad sandwich made from their fresh rotisserie chicken and it was so delicious!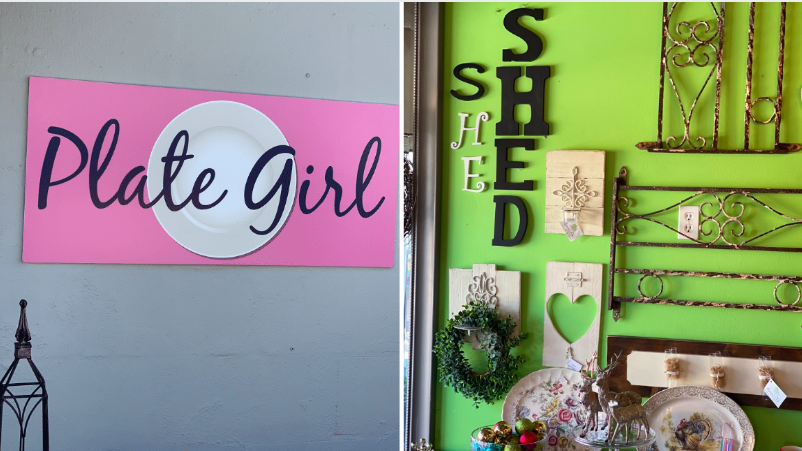 Our last stop along the way was at Pallet Creations and More. This is the home to the She Shed and my friend Marsha's space, Plate Girl. They offer stunning pieces of repurposed furniture, home decor, collectibles and more. Marsha's space at Plate Girl is filled with plates, glassware and so many other collections. She definitely has an eye for finding gorgeous and unique pieces. Be sure to stop by and check out all the gift and home decor ideas!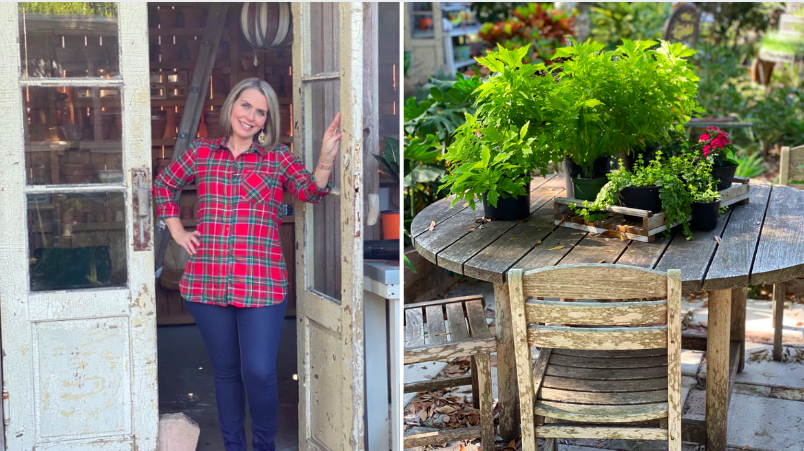 No stop to The Alley at Belleair Bluffs is complete without a visit to Provence Art & Antiques. This space specializes in antique furniture, vintage accessories and creatively repurposed artisanal pieces. The garden out back is stunning. I felt like I was in a Hallmark Movie as everything was so lovely and quaint! The owner even grows fresh rosemary out front, and she was kind enough to give both Marsha and I some. It smells heavenly!
Some other shops that we did not have time to visit in The Alley are: Urban Nest Stationary, Orchid Interiors, Kay Keeling's Art Adventure, Collum's Antiques, Chloe's Decor, Lady Angelo's Art and Jewel Cafe. I will definitely be going back to explore these places for myself!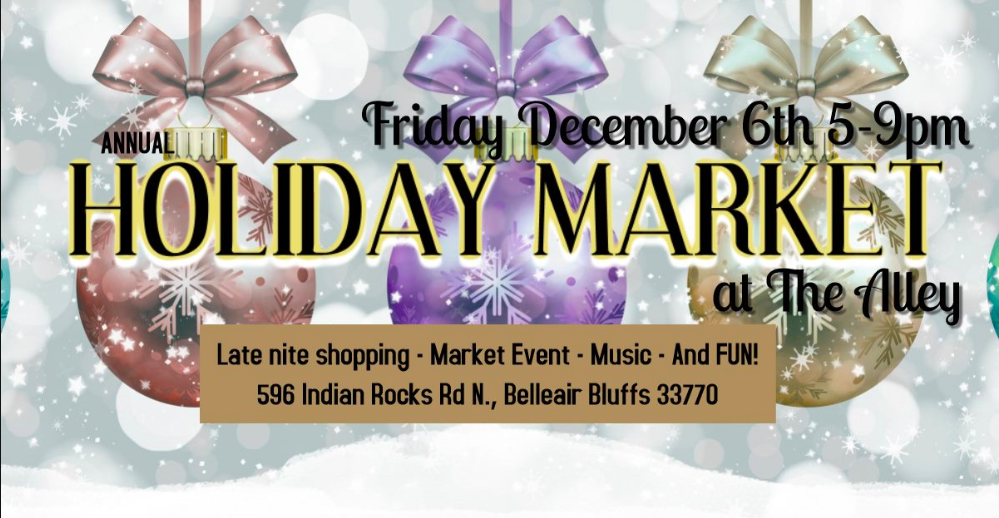 Are you ready to go and check out The Alley at Belleair Bluffs for yourself? I have some exciting news! This Friday night, December 6, from 5-9pm, they are hosting a Winter Market! There will be vendors, live entertainment and holiday specials! Pile the family in the car and head over for a fun evening, and get some holiday shopping done while you are at it! Be sure to let them know that Heather from My Sweet Savings sent you!