(All posts may contain affiliate links or sponsored content. Please see my disclosure policy)
Summertime is officially here! My boys got out of school last week, and I know that for many of you, school is quickly coming to a close as well! If you are like me, I am wanting to make sure that my kiddos stay busy this summer and don't have to tell me those dreaded words, "I'm bored!"
Once again this year, many of the movie theaters are offering their FREE and $1 movie promotions. I have put together a list, but please note that movies, times and locations may vary so be sure to check your local theater.

REGAL THEATERS 2019 SUMMER MOVIE EXPRESS
Admission to the Summer Movie Express is only $1. Tickets available for purchase at the box office and all movies start at 10:00 am. Each week both movies play on both days (Tuesday & Wednesday). Check your Regal theater location for scheduled times and movie selections. Enjoy titles like:  Shrek, Despicable Me, Kung Fu Panda and many more.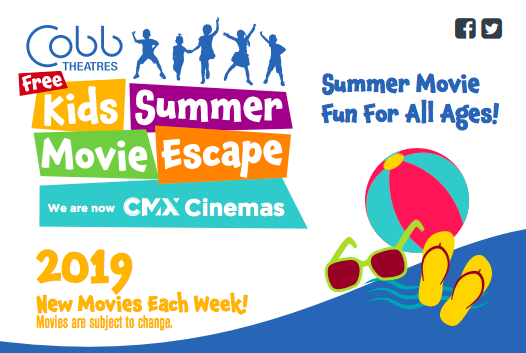 COBB THEATERS 2019 FREE SUMMER MOVIES  
Cobb Summer Movies are FREE! Shows start at 10am every Tuesday, Wednesday and Thursday. Be sure to check your local Cobb Theater to verify scheduled times as they can change.
CINEMARK THEATERS 2019 SUMMER MOVIES
Cinemark Movie Theaters charges $1 per each movie at the box office. OR, if you purchase all of the movie tickets in advance you will only pay $5 for all 10 shows! Please keep in mind that movies, dates and times do vary by location. Check out the Summer Movie Clubhouse Bundle for more details of this amazing offer. The Summer Movie Clubhouse schedule begins in May and runs through July. Special deals on popcorn and drinks are also available.
STUDIO MOVIE GRILL
Studio Movie Grill's Children's Summer Series, offers a budget friendly entertainment option for families, summer camps, and weekday programs to escape the summer heat to watch $1 screenings of recent, popular, children films. 

HARKINS THEATERS
Harkins Theatres has brought back some of Hollywood's best family films to keep kids entertained and cool during the summer. Kids can enjoy a movie a week for 10 weeks, for less than $1 per film. Make Harkins Summer Movie Fun for kids an annual tradition for your family. All adults must be accompanied by children. Tickets are on sale now at participating locations.
AMC THEATERS
Starting  June 5, and running through the summer months, every Wednesday at 10am, AMC is hosting their Summer Movie Camp! You can score a Kid's movie ticket, popcorn, drink and snack ALL for only $4!
Movies selections will include: The LEGO Movie 2, Peter Rabbit, Angry Birds 2, Small Foot + more!