This is a sponsored post. The reviewer has been compensated in the form of a Best Buy Gift Card and/or received the product/service at a reduced price or for free.
Now that school is out for the summer, we are getting our plan of action together of what fun things that we plan to do with the boys to keep them busy during these next few months. Are you still making summer plans and deciding what to do with the kids this summer?
We love to be outdoors! In fact, one of the selling factors for me last year when we moved into our new home was definitely the outdoor living space. I love the screened-in porch (to keep away all those Florida bugs) and the white picket fence makes my view such an enjoyable one when I am sitting out there sipping my morning coffee.
For me, it is important that my outdoor living space is not only just as cozy as the inside of my home, but that it also provides a warm, inviting atmosphere for my entire family and our guests. When the outdoor space is tranquil and relaxing, you will find yourself out there over and over again.
Here are a few tips to help you create a relaxing outdoor entertaining oasis: 
Outdoor Furniture– Find an outdoor patio set/furniture that will be functional yet comfortable. Since you be sitting here a majority of the time, this is a key factor. Make sure the patio set compliments your space. Do the chairs/couches have pillows? Is the table big enough to comfortably seat your family and guests? Is the table big enough to enjoy family game night? There are so many different options available, and right now is the perfect time to buy as there are sales galore!
Entertainment– No outdoor space is complete without an outdoor television! Make watching television outside fun with the Veranda Series of SunBriteTVs! The Veranda Series of SunBriteTVs are designed specifically for outdoor use. In fact, they are weatherproof, and designed for full-shade outdoor spaces, like covered patios and screened-in porches. This sounds like the perfect television for outdoor family movie nights or for entertaining guests. I may even slip out there to watch my favorite cooking shows and movies! 
Ready to learn more? Find the the SunBriteTV Veranda Series with 4K UHD and HDR available at Best Buy in 43", 55", 65" and 75" sizes.
Fans– For the warmer summer months, make sure that you have plenty of circulating air. Those of us who live in Florida know that it can be extremely hot even in an area that is covered. When the weather cools down, you could add a fire pit or small heater for warmth. We love our fire pit for toasting marshmallows too!
Cold Beverages– Staying hydrated especially during the hot, summer months is so important! Consider placing a small refrigerator on the porch stocked with your families favorite cold beverages. You can even keep a basket with snacks on hand for when the munchies hit!
Lighting– Thankfully during the summer months it stays lighter outside much longer, but good lighting is key to any outdoor oasis. I particularly love the string lights that are so popular these days. They are not only decorative, but give a nice glow to the outside space. There are so many fun designs available that it can be hard to choose the perfect set! If you have an outdoor ceiling fan, they make lots of nice lighting options for those as well.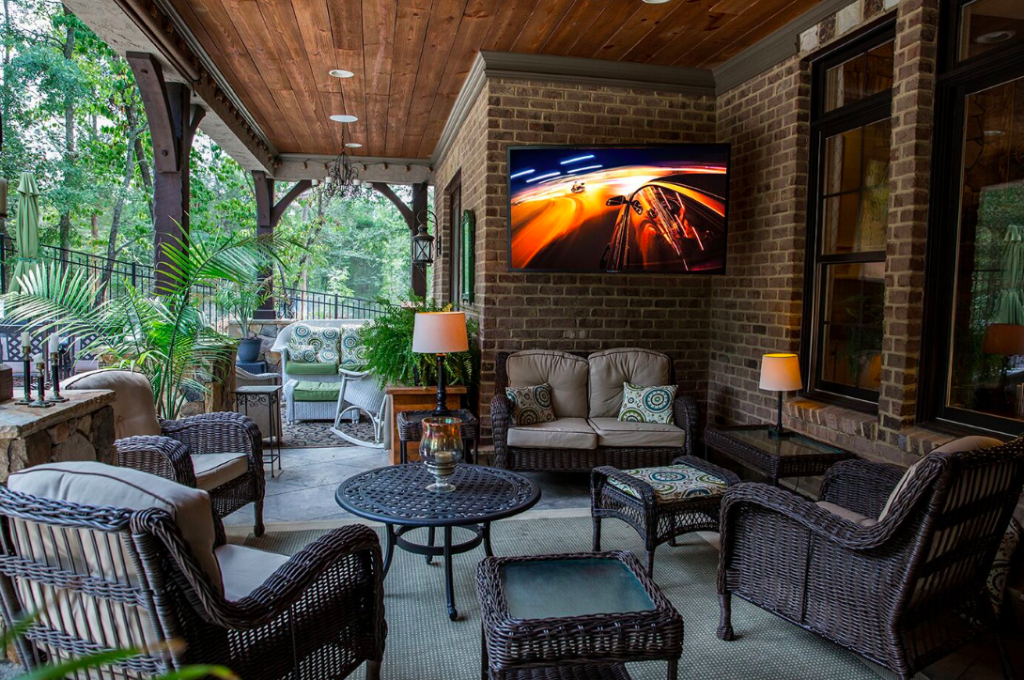 Are you Ready to Learn More About the Veranda Series SunBrite TV's?
These outdoor televisions are designed to survive just about any climate in North America, resisting the harsh effects of rain, snow, dust, insects, and extreme temperatures. Wow! 
Veranda comes standard with a direct-lit 4K UHD screen with HDR, which means that it is up to 50% brighter than indoor TVs for improved viewing in brighter outdoor environments! With a TV like this, it sounds to me like the best seat in the house is going to be the one on my back porch! Look for the SunBrite Veranda Series Outdoor Televisions at your local Best Buy or learn more HERE. 
I hope that these tips to help you create a relaxing outdoor entertaining oasis have been helpful! Have a wonderful summer! 
Pin it for later HERE!