Disclosure: I was provided with a complimentary meal at Pie Five Pizza in exchange for my review. All thoughts and opinions are my own. Please see my disclosure policy)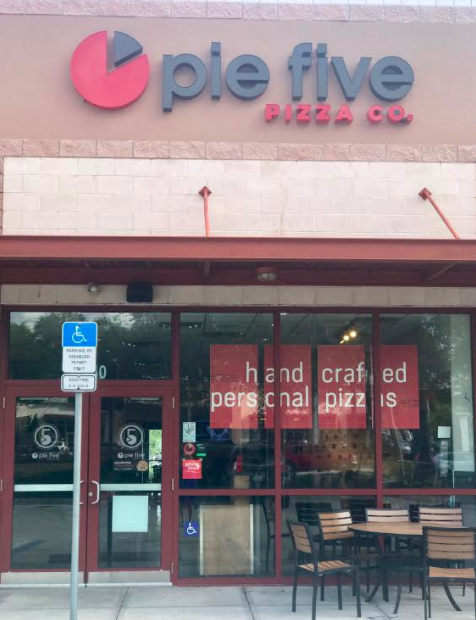 I don't know about you, but one of my favorite foods is definitely pizza. It is such a versatile dish that can be personalized in so many different ways. Pie Five Pizza, located at Clearwater Mall in Clearwater, FL is definitely doing their part to deliver high-quality delicious, handcrafted pizzas. The restaurant is not only spacious, but also inviting and has lots of room to sit and enjoy your pie!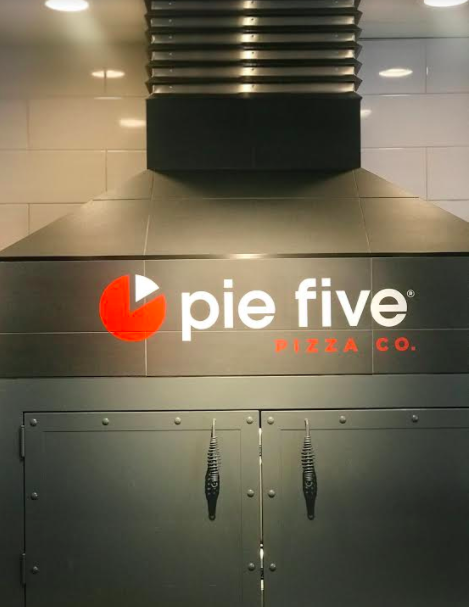 Pie Five Pizza is here to change the way that you think about pizza. Every pizza starts with fresh pizza dough that has been prepared in the morning, along with freshly hand-chopped garden veggies and their own marinara sauce. Every detail to the pizza-making process is definitely well-thought out and it shows in the quality of ingredients that they offer. And, true to it's name, every pizza is done in 5 minutes! That is pizza perfection in my book!
Crust– Let's start with the crust. Pie Five Pizza makes their dough fresh every morning. Choose between 4 scratch-made crusts including gluten-free options. My favorite crust option is the Cauliflower crust. This gluten-free crust option has delicious flavor while boasting half the carbs and sodium of a regular pizza crust. I absolutely love this crust and highly recommend it. You will think that you are eating a regular pizza crust. I promise, it is that good!
Toppings– One of the things that I love about Pie Five Pizza is the amount of toppings that they offer. The toppings are all fresh and the veggies are hand-chopped to perfection. Oh, and did I mention that you can choose unlimited toppings for one price? Whether you want 3 or 30 toppings, pile them on high!
Sauce– I love the sauce options that Pie Five Pizza offers. Choose from 7 different options including tuscan marinara, barbecue, alfredo, buffalo ranch and more. Want to mix and match the sauces on your pizza? No problem! That can be done too!
Cheese– We all know that a delicious pizza starts with the sauce and cheese. Pie Five Pizza uses only the best when it comes to their cheese. Their cheese is shredded right off the block and never frozen. This ensures for a fresher tasting pizza every time!
My son Brady and I recently stopped by our local Pie Five Pizza here in Clearwater to check out their pizzas. The manager Franz is so nice and helpful and really has a great knowledge about the menu options. In addition, he has a passion for his customers and the restaurant which definitely shows.
While I opted for the BBQ Chicken Pizza with Cauliflower Crust and the High Five Pizzas, Brady had the Cheese Pizza. All 3 of the pizzas were absolutely delicious. If you love a good BBQ Chicken Pizza, then you must try the Pie Five version. It is quite delightful and every bite is bursting with bbq sauce, cheddar cheese, chopped cilantro, red onions and grilled chicken. Absolute perfection! I had mine on the cauliflower pizza crust and it was exceptional! While the BBQ Chicken Pizza was more of a tangy pizza, the High Five Pizza was more meaty. If you love a pizza packed with meat, then this one is for you! It all begins with tuscan marinara, cheddar, pepperoni, italian sausage, bacon, Canadian bacon and beef. Yes, please! Brady loved his cheese pizza. Packed full of cheese in every bite, the cheddar and mozzarella were melted to perfection! 
Not only does Pie Five Pizza offer delicious hand crafted pizzas, but they also offer sandwiches, salads, wings, breadstix and desserts. Oh, did I mention dessert? The Ultimate Brownie and Chocolate Chip Pies are out of this world. Filled with ooey gooey ingredients, they definitely leave you wanting more!
Want to check out Pie Five Pizza for yourself? If you are local to the Clearwater, FL area, be sure to stop by the location at 2689 Gulf to Bay Boulevard, #1840 and tell them that I sent you in! You can check out all of the Pie Five Pizza locations HERE. 
Stay up-to-date on all of the latest Pie Five Pizza promotional offers and news by following them on Facebook, Instagram and Twitter. You can also join the Circle of Crust Club to be rewarded for every dollar spent! $1=1 Point and 100 points will earn you a $10 reward on your next purchase. Earn 25 points when you sign up, plus earn 25 bonus points when you sign up with Facebook. GO HERE to sign up for the free app and start being rewarded today!