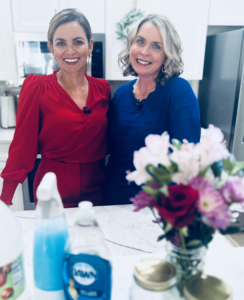 With inflation at an all-time high, and many of the everyday products that we use on the rise, many of us are searching for ways to save. You can save and live a sustainable lifestyle at the same time. Below are some tips and ideas that I recently shared with Allie Corey from Fox 13 News that I hope you will find helpful:
Meal Prep-
Plan your meals around items that you already have in the freezer or pantry. Only buy what you need and consider using online grocery services or grocery pickup. This alleviates impulse purchases. Take your lunch to work to avoid additional spending. Consider having a Meatless meal one night a week to save on food costs.
Plasticware/Glassware-
Don't buy everyday disposable plastics. Consider economical plates from places like Walmart or Target for everyday use. I find plates and bowls for $0.50 each, and we use these daily. These can be easily washed and reused. Use Mason Jars for storage, drinking glasses, or vases.
Greeting Cards–
Consider making your own greeting cards with things you have at home. Sites even offer e-cards that you can send to the recipient's email address. With the cost of stamps at $0.63 each, this is a great option.
Apps and Subscription Services–
Be aware of the apps and subscription services that you are signed up for. Many of these services will give you a free week, but after that you will be charged a monthly fee. I like to set an alarm to remind myself to cancel. The same is also true with meal subscription services. Make sure to cancel after the initial order or you will keep getting charged each week. (I found this out the hard way!)
In addition, there are several FREE apps that you WANT to have downloaded on your phone! These apps will pay you CASH back or the opportunity to earn gift cards for using them. Simply scan your receipts. It is that easy!
GO HERE to check out my THREE favorite money saving apps that will earn you money and gift cards!
Coffee-
This is my weakness! I love to buy coffee at my favorite coffeehouse! That $5 you spend each day can be used for your kid's future education, your retirement, or even a family vacation! Consider investing in an espresso machine, flavored syrups, and buying cute paper cups to make you feel like you are at your favorite coffee shop!
Shop for Second-hand Clothing and Accessories
Consider shopping for second-hand clothing at thrift or consignment stores. You can also sell your gently used clothing, shoes, and accessories to these places for cash or store credit. I personally use local Consignment stores like Clothes Mentor and Plato's Closet. I take my clothes in and walk out with cash or a few new-to-me clothing items! Online sites like ThredUp allow you to mail your items to them and they will pay you cash! You can also consider having a clothing swap with friends.
Cable TV/Internet
One of the biggest expenses that many people have is cable. Consider downsizing your current plan and limiting how many cable boxes that you have. For example, we only have one direct cable box in the living room. In the bedrooms, we have Roku. This alone can save you a substantial amount each month. You may also want to research on bundling your internet and cable into one package.
Make your Own Cleaners-
Many store-bought cleaners are loaded with harmful chemicals. Make your own with items that you already have on hand. Vinegar mixed with dish soap is a great and effective homemade cleaner that gets the job done better than cleaners found in the store!
At Home Manicures-
Do your own manicures at home. Invest in a Gel Nail Polish Kit System or Affordable Gel Colors from your favorite store, and you can save a bundle each month!
Furniture-
Look on Facebook Marketplace or the Free/Give groups to find deals or even free furniture. If you love DIY projects, this is a great way to add a "new" furniture item to your home without breaking the bank. Consider reupholstering or painting an existing piece of furniture that you already own.
This is a great resource made up of a movement of people giving away items. The idea is to give away items that you have, to those in need so we can keep the items out of landfills. You can even set up your own smaller circle of personal friends for gifting and lending items.