Disclosure: I was provided with product to facilitate this review. All thoughts and opinions are my own.  Please see my disclosure policy)
I don't know about your family, but my boys are always staining their clothes. Every time I do the laundry, those pesky stains seem to magically appear. They must get it from their momma because I am continually spilling or dripping something on my clothes! My hubby laughs at me because he knows that I am bound to spill something on myself!
I am so thankful to have recently discovered the OxiClean™ On The Go™ Stain Remover Pen. These magical little pens are specially formulated with the power of Oxygen to remove common "On the Go" stains like, makeup, lipstick, chocolate, spaghetti, soy sauce and more!

OxiClean™ On The Go™ Stain Remover Pens have a fast, safe, and effective stain-lifting formula that does not contain bleach and is safe to use on most fabrics. The stain-fighting scrubber tip that you use to apply to the product is a uniquely designed pen applicator that helps to power through stains without damaging clothing. 
I love how portable and convenient the OxiClean On The Go Stain Remover Pens are. They are sold in a convenient three-pack and are small enough to keep in your purse or backpack so you are ready when those unexpected stains appear. I also like to keep one in the glove box of the car for those times that we are traveling. How many times have you gotten something on your clothing while you were away from home and the stain set in? These OxiClean™ On The Go™ Stain Remover Pens are sure to be a lifesaver for those unexpected moments. You can even apply the product without having to remove your clothing! This is particulary great if you are traveling and have a stain emergency!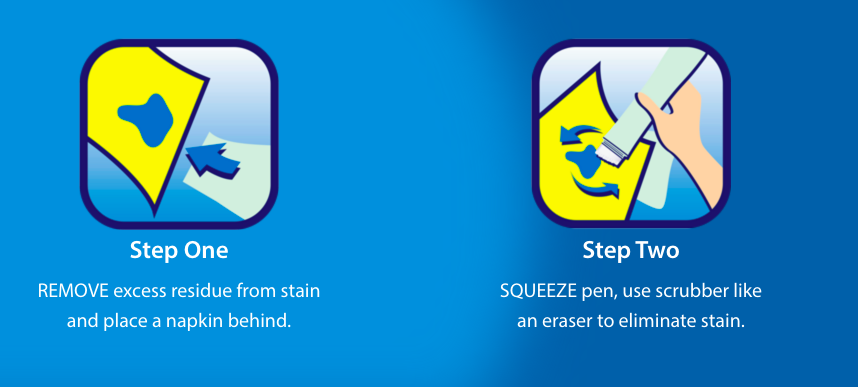 OxiClean On The Go Stain Remover Pens:
Instant – Removes fresh stains in 2 easy steps.
Effective – Out-cleans other stain pens on tough stains and contains 2x more!
Convenient – Take it everywhere. Great for food, drink, and makeup stains!
You can find the OxiClean On The Go Stain Remover Pens in the laundry aisle at many stores and Amazon. Be sure to try them today and take care of those messy stains in an instant! Tackle your toughest stains with the Power of OxiClean!