(All posts may contain affiliate links and/or sponsored content. Please see my disclosure policy)
Are you looking for a new dish to spice up your weeknight dinner routine? These Gluten Free Chicken Alfredo Rollups are sure to be a new family fave! My family thoroughly enjoyed them and told me that they could not wait until I make them again. Even though this particular dish is Gluten Free, you can sub out the gluten free lasagna noodles for regular if you prefer. Serve with your favorite salad and bread and you have one delicious dinner!
Gluten Free Chicken Rollups
Ingredients:
10 Gluten Free lasagna noodles (I prefer this brand)
3 cups of cooked, shredded chicken. A rotisserie chicken works great for this!
15 oz. tub of Ricotta cheese
1 jar of your favorite Alfredo Sauce
Salt/pepper to taste
1/2 tsp. Garlic Powder
1/2 tsp. Onion Powder
1/2 tsp. Italian Seasoning or Oregano
2 cups shredded Mozarella Cheese
1 cup fresh, shaved parmesan cheese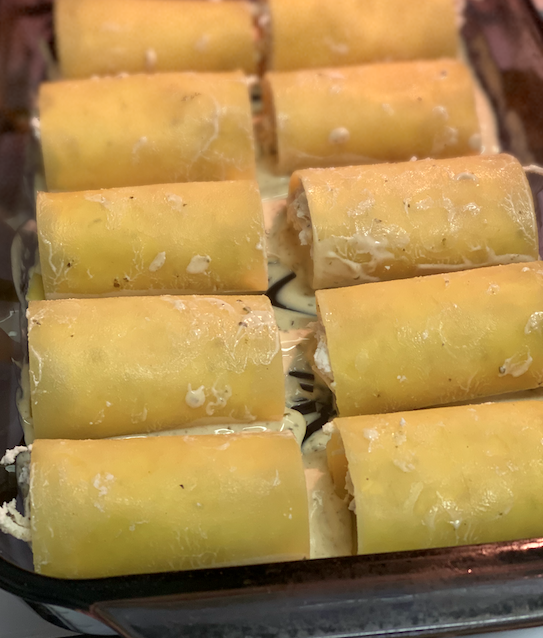 Instructions:
Preheat oven to 350 degrees.
Cook the Gluten Free pasta in boiling water just until al dente. Do not overcook. You want the noodles to be cooked firm enough to handle. They will finish the cooking process in the oven.
When the noodles have finished cooking, lay them on a flat surface such as a large baking sheet.
In a large bowl, combine the shredded chicken, ricotta cheese and spices.
In the bottom of a 9×13 baking dish, pour some of the alfredo sauce for the noodles to sit on top of. This will help to keep the bottom of the noodles moist.
Begin the rollup process by adding several tablespoons of the chicken mixture onto the lasagna noodle. Make sure to leave enough room so that you can roll up the noodle.
Continue this process until all 10 noodles are filled with the chicken ricotta mixture and rolled up in the baking dish.
Add the remaining alfredo sauce on the top of the noodles.
Top with the mozzarella and parmesan cheese.
I like to sprinkle extra Italian Seasoning on top of the dish.
Cove the dish with aluminum foil and bake for 2o minutes. Then, remove the foil and bake for another 10 minutes until everything is bubbly.
Serve and enjoy!