This post is sponsored by RealSweet Onions. All comments and opinions are my own.
Cancer.
It's a word that we hope to never hear for ourselves or for those that we love.
When my best friend was diagnosed with breast cancer several years ago, I remember feeling scared and overwhelmed for her. We have known each other for well over 20 years, and she has been that friend to whom I can tell anything. In fact, we joke that we are Lucy and Ethel, and share such a special bond. She had listened to me through some difficult times in my life, and now it was my turn to do so. I knew that the challenges and difficulties that she would be faced with along her road to recovery would be difficult, but I would be there for her every step of the way.
It is hard to know how to respond to a friend with cancer; how do you help them; how do you talk to them about the situation? The most important thing that you can do for that friend or family member is by just being there for them. Find meaningful ways to help them along their journey. A card, flowers, a meal, whatever you can do to let that friend know that you are there for them during the darkest days of their life. Treat your friend with normalcy. Their diagnosis does not change the person that they are, and most certainly not your friendship.
Thankfully, my best friend is cancer free today. She is one of the strongest people that I know. She went through, chemotherapy, radiation, a double mastectomy, and even cancer in her thyroid. I know that these times were challenging for her, but she faced them with such dignity, strength, and grace. I am so thankful that we have many years of friendship ahead of us! I am also thankful for companies that help to bring awareness and support the fight against breast cancer.
Shuman Farms, RealSweet Onions are making a huge impact in the fight against breast cancer. Not only have they donated over $110,000 since 2009, but for the past 13 years, during the month of October, their entire line of onions goes pink in support of Breast Cancer Awareness. You can look for their special pink bags at your local grocery store. In addition, the stickers that you will see on the onions are also pink to show their support for a cause that has touched so many of their lives too. In addition to supporting and donating to the fight against breast cancer, RealSweet Onions also likes to educate their consumers on how to eat a nutritious diet filled with fruits and veggies to help fight diseases like cancer.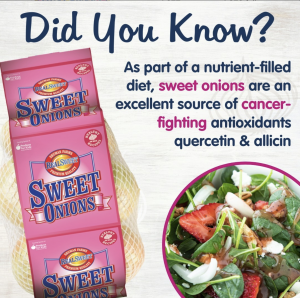 Did you know that sweet onions are filled with an excellent source of cancer-fighting antioxidants like quercetin and allicin? Quercetin is a natural antioxidant found in sweet onions that helps zinc get to the center of your body's cells, where it can then aid in preventing viruses from reproducing. Bring on the sweet onions!
I was so honored when asked to partner with RealSweet Onions, and to create a recipe with their delicious onions! Sweet Onion Baked Chicken couldn't be easier to prepare, and it is sure to be a new favorite that your family will ask for again and again. If you love French Onion Soup, then you will love this dish! It tastes just like French Onion Soup with the addition of the chicken. Sop up all the juices in the pan with a nice crusty loaf of bread and you are all set! My three guys loved it, and there were no leftovers!
Sweet Onion Baked Chicken
Ingredients:
3 tablespoons butter
2 pounds sweet onions, thinly sliced
1 tablespoon minced garlic
½ tablespoon Bragg Liquid Aminos
¾ teaspoon fresh thyme, finely chopped
3-4 large boneless, skinless chicken breasts
1 bag of shredded mozzarella, provolone cheese blend
1/2 cup beef broth
Salt/pepper to taste
Instructions:
Preheat oven to 350 degrees.
Melt the butter in a non-stick pan over medium-high heat.
Add the onions and cook until tender and soft. You will want them to be almost caramelized and a light brown color. Add the Bragg Liquid Aminos. Stir and continue cooking for several minutes.
Add the garlic and thyme. Cook for another minute.
While the onions continue to cook, add the chicken breasts in a baking dish. Season with salt/pepper to taste.
Place the cooked onions in the baking dish with the chicken. Divide them evenly between the chicken breasts.
Pour the beef broth around the chicken.
Sprinkle the shredded cheese evenly on the top of the chicken and onions.
Bake at 350 degrees until chicken is cooked through and the cheese is melted and starting to get golden brown.
Serve and enjoy!