(All posts may contain affiliate links or sponsored content. Please see my disclosure policy)
There is something about Fall that makes me want all the pumpkin goodies! I absolutely love Pumpkin Spice Lattes and Coffees, and I could devour and entire pan of Pumpkin Muffins! If you are like me and have a passion for all things pumpkin, this Pumpkin Spiced French Toast Casserole is going to be a new family favorite for sure! You can easily make this a Gluten-Free recipe by substituting GF bread. This would also be the perfect dish to serve for a Thanksgiving Brunch!
Pumpkin Spiced French Toast Casserole
Ingredients:
● 1 stick of butter (½ cup)
● 1 cup of brown sugar
● 1 loaf of thickly sliced bread (Sara Lee's Artesano Brioche is perfect for this recipe)
● 4 eggs
● 1 cup pumpkin spice coffee creamer (Coffee Mate Natural Bliss Pumpkin Spice Creamer was used for this recipe)
● ½ cup whole milk
● 1 ½ tsp pumpkin spice
● Optional: powdered sugar and maple syrup for topping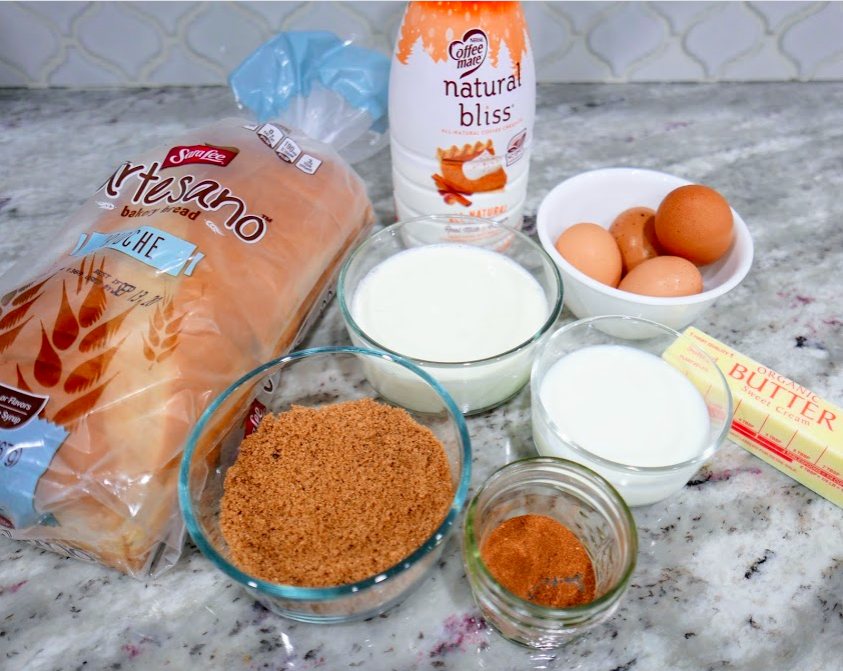 Directions:
1. In a medium saucepan, melt one stick of butter over medium heat. Add the cup of brown sugar, and stir continuously until the sugar has mostly melted and combined with the butter. Be careful not to overcook or burn the butter. Pour the mixture into a 9×13 baking dish, and spread evenly across the bottom.
2. In a large mixing bowl, beat eggs, pumpkin spice coffee creamer, and milk until well blended.
3. Place slices of bread on the butter and brown sugar mixture to form one layer. Spoon or pour half of the egg mixture over the bread. Add a second layer of bread on top, and spoon or pour the remaining egg mixture over the bread.
4. Sprinkle pumpkin spice over the bread. Cover with foil, and refrigerate overnight, or for at least six hours.
5. When you are ready to bake, remove the dish from the refrigerator, and let sit for about 15-20 minutes. (This is especially important if using a glass baking dish, so that you are not putting a cold glass dish into a hot oven)
6. Preheat the oven to 350℉. Bake the casserole for 30 minutes with the foil on, and then remove, and bake for an additional 15 minutes. Sprinkle with powdered sugar and serve with maple syrup if desired.