Disclaimer: In partnership with Westfield Shopping Centers I was provided with a $100 gift card for myself as well as a $100 gift card to give away to one reader. All thoughts and opinions are my own. Please see my disclosure policy) 
Update: The random winner was chosen via a Random number generator and has been contacted. Congrats to Philip! Thanks to all who entered!
Tampa parents! Are you looking for more family-friendly activities to get the kids involved in this summer? Westfield Citrus Park recently unveiled their Wild Wonders event, which is an an enchanting, imaginative and interactive family experience perfect for kids of all ages! Wild Wonders at Citrus Park is a four-week Westfield event featuring product demonstrations, food sampling, a petting zoo, giveaways, character meet & greets, and more. It features Westfield's top retailers, restaurants, and local partners. This event is happening now through August 5 so there is still plenty of time to get in on the fun! Geared towards children and families, the Wild Wonders exhibit, in partnership with Big Cat Rescue, The Florida Aquarium, Busch Gardens, Museum of Science and Industry (MOSI) the YMCA and more! 
The Wild Wonders exhibit emulates an enchanting zoo animal topiary garden, adorned with captivating florals to invite a sense of discovery and delight. There are topiaries of elephants, lions, bears and monkeys. I am amazed at the intricate detail that goes into each of these topiaries. It is worth a trip to the mall just to see these works of art!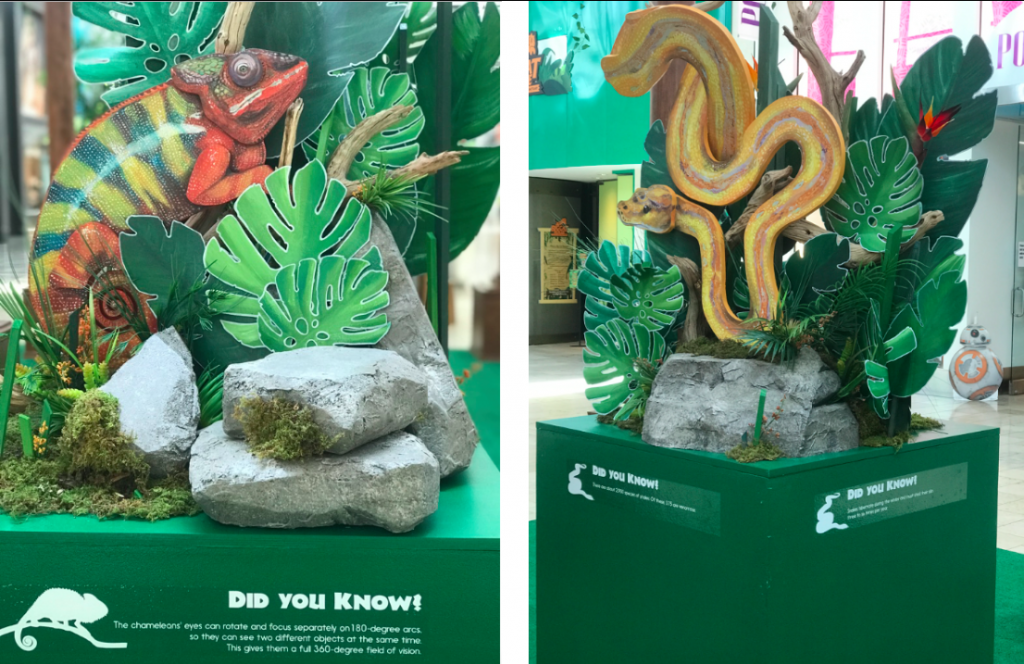 One of my favorite exhibits was the "Did You Know?" Exhibit. This is a great exhibit that really gets kids to think and teaches them about animals and nature. For example, did you know that a green iguana has a third eye? I never knew that until going through this exhibit!
My son Brady and I had the opportunity to check out the Wild Wonders event this past Saturday and we had so much fun! Learning Express was hosting a creative giraffe art class where the kids got to make their own giraffe planters. It was a lot of fun, and as you can see from the photo, Brady had quite the time!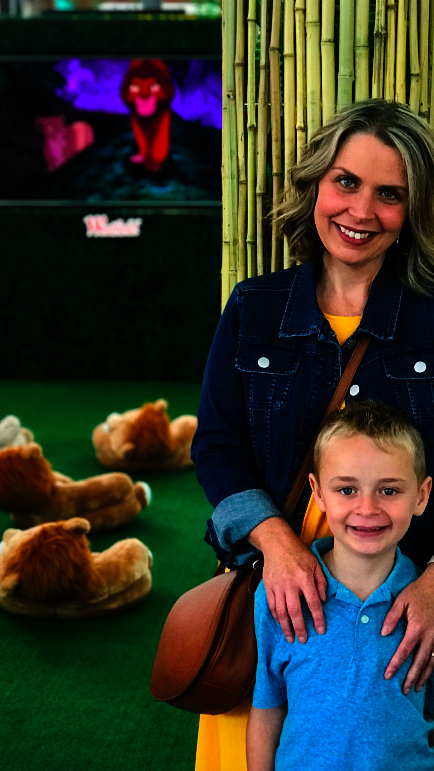 Over the next few weeks, Wild Wonders will continue with some exciting events and activities for every kid in your family! Here are just a few of the exciting events that you will be able to experience:
Join us select Thursday evenings for Movie Night In The Park as part of Wild Wonders At Citrus Park! I love this idea! They will be playing the latest and greatest animal character movies in Macy's Court. Complimentary Popcorn, and refreshments will be provided while supplies last by the Tampa Metropolitan Area YMCA. Feel free to bring blankets and lawn chairs to sit on the green turf during the movies! How fun is this and the entire family can enjoy this activity!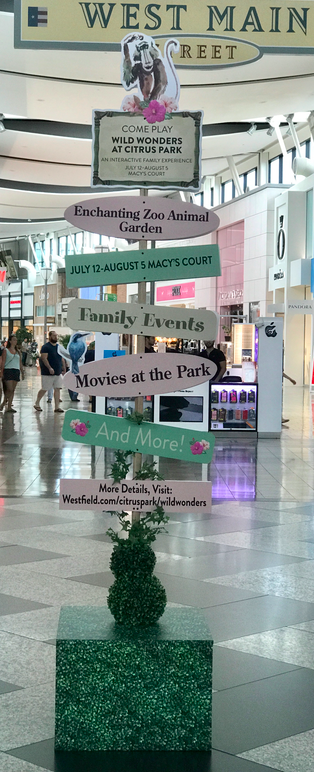 On July 21, from 10AM – 2PM join Busch Gardens at Wild Wonders in Macy's Court for animal activity sheets, crayons, and giveaways!
On July 21, from 1PM – 4PM, HorsePower for Kids will be bringing in a live petting zoo to the Wild Wonders area in Macy's to the Wild Wonders area in Macy's Court. The petting zoo will feature: goats, a pig, a tortoise, ducks, chickens, sheep and guinea pigs!
There are even more Wild Wonders events and activities that you will definitely want to check out! GO HERE for the complete list of details and times.
Jul 29 – Aug 4 you can play with a Greyhound! The greyhounds from GST's Sun State Greyhound Adoption were at the mall this past Saturday when Brady and I were there and they are so gentle!
Don't forget to do some shopping while you are at the mall! After all, school does start next month, and Westfield Citrus Park has got you covered! When you spend $200 or more, you will receive a $25 Westfield gift card! Now that is one sweet deal!
To sweeten the deal, I am giving away one lucky person a $100 Westfield gift card here on My Sweet Savings! To enter the giveaway, please leave a comment in the upper left hand corner of the reply section above this post letting me know which activity that your children would enjoy the most at the Wild Wonders event at Westfield Citrus Park. I will choose a winner at random on July 25 and the winner will be notified via email. (Giveaway open to all US residents 18 years of age and older)
Good luck everyone! Please let me know how much fun that you have at the Wild Wonders event and what your favorite activity is!