This recipe was created in part of a sponsored campaign for Wish Farms. (All posts may contain affiliate links or sponsored content. Please see my disclosure policy)
There is something about the summertime that makes me want to eat all the berries! Strawberries, blueberries, blackberries, raspberries…..I love them all! This recipe for Gluten Free Triple Berry Crisp was created around my love for berries, and is packed full of berry goodness in every bite! I hope that you will enjoy it as much as we did! This is a gluten free recipe, but you can easily adjust to make it your own by not using gluten free flour and oats.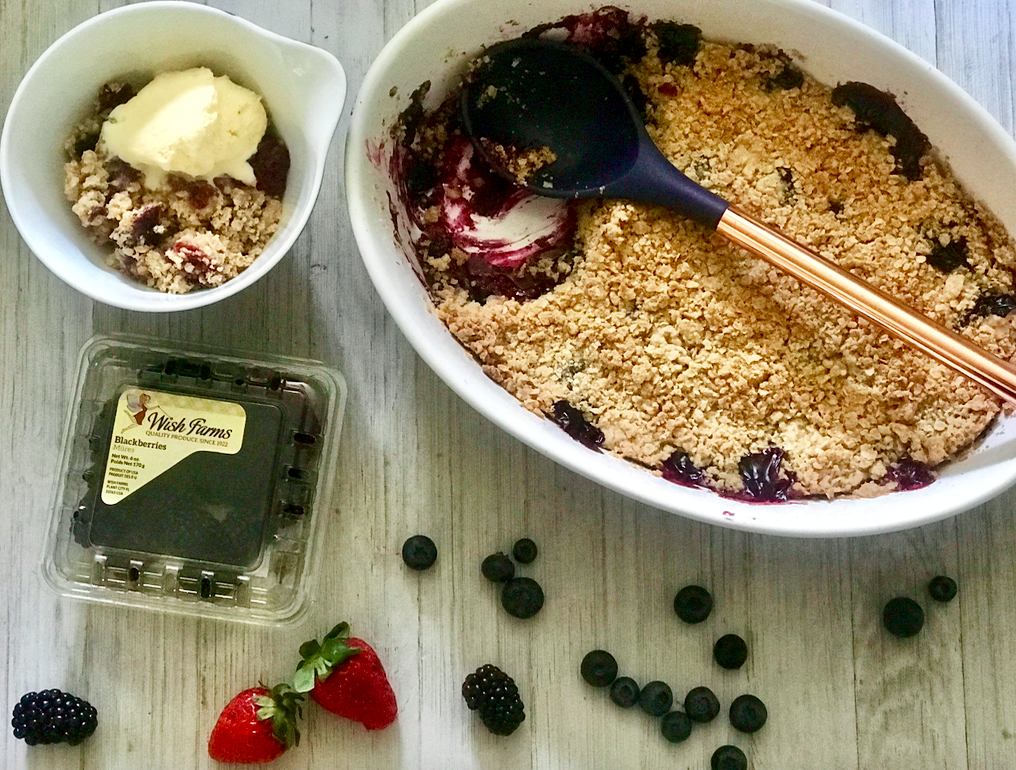 Gluten Free Triple Berry Crisp
Ingredients
Filling
1 1/2 cups fresh halved strawberries
2 cups fresh blueberries
1 cup fresh blackberries
1 1/2 Tbsp cornstarch
2 Tbsp. Swerve or regular sugar
Crumble
3/4 cup gluten flour of your choice (this is what I used)
1 cup of gluten free oats of your choice (love these)
1/2 cup packed brown sugar
1/4 cup Swerve (you can also use regular sugar)
1 1/2 sticks unsalted cold butter diced into small pieces
1/4 tsp. cinnamon
1/4 tsp. salt
Instructions
Preheat the oven to 350 degrees and grease a 9 x 9 or 11 x 7 baking dish.
In a mixing bowl, place the flour, oats, granulated sugar, brown sugar, cinnamon and salt. Whisk together just until mixed.
Add the cold butter pieces into the flour/sugar mixture, and with a fork or pastry blender, mix together just until it resembles coarse crumbs. Set aside or place in the refrigerator until you are ready to use.
In a separate bowl, add the berries. Sprinkle with the 2 Tbsp. of Swerve and Cornstarch and lightly mix together. Make sure that all of the berries are evenly coated.
Spread the berry mixture in the buttered baking dish.
Spread the Crumble mixture evenly over the top of the berries.
Bake in preheated oven and cook until golden brown and bubbly. Cooking time is approximately 30-35 minutes.
Serve with ice cream or fresh whipped cream and enjoy!
Pin it for later HERE!