Disclosure: I was provided with products to facilitate this review. All thoughts and opinions are my own. Please see my disclosure policy)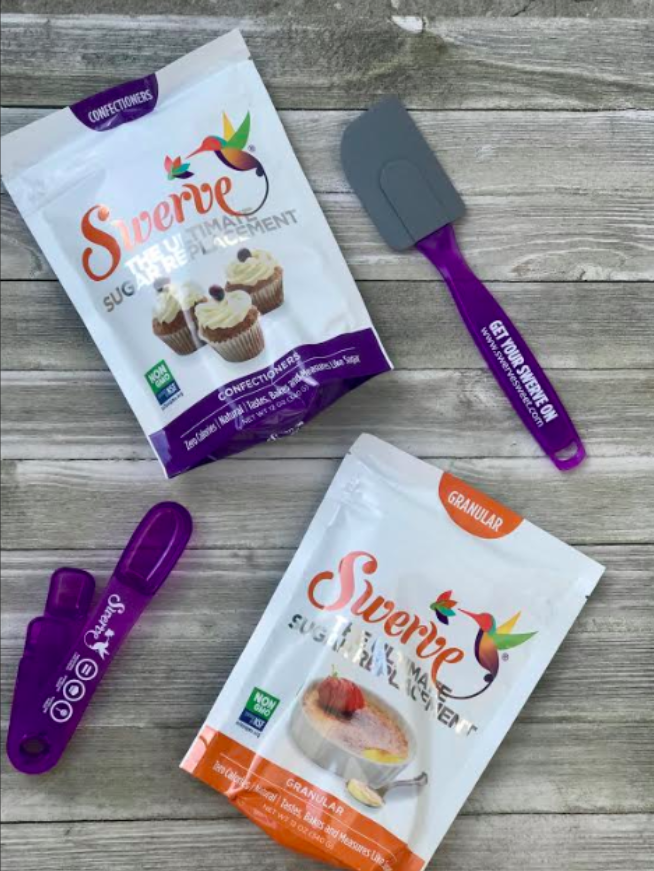 As someone who strives to live a healthy lifestyle, I am always on the lookout for products to incorporate in my recipes that will not only make them taste great, but that are also a great substitute for other products that may be sugar-laden, higher in fat, calories, etc…. I feel that I hit it out of the ball park with Swerve Sweetener! These products are also perfect for Low Carb, Ketogenic diets! Have you tried Swerve before? I would love to hear your thoughts!
Swerve Sweetener is zero-calorie, non-glycemic and measures cup-for-cup like sugar. It's sweet, safe and natural. Out of all the sweeteners that I have ever used before, Swerve is by far by the best-tasting sugar replacement product that I have found. So many of the other Stevia products on the market leave an aftertaste in your mouth. Not Swerve! It tastes just like sugar and bakes likes likes sugar so baking is a breeze!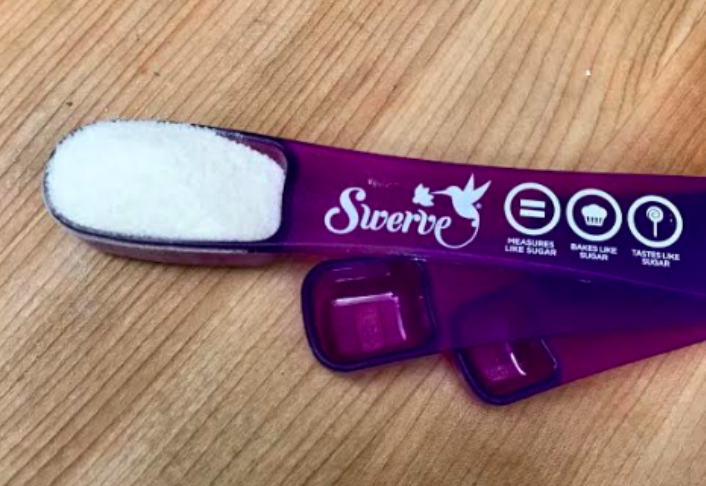 How does Swerve get its sweetness? Swerve is made from ingredients found in select fruits and starchy root vegetables, and contains no artificial ingredients, preservatives or flavors. It's zero-calorie, non-glycemic and safe for those living with diabetes, since it has no effect on blood glucose or insulin levels.
Swerve has many products in their lineup, but my 2 favorites that I use all of the time are the Swerve Sweetener Granular and the Swerve Sweetener Confectioners. These 2 products have revolutionized my life and have replaced all of the other sugars in my pantry! I love that Swerve also has a confectioners product so that I can make homemade frostings and glazes for my cupcakes and muffins!
Swerve was so gracious to send me several bags of granular and confectioner's sugar and I was excited to try one of the recipes from their website. There is something about this time of the year that has me loving all things lemon so I made the Lemon Butter Cakes. These cakes were so moist and sweet. You definitely would have no idea that there is no sugar in them if I had not told you! Everyone who tasted them told me how delicious that they were. They were a hit with everyone in my house so that was a win in my book!
Lemon Butter Cakes
Ingredients:
1 1/2 cups almond flour
¼ cup coconut flour
1 tsp xanthan gum
1 TBSP baking powder
½ tsp salt
½ cup butter, softened
1 cup Swerve, Granular
4 large eggs, room temperature
1 tsp vanilla extract
1 cup unsweetened almond milk or milk
2 TBSP lemon zest (1 lemon)
2 TBSP lemon juice (4 large lemons) or 2 tsp lemon extract
6 drops of yellow food coloring to help give the cakes a stronger yellow coloring
Glaze:
¼ cup of Swerve, Confectioners
2 TBS of fresh lemon juice
½ -1 teaspoon lemon zest
Directions:
Preheat the oven to 350°F. Place cupcake liners in cupcake pan or excessively butter the entire cupcake pan.
In a medium bowl, whisk together the almond flour, coconut flour, baking powder, xanthan gum and salt. Set aside.
In a large bowl on medium high to high speed, beat butter with Swerve until light and fluffy, about 5 minutes. Beat in eggs, food coloring, and vanilla extract until blended. On low speed, beat in half of the almond flour mixture. Beat in milk, and then the remaining almond flour mixture until combined. With a spatula, mix in lemon juice and lemon zest.
Divide the batter evenly among the muffin pan, and shake the pan gently to ensure batter is evenly spread in each cup.
Bake for 20-24 minutes until edges are browned, and toothpick inserted comes out clean. Remove from oven, and let cool for 10 minutes before gently removing each cake from pan.
In small bowl, combine lemon juice, Swerve Confectioners, and lemon zest. Mix together until well combined. Drizzle onto each cake.
These cakes are absolutely delicious! I added fresh blueberries when serving for even more freshness, but you could also serve with strawberries or even raspberries. Yum!
To check out all of the delicious recipes that can be made with Swerve, check them out HERE.
Stay up to date on all of the latest Swerve news and product offerings by following them on Facebook, Twitter and Instagram and Pinterest.