(All posts may contain affiliate links or sponsored content. Please see my disclosure policy)
If you are looking for a new chili recipe to add to your menu this fall, this Sweet Potato, Apple & Turkey Chili is going to be your new favorite! It combines sweet and savory elements into one delicious dish. It is delicious served with cornbread on the side.  Let me know if you try it! I love to think that this is fall in a dish! 
Sweet Potato, Apple & Turkey Chili
Prep Time: 10 minutes
Cook Time: 22 minutes
Total Time: 32 minutes
Servings: 4-5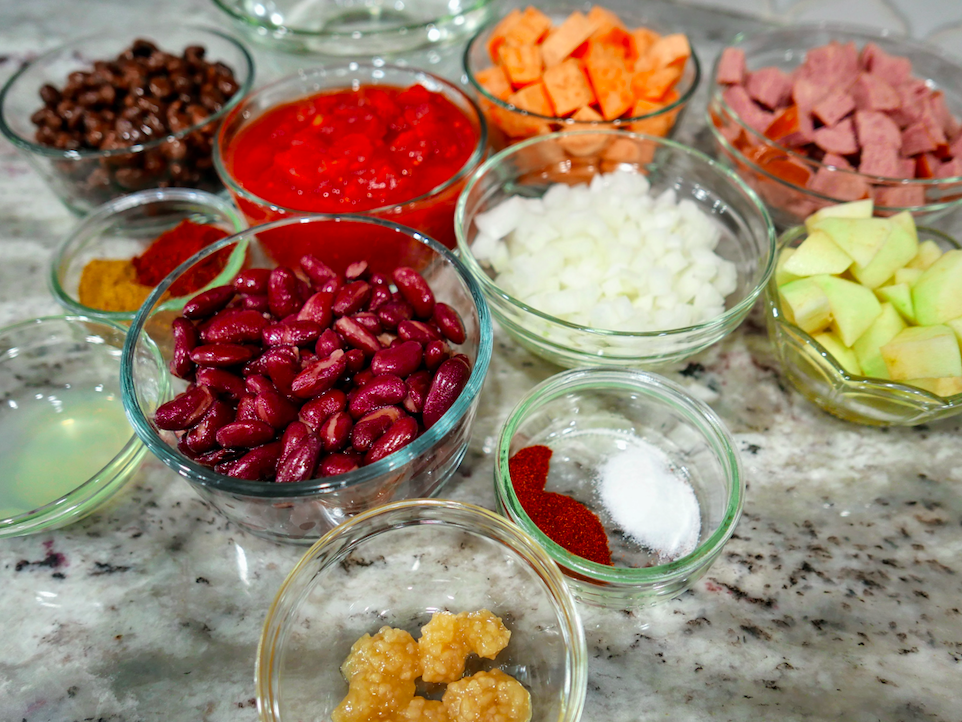 Ingredients:
● 1 ½ tbsp olive oil
● 1 medium sweet potato, peeled and cut into small chunks
● 1 medium onion, diced
● 1 ½ tbsp minced garlic
● 2 tbsp chili powder
● 4 tsp ground cumin
● 2 tsp smoked paprika
● ¼ tsp salt
● 2 ¾ c water
● 1 15oz can black beans
● 1 15oz can dark red kidney beans
● 1 14oz can diced tomatoes
● 3 tsp lime juice
● 1 large Granny Smith apple, diced
● 1 13oz Turkey Polska Kielbasa, cut into small chunks
● Optional: sour cream and cheese for topping
Directions:
1. Heat the olive oil in a large pot over medium-high heat. Add the sweet potato and onion, and cook until the onion begins to soften, approximately 3-4 minutes. Pour half of the lime juice over the apples to keep them from turning brown until they are ready to be added.
2. Add the minced garlic, chili powder, cumin, smoked paprika, and salt. Continue cooking for 30 seconds, stirring constantly. Add the water, and bring to a simmer. Cover, and reduce the heat to medium-low. Simmer for approximately 10 minutes, or until the sweet potatoes are tender.
3. While the sweet potato mixture is cooking, heat a large skillet pan over medium-high heat. Add the turkey kielbasa to the pan. Cook approximately 5 minutes, stirring constantly, until the turkey is lightly browned on each side. Set aside.
4. Add the black beans, kidney beans, tomatoes, and remaining lime juice to the sweet potato mixture. Increase the heat to high until the mixture returns to a simmer, stirring often. Reduce the heat back to medium-low, and add the turkey kielbasa and apple. Stir well, and let simmer for about 5 minutes. Remove from heat and serve. Top with cheese and sour cream if desired. I hope that you enjoy!