(All posts may contain affiliate links and/or sponsored content. Please see my disclosure policy)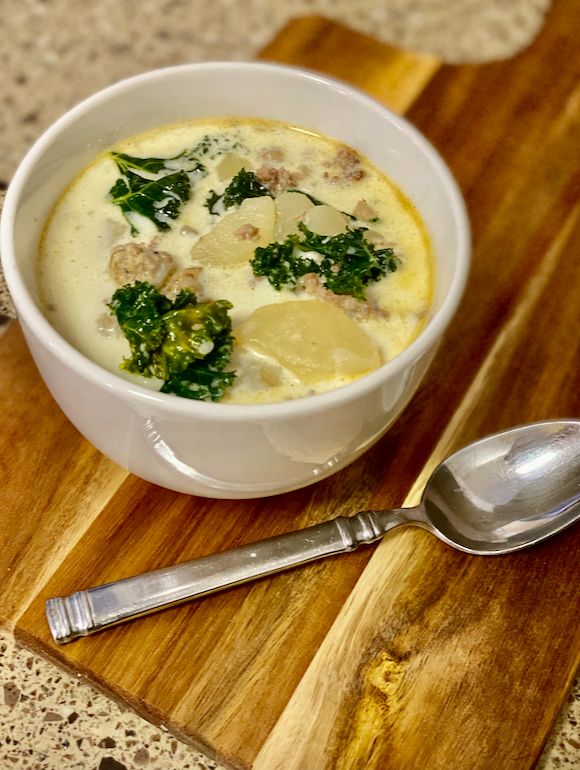 I don't know about you, but one of my favorite comfort foods when I am stressed or tired is a big bowl of soup. One of my favorite soups is from Olive Garden. Have you tried their Zuppa Toscana Soup? It is so creamy, rich and delicious! Zuppa Toscana Soup can easily be made right in your own home using your slow cooker! There are many varieties of this soup, but I have found that making it in the slow cooker is not only the easiest, but most flavorful.
Slow Cooker Zuppa Toscana Soup
Ingredients: 
4-5 slices pre-cooked bacon (you can also use bacon and cook it on your own, but I love the quickness that the pre-cooked variety offers.
1 48-oz. carton chicken broth
1 cup water
1/2 cup diced yellow onion (this will be around 1/2 an onion)
1 lb. cooked pork sausage (I used Jimmy Dean, but any brand will work-you can also use Italian if you prefer)
1 pint heavy whipping cream
4 russet potatoes sliced into rounds
3 cups chopped kale (remove the stems)
1 tbsp. diced garlic
freshly grated parmesan
salt/pepper for taste
Directions:
Fry sausage in a non stick skillet. Halfway through the cooking process add the onion and garlic. Drain off any excess fat that you may have.
Add in the pre-cooked bacon to sausage mixture. (If you are cooking your bacon do it separately from this step then add in)
Transfer sausage mixture into the slow cooker.
Add in the chicken broth, potatoes, salt/pepper.
Cook on low for 5-6 hours.
Add in the chopped kale and heavy cream and stir until combined.
Cook an additional 45 minutes on low or until kale is tender.
Serve with grated parmesan and enjoy! We love to have this with crusty bread to dip into the soup! Yum!