(All posts may contain affiliate links or sponsored content. Please see my disclosure policy)
I don't know about you, but the cooler temps and holiday season make me crave all the warm drinks! My recipe for Slow Cooker Cranberry Apple Cider is one that you will definitely want to try! The flavors of apple, cranberry and orange are married together in one delicious drink! This would be so good served on Christmas morning with my Slow Cooker Cinnamon Roll Casserole!
Slow Cooker Cranberry Apple Cider
INGREDIENTS:
2 Pounds of your Favorite Apples sliced into rings
1 Navel Orange Cut up into Segments
1 Cup of Whole Fresh Cranberries
7 Cups of Water
5-6 Whole Cinnamon Sticks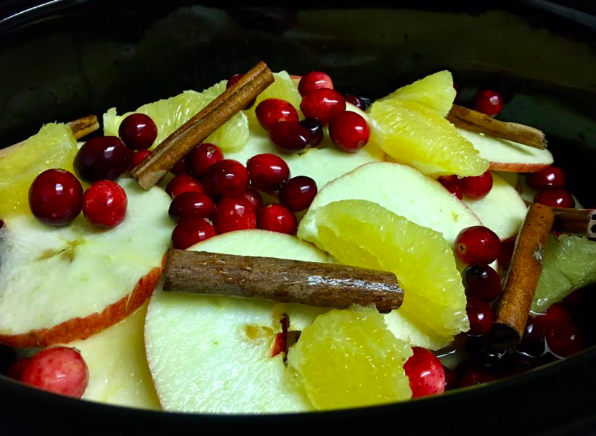 DIRECTIONS:
Place the Apples, Orange Segments, Cranberries and Water in the Slow Cooker. Mix together and Cook on low for 6-8 hours.
Take all of the ingredients and mash together. (The smell will be amazing!)
Place the Mashed Cranberry/Apple mixture through a strainer. You may have to do this several times until the liquid is free of the mixture.
Pour the Cranberry Apple Cider Liquid into mugs and enjoy Hot or Cold! This is so delicious and a great take on the traditional Apple Cider!