This post is sponsored by Pinnacle Foods & Boulder Brands. All comments and opinions are my own.
As the mom of a busy family, I love to make sure that I incorporate delicious, yet healthy ingredients into each of our meals. I feel that it can sometimes be a challenge to find items that are rich in nutrients, full of flavor, and easy to get on the table.
Thankfully, I can create healthier, plant-based meal solutions with items found right at my local Publix. With plant-based products from Birds Eye ®, Gardein TM and Earth Balance ®, I can be assured that I am feeding my family high-quality foods without giving up taste or convenience.
Gardein products offer a range of tasty plant-based foods with a meaty texture. While they taste like meat, these products are made from soy, wheat and pea proteins, vegetables and ancient grains like quinoa, amaranth, millet and kamut (to name a few). Gardein products are also cholesterol-free and have no trans or saturated fats. In addition, they are animal and dairy free, so they make a fantastic meal solution for many lifestyles! We tried the Gardein Seven Grain Crispy Tenders and my boys loved them! ! They are bursting with flavor in every bite and I feel good about what I am giving my family to eat!
Birds Eye Steamfresh Southwest Style Protein Blends were the perfect complement to the Gardein Seven Grain Crispy Tenders! Located in the freezer section at Publix, Birds Eye Steamfresh Protein Blends are packed with protein and nutrient rich vegetables, grains and beans. They have 10 grams of plant-based protein per serving and are high in iron. I especially love that these can be cooked right in the bag, and are ready to eat in just minutes! While in the freezer section at Publix, make sure that you also look for Birds Eye Steamfresh Superfood Blends. This line of ready-to-go dishes, are made from nutrient-rich vegetables, grains and fruits. What a fun and quick way to enjoy nature's healthiest ingredients steamed right in one bag!
Earth Balance Original Buttery Spreads are definitely my favorite when it comes to buttery spreads. It has definitely made a name for itself thanks to its creamy spreadable texture. It is perfect on toast or any of your other favorite snacks. I also love that it is plant-based, vegan, lactose-free, non-dairy, gluten-free and has 0g Trans-fat, no MSG, and is also non-GMO.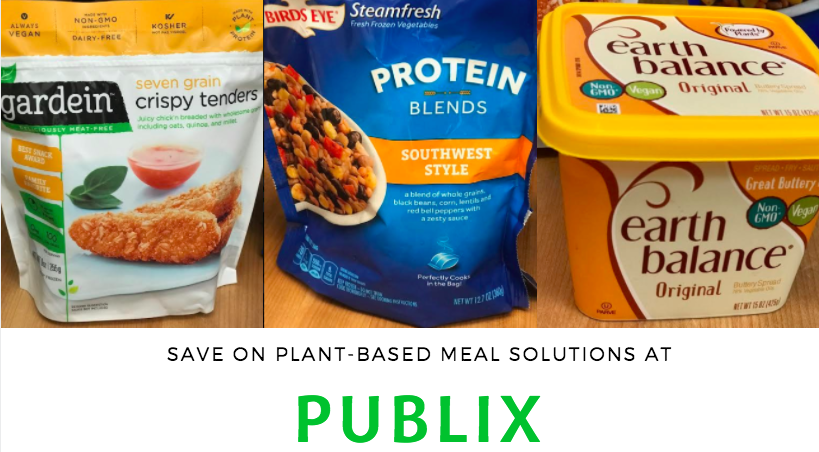 Would you like to save on these delicious plant-based products? Head over to www.getthesavings.com/chooseplantbased where you can score fantastic savings! From 2/17/18-3/2/18, you can save $1 off any 1 Gardein Item or $1 off any 1 Earth Balance Buttery Spread. In addition, pick up 2 for $5 Birds Eye Protein Blends, and 2 for $6 Birds Eye Superfood Blends.