Disclosure: I received products from Fernberry to facilitate this post. All thoughts and opinions are my own. Please see my disclosure policy)
I was recently sent a box of products from the lovely folks at Fernberry and I was so excited to review them!
The Fernberry 101
Fernberry makes ethical Japanese beauty products that deliver effective moisture replenishment to your skin, restoring its youthful radiance. All of Fernberry's natural and ethical beauty products from Japan contain Next Generation Hydration, a super-moisture absorbing ingredient derived from Hyaluronic Acid that restores your skin's youthful radiance.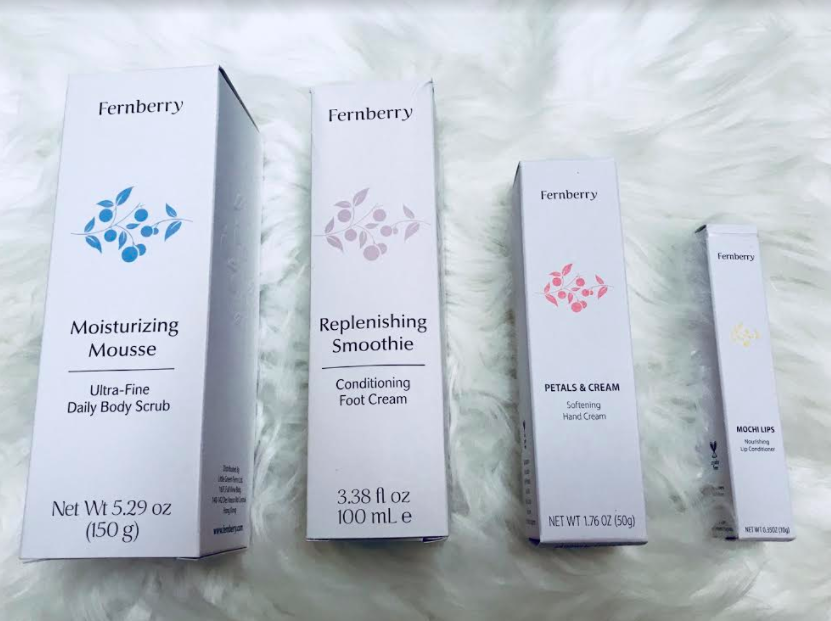 "Water is the basis of all beauty products, and the purest form of that vital ingredient goes into all of our formulations. We lock in that pure moisture so it hydrates your skin for 12 hours, using the secret ingredient that's in all of our products: Next Generation Hydration. 
This advanced, super-moisture ingredient derived from Hyaluronic Acid, is clinically proven to absorb 1000 times its own weight in water, which helps to restore your skin's youthful radiance. Its intricate molecular structure penetrates deeper into your skin and releases replenishing moisture and nutrients over a long period of time."
I received the Fernberry Moisturizing Mousse, Fernberry Replenishing Smoothie Conditioning Foot Cream, Fernberry Petals & Cream Hand Cream and the Fernberry Mochi Lips to review. I have enjoyed using each of the products and the results that they offer. 
Fernberry Moisturizing Mousse– First of all, this product smells amazing! The scent of blueberry combined with Japanese Yuzu is so refreshing! This is like no other body scrub that I have used, and contains ultra-fine sea salt crystals that remove dead skin cells and cleanse your pores, leaving skin feeling super smooth and revitalized. Made with free-radical-busting Japanese Yuzu and Blueberry, it is specially formulated for everyday use.
Fernberry Replenishing Smoothie Conditioning Foot Cream– I love a good foot cream! As someone who has very rough and dry feet, I am always on the lookout for a foot cream that will not only soften my feet, but keep them smooth as well. Fernberry Replenishing Smoothie Conditioning Foot Cream is a light, velvety blend that will leave your heels hydrated, and the rest of your feet feeling utterly pampered. Japanese Tsubaki oil, Rice Bran oil and Shea Butter deliver just the perfect amount of moisture to keep your feet silky soft.
Fernberry Petals & Cream Hand Cream– Don't you love smooth and soft hands? Fernberry Petals & Cream hand cream is enriched with Japanese Yuzu, Ume, Sakura and Tsubaki oil, so your hands look younger and feel as soft as a petal. Fast-absorbing, and packed with vitamins and antioxidants, the natural Japanese ingredients of this luxurious lotion work to smooth and brighten your skin tone, improve elasticity, soften cuticles, and restore vitality to your nails. My hands have never felt softer since using this product! 
Fernberry Mochi Lips– I have such a hard time with chapped dry lips and am always on the lookout for a product that will help with this. Fernberry Mochi Lips is made from a A luscious blend of Japanese Yuzu, Tsubaki Flower, Sweet Almond And Sunflower Seed Oils. Mochi Lips instantly softens and conditions dry lips to make them plump, soft and supple.
Overall, I am loving these products from Fernberry and think that it is a remarkable brand! All of the products that I reviewed seem like top-of-the-line products that you would find in the best department stores. You can also tell that the company has great pride in their products. Be sure to check out all of the products that Fernberry offers and let me know your thoughts!
Follow Fernberry for all of the latest promotional offers and news!
Their website: https://www.fernberry.com/store/
Instagram: https://www.instagram.com/fernberrycares/
Facebook: https://www.facebook.com/fernberrycares/
Twitter: https://twitter.com/fernberrycares
Pinterest: https://www.pinterest.com/fernberrycares/