(All posts may contain affiliate links or sponsored content. Please see my disclosure policy)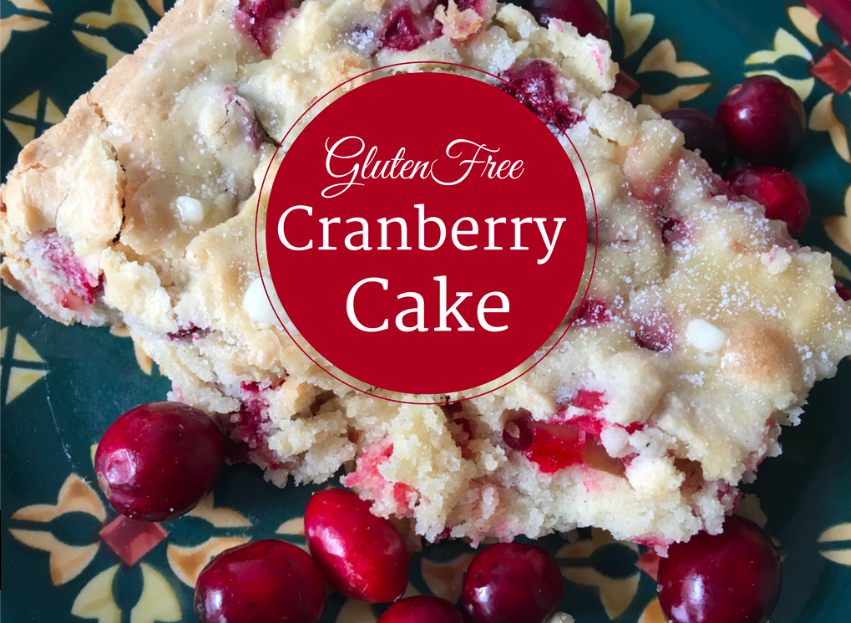 This Gluten Free Cranberry Cake recipe continues to be a family favorite! I am definitely make some in the next few weeks! The flavors of cranberry and orange together with the delicious buttery cake are a perfect combination! I originally posted this recipe over at the Mommy Spot Tampa Bay back in 2016.
Gluten Free Cranberry Cake
Ingredients:
2 cups sugar
3 eggs
12oz. fresh cranberries
¾ cup softened butter
pinch of cinnamon
1 tsp. vanilla
2 cups Bob's Red Mill Gluten-Free Flour (I find this is the best Gluten-Free flour on the market in my opinion and it can be used 1 to 1 for regular flour)
For Orange Glaze:
1 cup powdered sugar
2 tablespoons of Orange Juice
Directions:
Preheat oven to 350 degrees. In a mixer, cream together the sugar and eggs. Beat for about 5 minutes until the batter almost doubles in size. The eggs are working as your leavening agent. Be sure that you do not skip this step! Add the softened butter, vanilla and pinch of cinnamon. Beat for another 2 minutes. Stir in the flour just until combined. Add in the fresh cranberries and stir to mix throughout.
Spread in buttered 9×13 pan and bake for around 40-45 minutes. I baked mine exactly 44 minutes and it came out of the oven perfectly lightly browned and gorgeous! You can use a toothpick to insert in the middle of the cake. When it comes out clean you will know that your cake is done.
Set cake aside and let cool for a few minutes. In the meantime, whisk together 1 cup of powdered sugar and 2 tablespoons of orange juice to form a nice glaze. Drizzle over the top of the cake and enjoy. I also like to sprinkle some extra sugar on the top for a nice touch.
The orange with the cranberry has such a wonderful flavor! I love to enjoy this with my favorite cup of coffee! Delish!