(All posts may contain affiliate links or sponsored content. Please see my disclosure policy)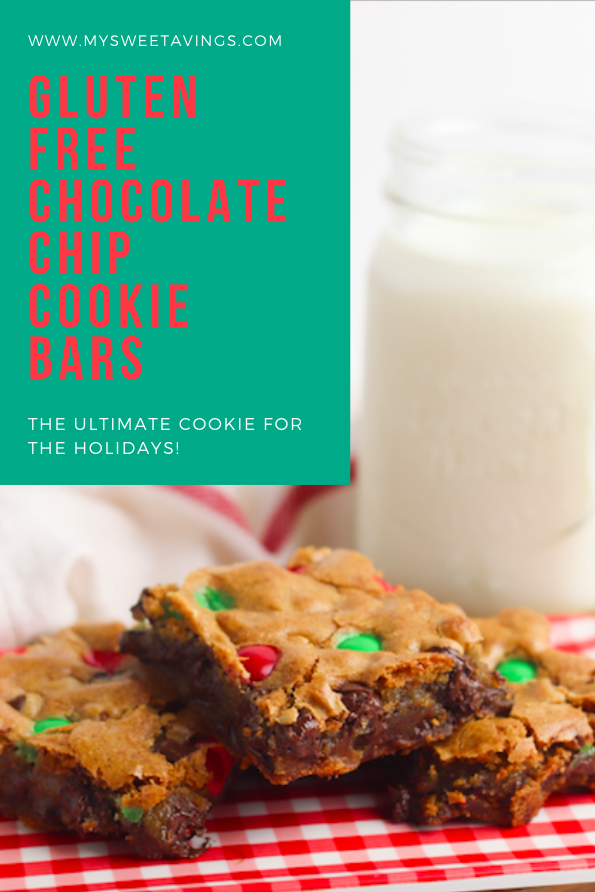 Tis' the season for delicious treats! If you or someone that you love is Gluten Free, these Gluten Free Chocolate Chip Cookie Bars are the perfect holiday treat!
Ingredients:
¾ cup unsalted butter, melted
1 ½ cup brown sugar, lightly packed
2 eggs
2 teaspoons vanilla extract
2 cups gluten free baking flour
½ teaspoon salt
1 teaspoon baking soda
2 cups semi-sweet chocolate chips
½ cup red and green chocolate candies
Instructions:
Preheat oven to 350 degrees and prepare a 9×13 baking dish by lining with parchment paper.
In a large bowl, combine the melted butter and brown sugar. Beat until smooth.
Add the eggs and vanilla extract. Beat until well combined.
Add the gluten free baking flour, salt, and baking soda. Stir until just combined.
Fold in the chocolate chips.
Pour the batter into the prepared baking dish and spread evenly. Top the batter with red and green chocolate candies.
Bake in the preheated oven for 30 to 40 minutes or until the edges are golden brown and a toothpick inserted into the center comes out clean.
Allow to cool in the pan for at least two hours, then remove from pan by pulling the edges of the parchment paper out of the pan. Cut into squares before serving.