Code Ninjas partners with families to provide children with a safe and encouraging environment to gain the skills they need for a brighter future. While this post is sponsored, all opinions are my own. Please see my disclosure policy)
Summer Break. Ahhh…My boys have officially been out of school now for over one week, and I have already heard those dreaded words, "I'm bored!" For me, summer break can actually be a lot of work as I have to make sure that I keep the boys busy with activities. We joined our local YMCA, will be doing a lot of reading, bowling, watching movies and visiting friends. Of course, the boys also love to play on the computer with their favorite video games. While I do like to limit the amount of time that they spend on the computer each day, some of the games can actually be a great learning experience for them!
This summer, my boys are going to have the time of their life as they learn to spark their imagination all by building their very own video games! Thanks to Code Ninjas Summer Camps, the boys will build their favorite computer games from the ground up all combined with the power of coding!
What is Code Ninjas? 
We all know that kids love technology, games, and having fun with friends. Code Ninjas provides an engaging game-based curriculum that teaches teamwork, logic, math, and problem solving so kids will gain vital skills while having a blast! As a parent, it is important to me that my children not only have fun during the summer but that I am giving them the best future possible and that they are learning! Code Ninjas sounds like a win-win to me!  😉 
Technology is such an amazing thing isn't it? When I was in college over 20 years ago, I remember my hubby and I sending emails back and forth to each other through AOL just like on the movie, "You've Got Mail!" Texting was not even heard of, and the only phone that I had was one of those older flip phones. Boy, things have come a long way! My boys know more about electronics now than me!  😆 Code Ninjas believes that there's never been a more exciting time to advance our culture – starting with our youngest ones. Every kid deserves the chance to unlock their innate, unlimited capacity to learn. 
Whether or not they pursue coding as a career, Code Ninjas wants to provide kids with skills that will help them pursue their dreams. I love that they will also teach our children to learn how to think and problem solve. In fact, that is one of the core values of Code Ninjas!
Do you think that your kiddos would benefit from a Summer Camp at Code Ninjas?
Here are some of the details about the camps that they offer during the summer months:
Half Day Summer Camps are available Monday-Friday from 9am-12pm.
Full Day Summer Camps are available Monday-Friday from 9am-4pm.
All camps are recommended for kids ages 7-14.
Costs for Half Day Summer Camps is $199, Full Day Summer Camps is $369.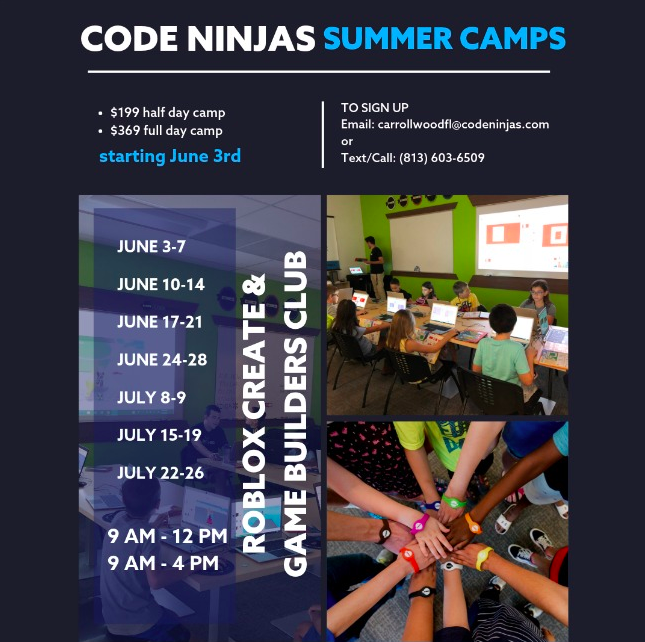 Are you ready to dive in and learn more? You can learn more about Code Ninjas and the different camp options that are available this summer by visiting: https://www.codeninjas.com/locations/fl-tampa-carrollwood.
And, I have one sweet deal for My Sweet Savings readers! You can book a FREE 30-minute introduction to a coding lesson at Code Ninjas Carrollwood as well as have the opportunity to learn more about the programs and summer camps when you click here to book a Free session! Be sure to let the folks at Code Ninjas Carrollwood know that I sent you when you type "My Sweet Savings" into the form. 
With Code Ninjas, Kids have fun. Parents see results!