Disclosure: This is a sponsored post for BuddhiBox Yoga Subscription Box. I was sent a complimentary box in exchange for my honest opinion and review. All thoughts and opinions are my own. (Please see my disclosure policy)

Are you looking for a gift idea for the person who has it all? BuddhiBox Yoga Subsciption Box would be such a thoughtful gift! BuddhiBox was founded by Maxine, an entrepreneur, yoga teacher, yogini, and resilient dreamer. She came up with the idea one day after teaching a hot yoga session. Students and fellow yoga teachers would ask her what products that she was using to help sooth achy muscles, to alleviate sweat and germs, etc….As she was driving home, she thought about how useful the products that she was using were to her yoga teaching and yoga practice. And, how by sharing them, it benefited others.
Enter BuddhiBox!
BuddhiBox is all about Discovery, Union, and Passion!
DISCOVERY
As active practitioners and teachers, the BuddhiBox team is fortunate to learn about and try new products often. Some products they love and purchase again and again. Some products they can do without. But the process of discovery is fun. And getting to share with others is even better.
UNION
Each month a box is delivered straight to your mailbox. In your box there will be 4-6 samples and full size products. If you like them, come back to the website and purchase a full size product for yourself, and maybe a friend.
COMPASSION
BuddhiBox believes that it is truly better to give than to receive, and they are committed to supporting non-profits. Each month they pick a charity and donate proceeds from the sale of the boxes to them.
The folks at BuddhiBox were so gracious to send me a box to review, and I was thrilled with the products in my box! The particular box that I received was created to inspire you to move into this new year with healthy intentions. In fact, each item in the box supports your mind, body or spirit.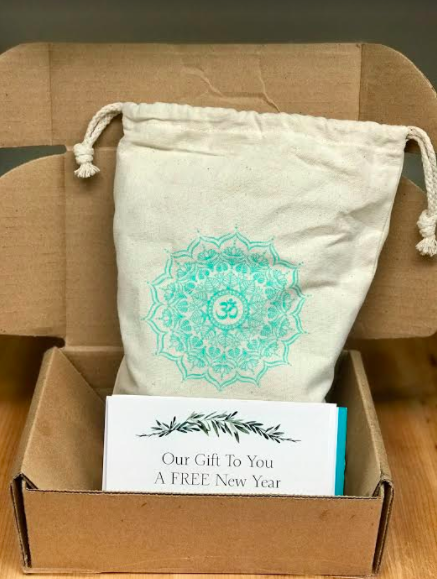 Items included in my box:
– ToeSox Casual Socks for your yogitoes 
– Oiliving Life Protect Spray for your health
– Gaffer and Child facial cleanser for green beauty 
– Luna Lifestyle Co for your yoga practice 
– Pocket Journal for your gratitude practice
– Sage for energy clearing
– Yoga for you online subscription to get your buddhi on the mat
– Meditation Studio App for your meditation practice
While I loved all of the items in my box, I am really enjoying the Oiliving Life Protect Spray for your health and the Gaffer and Child facial cleanser for green beauty. We have been dealing with some sickness around here and the Oiliving Life Protect Spray for your health has certainly come in handy. I love how refreshing it smells! I am always on the hunt for a good facial cleanser, and the Gaffer and Child facial cleanser for green beauty is a great one! 
My overall opinion of the BuddhiBox Yoga Subscrption Box is definitely a positive one. If you know someone who is into health and wellness, or perhaps you just want to give a unique gift, this subscription box would be such a fun idea! In addition to subscription boxes, BuddhiBox also offers fun accessories, jewelry, and much more!

BuddhiBox offers several different subscription options. Decide which plan works best for your lifestyle. GO HERE to sign up and to see the options available. You will also receive 30% off your Subscription!
Stay up-to-date on all of the latest BuddhiBox news by following them on Facebook, Twitter and Instagram.