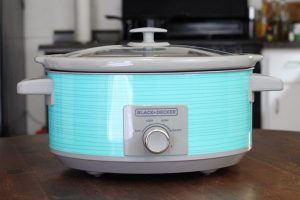 (All posts may contain affiliate links or sponsored content. Please see my disclosure policy)
For roasts, soups, chili, and so much more, just put all the ingredients in this BLACK+DECKER 7 Quart Teal Wave Slow Cooker and let the low, constant heat go to work. Three heat settings give you options to find the best temperature for your schedule—low for 8-9 hours of cooking, high for 3-4 hours, and warm for keeping food at the ideal serving temperature. Plus, cleanup is easy with the dishwasher-safe stoneware pot and tempered glass lid. Get it at Amazon for only $26.99. If you prefer, there are two other color choices for just a few dollars more.
*Amazon pricing and promotions can change at any time so act now if interested! These prices are current at the time of this posting.