(All posts may contain affiliate links or sponsored content. Please see my disclosure policy)
Even though it may not feel like it yet, autumn has arrived! That means we are looking forward to hearty and comforting meals. I especially love a delicious bowl of soup. What are you favorite soups to comfort you and your family during those chilly fall days and nights of fall? 
The soup is one of my absolute favorites that I get every. single. time. at Panera during the fall months…. Autumn Squash Soup. If you are not familiar with this soup, you must try it. It is so amazing! It is also Gluten Free which I love! This particular recipe is compiled of several different recipes that I created to make my own. It tastes just like the one at Panera! If you love this recipe don't forget to pin it HERE.
Autumn Squash Soup
INGREDIENTS: 
1 large butternut squash (mine was about 3 pounds)
1 15oz. can pumpkin puree
2 Tbsp. olive oil
3 Tbsp. brown sugar
1/2 tsp cinnamon
1/4 tsp. nutmeg
1 1/2 tsp. sea salt
1/4 tsp. pepper
1/4 tsp. curry
1 cup apple juice
2 cups vegetable stock
1 1/2 cups half half
Roasted pumpkin seeds,  sour cream or bacon bits for garnish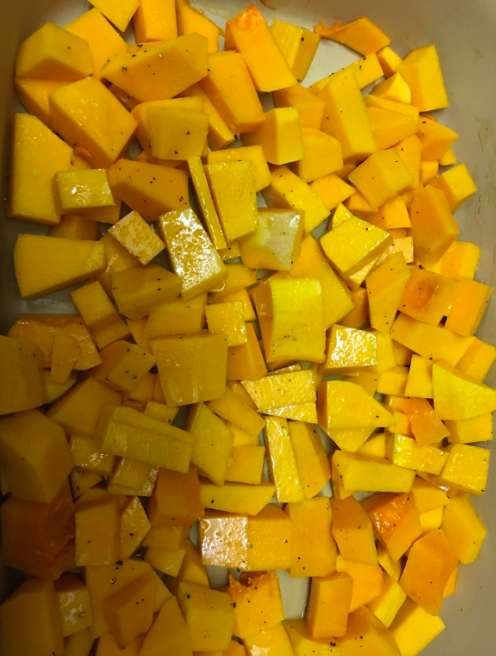 DIRECTIONS:
Peel the Butternut Squash, Remove seeds and Dice into Cubes. Place into a Baking Dish. Drizzle with Olive Oil, Sprinkle with Salt and Pepper and massage into the squash.
Bake in 400 oven for about 35 minutes or until Squash is fork tender.
Mash the Squash with a Potato masher or whatever tool you have on hand and place in a Ninja Blender (Or, you can place the Mash directly in the Stock Pot and use an Immersion Blender)
Add the canned Pumpkin Puree, Vegetable Stock, Apple Juice, Half and Half.
Place the Blender on High and Puree Until Silky Smooth.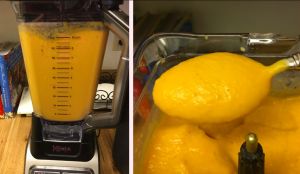 Add the brown sugar, curry, cinnamon, nutmeg, salt and pepper and place on medium heat until heated through.
Garnish with pumpkin seeds, sour cream and even bacon bits if you prefer.
Serve and enjoy! Your family will love this delicious soup and you will want to make it during the entire fall season!