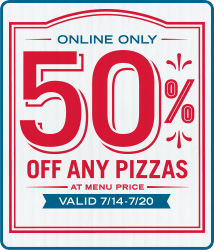 Don't forget to take advatage of this yummy deal!
Who wants the day off from cooking this week? Me, Me, Me!
Through July 20, Domino's Pizza is offering 50% off Regularly priced online Pizza orders. There is no promo code necessary for your discount to apply.
GO HERE to place your order!
(All posts may contain affiliate links or sponsored content. Please see my disclosure policy)